Over the course of the last 4 days, a bevy of television and film professionals, enthusiasts and taste makers converged for a jam-packed weekend of networking, exhibition and celebration at the 19th Annual American Black Film Festival in New York City.
ABFF has provided a consistent, visible platform for storytelling by and about people of African descent since its inception nearly two decades ago, amassing an impressive list of A-List attendees and supporters and introducing the world to the breakout talent now taking over our screens.
This year proved to be no different with the festival bringing together an all-star ensemble of industry veterans (Jennifer Lewis, John Singleton, Mara and Salim Akil) and budding talent (Shameik Moore, Kiersey Clemons, KiKi McKnight) for a series of screenings, panels and events that educated, entertained and inspired, leaving plenty of gems along the way.
Here are a few of our favorites:
"When you're writing an original, take risks. A lot of new writers don't. Game of Thrones me." - Karen Horne
As host of the Writing for Television master class, Horne, VP, Programming Talent Development & Inclusion at NBC Entertainment & Universal Television, lent her insight and expertise to a thorough and unapologetically honest session tackling how to break in and succeed as a television writer in Hollywood.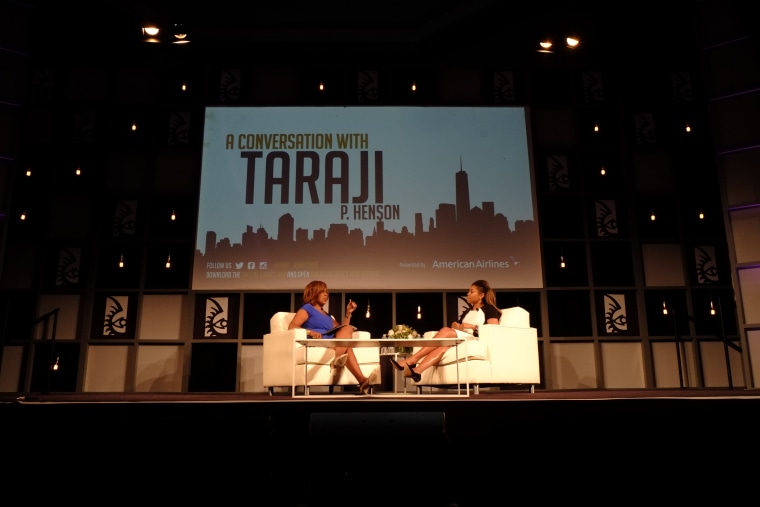 "Cookie is my hero" - Taraji P. Henson
The award-winning actress and 2015 ABFF Ambassador sat down with Gayle King of CBS This Morning for A Conversation with Taraji P. Henson, an intimate discussion that delved into her slow but steady rise in Hollywood, going behind the screens to tackle the diversity issue in the industry, and of course, the breakout role that catapulted her onto the A-List after nearly 20 years in the game.
"We do black on purpose. Our stories don't just happen to have black people in them. It means I love my people." – Salim Akil
Top creators, producers and writers, Janine Sherman Barrois (Criminal Minds), Chris Spencer (Real Husbands of Hollywood) and Mara Brock Akil & Salim Akil (Being Mary Jane) sat down with Black Enterprise's SVP/Editor-at-Large, Alfred Edmond Jr., for an eye-opening conversation around the life of a showrunner, offering a raw look into what really happens behind-the-scenes of our favorite television shows.
"I've always wanted to make money off my creativity" - Numa Perrier
Perrier, co-founder of the popular web collective, Black&Sexy TV, shared the motivation behind her entrepreneurial spirit during the panel, How to Create and Monetize a Successful Web Series. Fellow panelists and entrepreneurs Dennis Dortch (Black&SexyTV), Andrea Lewis (Black Actress) and Smokey Fontaine (InteractiveOne) echoed the sentiment, offering practical anecdotes and tips on breaking into the web space, utilizing resources to get your project off the ground and learning to monetize your vision.
"Write all the time. When you don't feel like writing, write some more." - Joshua Allen
Television personality and self-proclaimed Empire super-fan, Bevy Smith, moderated an off-the-cuff panel, Empire Talks Back, with show writers Eric Haywood, Joshua Allen, JaNeika and JaSheika James, who dished the dirt on what it takes to bring the groundbreaking show to life behind-the-scenes and teased what we can expect from the explosive second season.
"Do things that you care about. Whether you succeed or not, at least you can hold your head high." – Kenya Barris
Larry Wilmore, host of The Nightly Show and former writer on Blackish, moderated a compelling and candid conversation with the hit show's creator, Kenya Barris, and star Tracee Ellis Ross. Much like the show, the open dialogue used humor to address controlling the Black narrative in Hollywood, women "owning" their space in the industry, and the importance of staying true to your vision.
"If your elevator to success is broken, take the stairs - one at a time." - Jennifer Lewis
ABFF wrapped up festivities with the annual Closing Night awards ceremony, hosted by comedian Chris Spencer. The big winners of this year's festival included The Night Before (Best Narrative Feature), Kenny Young (Best Director - The Night Before) and Lisa Arrindell Anderson (Best Actor - The Sin Seer).
However, the biggest honor was bestowed upon our favorite television mother/grandmother, Jennifer Lewis. Tracee Ellis Ross made the loving introduction, presenting her Blackish co-star with the ABFF Career Achievement Award for her longstanding career in film and television.
The American Black Film Festival returns to Miami next June to celebrate its 20th Anniversary.
Follow NBCBLK on Twitter and Instagram for an extended recap of the festival.