Fired meteorologist Rhonda Lee is putting Giuliana Rancic on notice for her criticism of Disney star Zendaya's flowing dreadlocks at Sunday's Oscars ceremony. Lee was catapulted into the national spotlight and cast as the poster child for the plight of black women sporting "natural hair" in the workplace in 2012 when the news station she worked for reportedly fired her after she responded to a viewer's Facebook comment suggesting that she cover up her closely-cropped Afro with a wig "or grow some more hair."
Management at Shreveport, La. affiliate KTBS-TV, contended that she'd violated a rule that employees should not respond to "controversial" social media posts. Lee, who says similar issues were raised about her hair at several television stations where she'd worked, insisted that a station not responding to racist comments equates to condoning them.
She also claimed that no such written policy had ever been distributed to KTBS employees and she filed a wrongful termination lawsuit. Reports of her firing went viral, with traditional and social media outlets buzzing nationally and internationally over whether Lee had the right to defend her hairstyle (so many calls poured into the station it reportedly overloaded the station's phone lines and website). Many women — particularly African American women — said they could relate to her struggle.
Price Barker, the attorney representing KTBS-TV, declined to comment on the lawsuit. While awaiting her day in court, Lee has since moved on up — literally. Now married with an 18-month-old, she's a meteorologist for WeatherNation in Denver.
Lee recently spoke to NBC News about her legal fight, her charge to management in the corporate workplace and her thoughts on Zendaya's public response.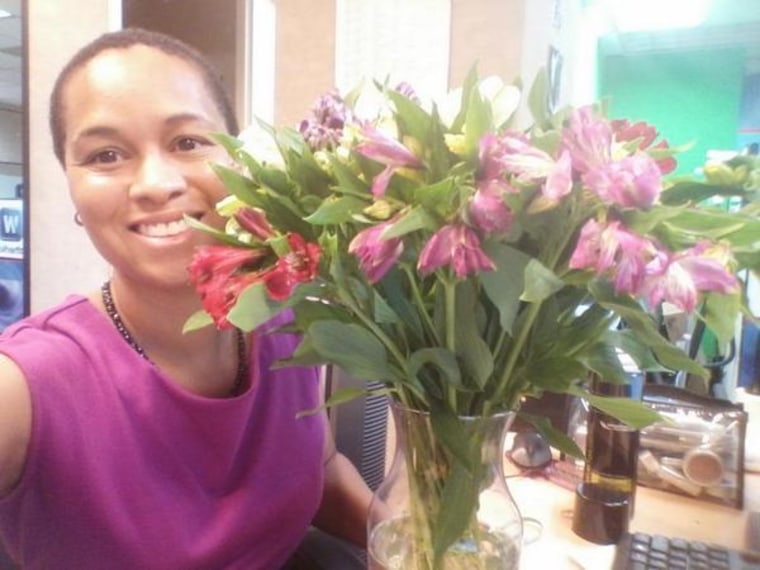 What did you think about Rancic's comments and Zendaya's response?
Zendaya is showing wisdom beyond her years. Mrs. Rancic not so much. It's a shame that so much time -- and as we can see now undeserved money — is dedicated to ignorance and classlessness as demonstrated by the likes of Mrs. Rancic. Her comments were blatantly racist and flat out ugly. For a woman charged with being able to see the beauty in things she was woefully off base and clearly has no business making fashion judgments. I don't know if there is a place for racism on that show. I certainly hope not. I hope those guilty of spewing such hatred are properly dealt with and that black hair in its natural state is heretofore seen as beautiful and not as a punchline.
Colorado… That's got to be quite a change from living in Louisiana?
I have lived in the south a long time, but I would hardly call myself a southerner. We moved around a lot when I was a child, but I was born in Plano, Texas. Denver is a beautiful place with a lot of nice people. I'm enjoying it here. I feel like it's one of those places where I could live forever. I don't have any ill will toward Louisiana in particular. I met my husband there and had my son there. Louisiana isn't the only place [I've worked] where things have gotten dicey in relation to my hair. It's always been an issue since I decided to get back into news without a [chemical] relaxer [in my hair].
Do tell.
Before I worked at KTBS, I worked in Austin, TX. The news director there came to me and asked, 'is this a hair decision that you're wanting to make?' They asked if I would mind wearing a wig to appeal to a 'wider,' audience, which I'd translated to meaning a whiter audience. I told them that if they wanted something done to my hair they would have to pay for it. When I told them how much a weave costs and how much a relaxer would be and how often it would have to be kept up, suddenly my natural hair was okay. I didn't change my hair.
Do you think that's a prevalent issue in the workplace in general?
I think if you want a black employee, you should be accepting of all that is included in that. I think that there should be training for people who do the hiring, especially in the media field. We've got to start training news directors to be more understanding of us as black people. There needs to be a 'come to Jesus' talk about diversity not just this lip service that gets done. Everyone talks diversity, but nobody does anything about it. All they do is hire the same person over and over, especially in media. If there was a white woman in that [on-air] job before, they're probably going to replace her with another white woman. The newsroom should be more reflective of the community it serves.
How did your firing impact your life?
I was not much of a social media person before this, but it was amazing to see the outpouring of support. The support has by far been beyond anything I could have ever imagined. I've gotten emails and social media posts from every corner of the globe. I was even recognized in Ireland. A woman came up to me and asked, 'are you that lady in America [who was fired over her hair?]' I told her I was and she said, 'that's just not right, that's just not fair. Can I give you a hug?'
Do you feel like your predicament has had a lasting effect?
It feels good to have received such support. It feels good to know that my story may have made a difference. Maybe some news directors or supervisors are thinking twice before they say something racially insensitive. I feel like I can see the results of what I did, everywhere. I see a lot more people feeling empowered to be who they are and wear their hair in its natural state. I also see a lot more people [working on camera] in the media feeling comfortable and empowered to wear natural hair. I don't care if you don't like my hair. At the end of the day, it's really an internal issue. It's not about other people; it's about you liking your own hair. If you embrace it and you like it, that's what really matters.