New York City on Thursday shut down a block of Manhattan's Fifth Avenue in front of Trump Tower to paint a Black Lives Matter mural.
The mural, between 56th and 57th streets, was called a "symbol of hate" by President Donald Trump, who said it would be "denigrating" Fifth Avenue, known for expensive apartments and luxury shopping.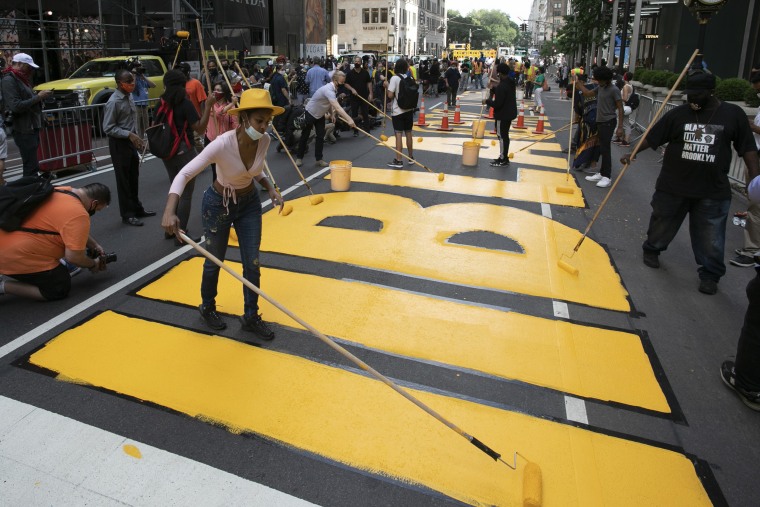 City workers closed the street Thursday morning, and Mayor Bill de Blasio, a Democrat, along with the Rev. Al Sharpton, joined in and helped paint, NBC New York reported.
Trump in a phone interview with Fox News commentator and frequent defender Sean Hannity on Thursday night seemed to suggest de Blasio was being ungrateful for federal assistance amid the coronavirus pandemic. The president said "I was very nice to Mayor de Blasio" and he mentioned things like ventilators, masks and hospital help.
"I got that man everything, I spoke to him many times," Trump told Hannity. "He couldn't have been nicer — and then he throws a big 'Black Lives Matter' sign right down in the middle of Fifth Avenue."
New York City has seen more than 23,200 deaths of people either confirmed to have COVID-19, or whose deaths are considered "probable" as being linked to the disease, according to the city health department.
De Blasio in a tweet Thursday wrote: "Our city isn't just painting the words on Fifth Avenue. We're committed to the meaning of the message."
The mayor has also previously defended the mural after the president's criticism.
"Here's what you don't understand: Black people BUILT 5th Ave and so much of this nation. Your 'luxury' came from THEIR labor, for which they have never been justly compensated. We are honoring them," the mayor wrote on Twitter last week. "The fact that you see it as denigrating your street is the definition of racism."
Similar murals have been painted in cities across the country, and in Washington, D.C., Mayor Muriel Bowser had "Black Lives Matter" painted on a street leading up to the White House.
Download the NBC News app for full coverage of today's news
But the murals haven't only drawn criticism from the president and his allies. Dominique Hazzard, a Black Washingtonian and organizer with the Black Youth Project 100, told NBC News in June that the mural's painting "stung."
Hazzard said she wanted to see policies that showed that the mayor was dedicated to materially improving the lives of Black Washingtonians, not just a road display.
"It is important to keep focus on our city's local issues and the lives lost to prisons and police here in D.C.," Hazzard said.