At 71 years of age, R&B super diva Patti LaBelle has experienced just about everything fame and good fortune could bore. But nothing could've prepared the 'Lady Marmalade' crooner for the avalanche of adulation she would receive from her latest endeavor; a line of boxed sweet potato pies exclusively sold at Wal-Mart stores since September.
Thanks to a viral video, which surfaced on Facebook on November 12 -- where a bedazzled baseball hat clad James Wright Chanel simulated transforming into LaBelle and started belting out some of her signature songs in between bites of the pie-- a national frenzy has ensued.
Two days later, legitimate news outlets were reporting that the pies were sold out.
Humorous memes, GIFs and similar "Patti Pie" testimonies flooded social media timelines throughout the weekend for the hard-to-obtain sweet treats.
The fervor grew to be so intense; the 'New Attitude' singer took a break from rehearsals for her European tour dates to personally reach out to Wright Chanel, who has made numerous gut-busting viral videos over the past few years.
"I was in London and [my son] Zuri [Edwards] played it for me and I said, this has to be a trick right?" LaBelle told NBCBLK today. "Of course I was shocked."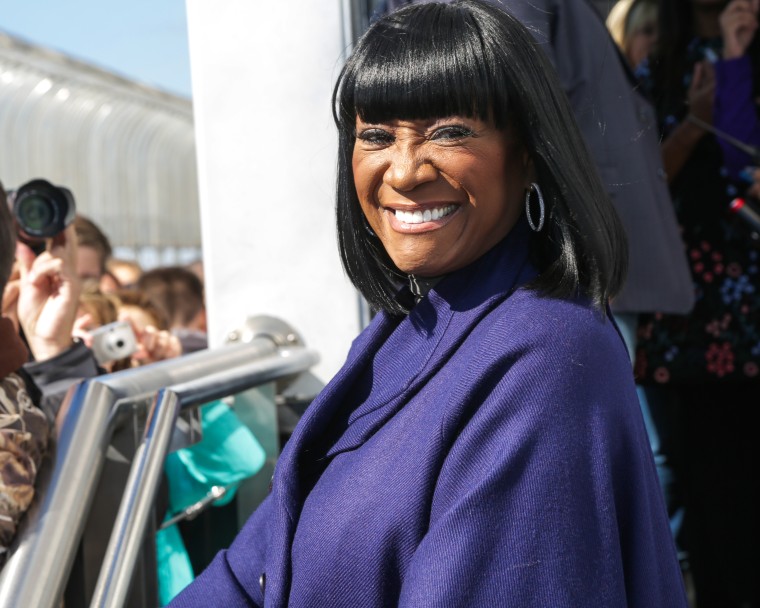 "First of all, I have not felt this way in a long, long time about the power of a great piece of food," she continued. "I mean my pies are so good and they were going over the top before my new friend James posted that video and his video took us over the top again. I mean, this is a blessing."
As of today, the video has clocked more than 10 million views on Facebook.
According to representatives for Wal-Mart, the Patti LaBelle Sweet Potato Pie items have been moving twice the amount of inventory that a similar dessert, via another brand, sold last year.
"Since the video, over the weekend, we've been selling like one pie per second for those 72 hours," Wal-Mart spokesperson Scott Markley told NBCBLK.
Contrary to erroneous reports of the chain selling upwards to 2.3 million pies over the weekend, Markley explained that no sales figures were released. "We do not release sales data that specific to either dollars or the actual number of pies so I don't know that either [report] is accurate. I won't say they are."
What he would offer, officially, was that the item became the most visited food item page on the company's website and searches for sweet potato pie spiked so high that it was now the second most searched food term on our website, second only to turkey.
Meanwhile, the 'Patti Pies' are reportedly selling upwards to $50 via the Internet.
The company, admittedly, didn't do anything to go out of its way to promote the product since its release two months ago. Even LaBelle, who was doing a battery of media chores earlier this month for her Lung Cancer Awareness campaign didn't mention it during appearances.
"And that's where I'm saying the blessing came in," the multiple Grammy Award winner explained. "I mean nobody wanted to promote my pies. I didn't want to promote them. I knew the goodness of the pie would sell the pie … because they were so great. But when James started singing, more people took advantage of looking for Patti's Pies. So it's the power of that voice. But I never thought of advertising the pies or anything like that. Whenever I do my thing, I know that God got me. "
Wright Chanel, a local performing artist known around the Los Angeles community, said he was encouraged to the video by a close friend after hearing how good the pies were. "I just made a video like I always do and it just took off," he shared.
Before becoming an overnight sensation, Wright Chanel said he was member of The House of Chanel, and professionally sang background vocals for Nicki Minaj and Chrisette Michelle among others. By the weekend's end, he was inundated by so many requests and had to seek professional help.
"It got real crazy and I was like, 'Oh no, I can't handle this on my own.' I was getting emails from big, big people like in the industry so it got a little hectic and I was like I need a team now. Everything just fell right in place."
Wright Chanel has high hopes of doing a Wal-Mart commercial with LaBelle.
Although Wal-Mart reps were skittish about that future possibility of that (they did reveal two new Patti LaBelle baked products, a lemon Bundt cake and a three-layer caramel cake will hit shelves in January) the beloved songstress said she's going to do whatever she can do to help him shine.
"I will sing with James anytime but that boy out-sings me," the vocal powerhouse quipped. "He goes high, high, high up in the heavens. He can sing 'Walk Around Heaven' all day and honey. His voice is beautifully, beautifully high. I mean perfect. He has perfect pitch… I think he's going to be all of that and a bag of chips. He's doing the right thing, I think he has like 10 jobs and he keeps himself out there and he keeps himself current so he's going to do well for himself and I'm going to make sure I help."
If anyone can, the Queen of Rock & Soul can.
Since last year, Philadelphia's bold soul sister has starred in the Scott Sanders-produced Broadway revue 'After Midnight' and Ryan Murphy gore fest 'American Horror Story: Freak Show,' competed on 'Dancing with The Stars' and even appeared on the hit hip hop drama series 'Empire.'
Her new Cooking Channel series 'Patti LaBelle's Place' will air in December.
It's pretty safe to say that the sequined-clad senior citizen is showing no signs of slowing down. And even with sweet potato pie pandemonium ensuing, she wouldn't have it any other way.
"I'm just starting to live at 71. I'm just starting to do things... I think that's keeping me younger."