Netroots Nation is probably the friendliest place on earth for long shot, lefty political candidates.
A room full of progressive techies, millennial movement makers and aging hippies convening once a year gives politicos like Senator Elizabeth Warren and various activist leaders from across the nation a place to express their views, gain some notoriety and get some street cred with the far left.
So when two long shots for the Democratic nomination get on stage and absolutely blow it the way that Martin O'Malley and Bernie Sanders did, you have to wonder if Progressive leaders even know what their constituents want anymore.
And if the two most left leaning Democrats in the field are stumbling over themselves about the most predictable issue platform for minority voters, Democrats could be in serious trouble trying to keep the White House.
The conference meant a lot to the candidates but for completely different reasons. Sanders already has a great relationship with the progressive left so Netroots was was a way for him to build on the 'Bernmentum' that has allowed him to come in as high as 15% in recent polls (mind you, Hillary is still around 59%).
O'Malley who is polling somewhere between nothing and 'none of the above' saw Netroots as a way to solidify himself as not only a left wing alternative to Hillary, but to introduce himself to a progressive audience who still thinks he's just a live action version of Tommy Carcetti from "The Wire".
Noble aims by both, and tragic failures all the same.
Say Her Name
To say that the Netroots Nation audience leaned towards Bernie Sanders is an understatement.
When I grabbed a press seat ahead of the candidates forum, the main hall of the Phoenix convention center was spacious and empty, like the big gym before prom night. The moment the doors opened for the general admission, people literally came running, full speed, into the convention hall to get a seat.
Everybody running was either carrying a Bernie sign or dressed as Robin Hood in honor of his "Robin Hood Tax" to make college free for everyone. There wasn't an O'Malley sign in sight. When the former Maryland governor took the stage, to begin answering questions from Jose Antonio Vargas I expected a pretty standard candidate forum with maybe a few jeers and cheers.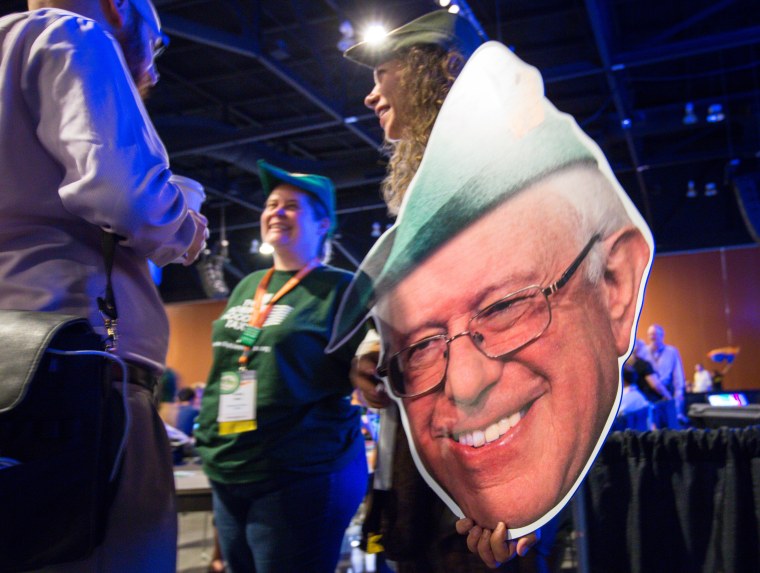 That was when the woman sitting next to me leaned over and said, "I just want to warn you, we're about to do some real disruptive sh** right now."
Within minutes, about 50 Black Lives Matter protesters popped up from various tables, from the side of the main hall and other places came marching towards the stage like a flashmob performing to "Fight the Power."
They began chanting "Say her name," and demanded that O'Malley state the names of the dozens of African American women who have died at the hands of police violence over the last two years, including Sandra Bland, whose recent death in Texas is still in question.
The audience was mostly in shock and while a there was a smattering of "let him talk" from disparate places, most people were impressed or at least entranced by the protest.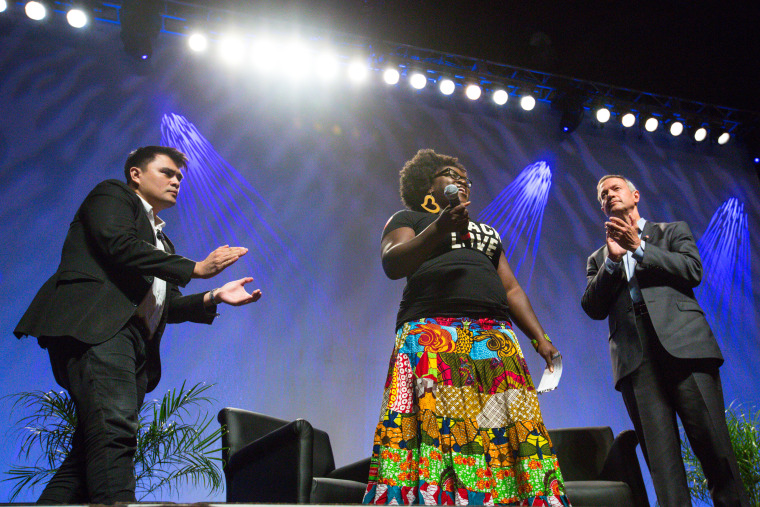 Jose Antonio Vargas was fantastic and a clear example of why you need to involve people of color in progressive events so that all voices are heard. Instead of flipping out about the protests (especially considering there are protests every year at Netroots) Vargas showed some MC skills that would make Rakim blush. He simultaneously validated the crowd's concerns, compelled O'Malley to talk specifics not generalities and even invited lead activist Tia Oso on stage to ask questions directly to the candidates.
No Democrat is going to be able to pull together a coalition of voters to win in 2016 unless they can address, consider and integrate Black Lives Matter policy issues into their campaign.
It was, to be honest, a beautiful sight; while the protest was disruptive, the demands that O'Malley explain how he would address immigration issues dealing with blacks, criminal justice reform and institutional racism were pretty clear.
To be fair, O'Malley was actually doing a pretty good job. He brought up the fact that Maryland ended the death penalty and how as Mayor of Baltimore he restored voting rights to over 42,000 convicted felons. He was actually on a roll until the moment he said, "Black Lives Matter, White Lives Matter, All Lives Matter."
The horrified audience response reminded me of the "Two Chains" scene in Dear White People. O'Malley was so close to actually making a decent point, he was discussing his criminal justice reform policy and explaining how he had results, and then went off the rails on some "White Lives Matter" stuff that even Hillary Clinton would blush at.
What was particularly striking is that the mostly white audience at Netroots was just as offended. "AllLivesMatter" is problematic enough, but often used by politicians trying to thread a political needle. But the only people who ever say "WhiteLivesMatter" are confederate flag defenders and Nazis. But if O'Malley blew it, Bernie was worse.
Crash and Bern
There are two different versions about what happened with Bernie Sanders on stage at Netroots Nation, and neither version paints the candidate in a particularly good light. One version is that Sanders didn't see the #BlackLivesMatter protesters going after O'Malley so he came to the stage wanting to give a stump speech and was caught off guard by the protests.
The other version is that Sanders and his team saw O'Malley going down in flames and wanted to get on stage feeling that Sander's progressive rep would calm the protests down, win over the audience and make him look like a hero.
Regardless of which version is true, what can't be disputed is that Sanders was incredibly dismissive and cranky towards the protesters. He didn't answer any questions, instead relying on his stump speech about income inequality and leaning on the fact that he marched with Martin Luther King in 1963. At one point he threatened to leave when his boilerplate answers didn't seem to sway the crowd.
The Aftermath
Sanders and O'Malley were both caught flat footed and their campaign teams let them down at Netroots but the reaction to yesterday's events is still unfolding. O'Malley apologized for his "White Lives Matter" comment within minutes of leaving the forum, and then went on to do interviews with prominent black news outlets to clarify his comments.
Bernie Sanders cancelled all of his remaining meetings that afternoon including one that had been promised specifically with Black Lives Matter activists. By Sunday the #BernieSoBlack hashtag started trending on Twitter, with people both chiding Sanders for his claims of black solidarity and crediting him for his work compared to Hillary Clinton.
It's not clear whether either candidate did themselves any favors at Netroots—certainly not with African American voters. However, one thing is certain. No Democrat is going to be able to pull together a coalition of voters to win in 2016 unless they can address, consider and integrate Black Lives Matter policy issues into their campaign.