A prom dress adorned with the faces of 15 Black lives lost has gone viral — taking the concept of a statement piece to another level.
In an effort to make sure that Sandra Bland, Michael Brown, Trayvon Martin and others who lost their lives after officer involved incidents aren't just faded headlines, designer Terrance Torrence created a gown with these faces emblazoned upon the skirt.
"Let's just never forget the stories," insists Torrence. "What's done is done but let's not forget."
Torrence, a young Black designer from the West Palm Beach area grew up a little over an hour north of Trayvon Martin's hometown of Miami Gardens, Florida. "Trayvon was the leader of that movement. I feel that he kinda sparked the Black Lives Matter movement," Torrence told NBCBLK. "It was Trayvon's story that made me want to do this dress."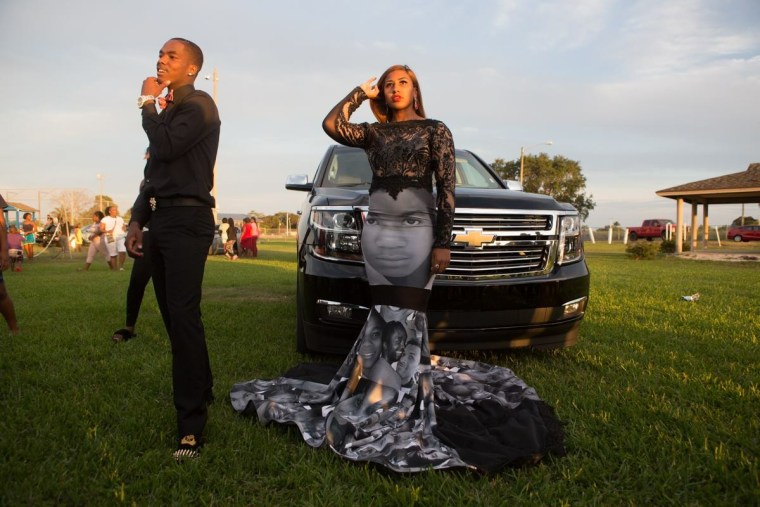 Trayvon's face is prominently placed at the midsection of the gown, his two eyes staring out at the waist, with a black and white montage of other faces — from Tamir Rice to Freddie Gray — filling the skirt down below. "I wanted to do something that was art, very surreal, and put it out there," said Torrence.
The dress was worn by 17-year-old high school basketball star, Milan Bolden-Morris. Bolden-Morris, who has committed to Boston College, told NBCBLK the dress and message were all Torrence's idea but she "was glad and blessed to have helped him convey the message that he wanted to convey."
Related: Teen Accepted to Stanford After Writing #BlackLivesMatter 100 Times on Application
Torrence learned how to sew by watching tutorial videos on YouTube. "With Milan's dress I used every technique that I know," he said, adding that he learned how to make graphics while working for a graphic design company that specialized in t-shirts and banners.
The top of the dress was made from a beaded material, the bottom part was made out of thick scuba material that stretches so it hugs the body. The dress took Torrence a week to make — he finished it the day of the prom.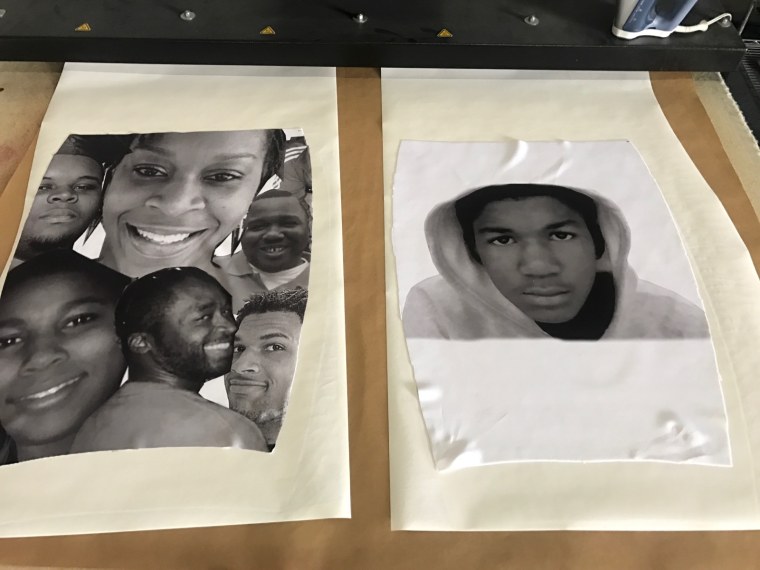 Bolden-Morris said the highlight of her night was when Trayvon Martin's mother, Sybrina Fulton, reached out to her. Fulton told her she was proud of her courage and boldness and invited her to model the dress at an event next month. "To lose a child, no matter the race, someone you love especially due to unnecessary circumstances, it's hard," said Bolden-Morris.
Originally, Bolden-Morris wanted a red dress with sequins, something different yet elegant. But when Torrence then pitched the idea of the Black Lives Matter inspired dress she realized that "this issue is way bigger than me."
Related: #BlackLivesMatter Generation Faces Cultural Conflicts at Graduation
Bolden-Morris said her mother and her date strongly supported the idea of the dress. Her date told her he realized he could've been any of those young men pictured on her dress. "It's kinda scary when these issues do happen because what if my family member is next?" said Bolden-Morris, who has a younger teen brother.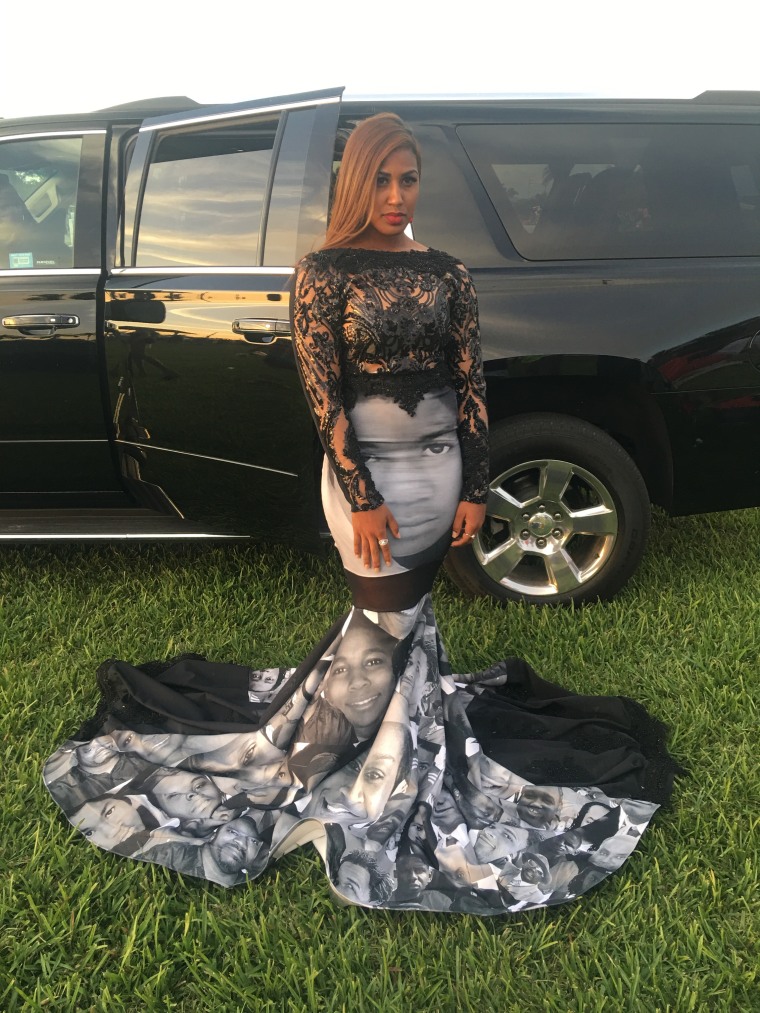 Torrence's ultimate goal is to make sure the faces on the dress aren't a fleeting thought. "Never forget those victims and their stories and their families and what happened… in this society we tend to forget things very fast," he said, adding that he hopes the conversation continues. "Let's come up with a solution to the problem."
The feedback has been mostly positive but there has been some backlash on social media. Torrence said the completion of the dress overwhelmed him with emotion but he insists he was just trying to convey a message of positivity and awareness. "I'm not a racist person... I love every form of life. I feel that we're all human," he said. "I just want to put a message out about things that go on in our community."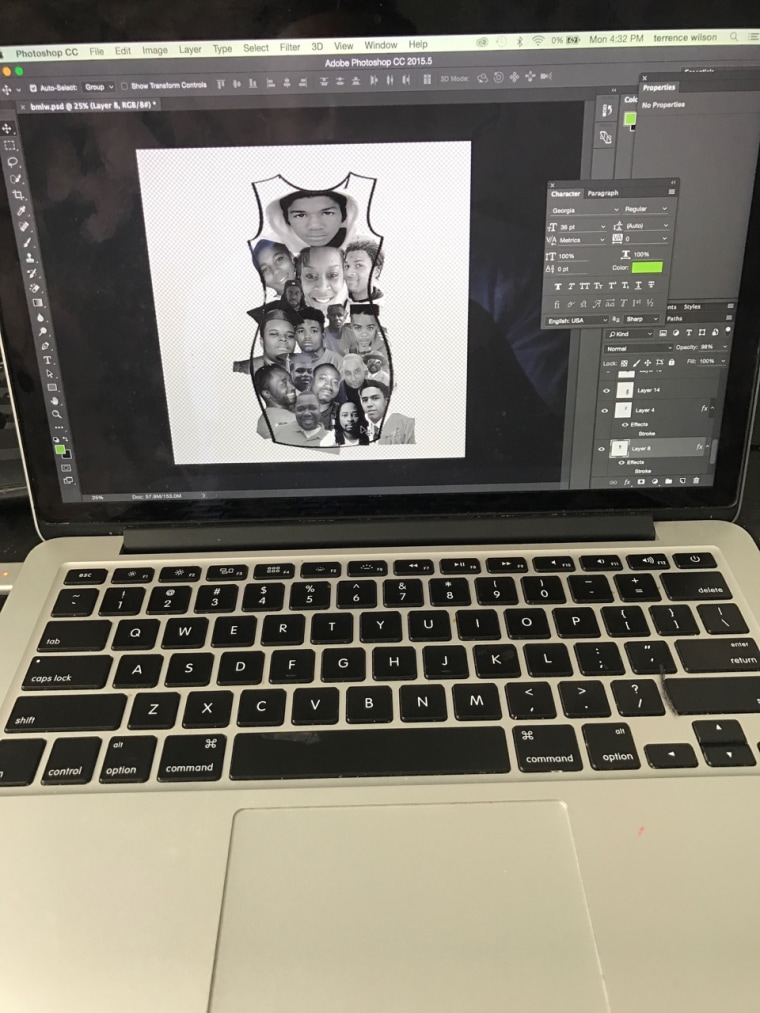 Torrence said the ultimate lesson he learned throughout all of this was to not be afraid, but to be bold and take risks as an artist.
He had one person to thank for helping him get there. "If anyone can tell me Solange has seen the dress that would be everything. Solange really inspired me to put it out there," he said.