The illustrious career of R&B's sultriest diva, Toni Braxton, is one that up-and-coming artists dare to dream of.
With 67 million albums sold worldwide, lead starring roles on Broadway and multiple television executive producer credits under her belt, the music veteran has created quite the legacy for herself.
Signed to LaFace Records in the early '90s by Antonio "L.A." Reid and Kenneth "Babyface" Edmonds, Braxton released a string of hits from albums (Toni Braxton, Secrets and The Heat) leading her to become one of the top-selling artists in music's golden era.
In January, the 48-year-old diva teamed up with Lifetime to give fans a glimpse of her tackling tumultuous challenges both behind closed doors and in the media spotlight. The biopic, Unbreak My Heart, narrated her two bankruptcies, exhausting battle with Lupus and facing her son Diezel's autism diagnosis.
She has also opened up her world to fans in her reality show, Braxton Family Values, which chronicles the life and times of the Braxton sisters and their mother Evelyn.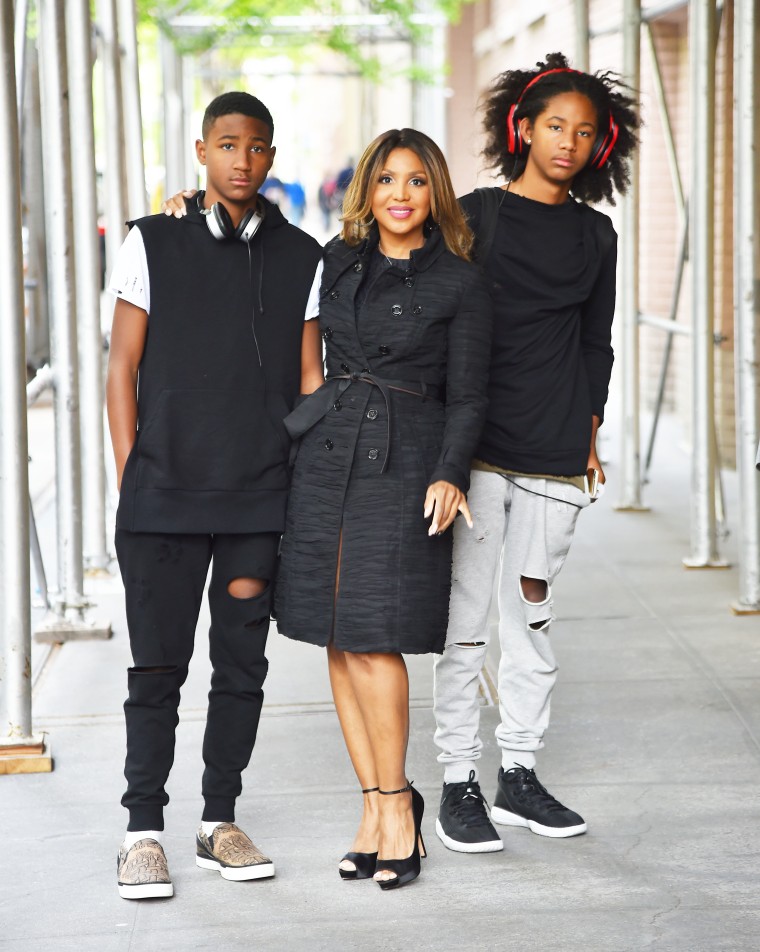 The seven-time Grammy winner recently treated her New York fans to a special Mother's Day Concert at Kings Theater in Brooklyn. The performance, sponsored by Grammy Park Foundation, captured Toni in her truest essence onstage. You know, that silky-smooth, deep voice that makes the hairs on the back of your neck stand up. Yup, she still has it.
Throughout the show, Toni serenaded the crowd with every last hit in her legendary catalog. Frequently, yet humbly, she ushered audience members onstage to duet acoustic versions of "Another Sad Love Song" "Hurt You" and "You're Makin' Me High."
NBCBLK's entertainment contributor Alex Titus chatted briefly with Toni after her performance about her favorite song to perform, the rapper she wants to collaborate most with, and her friendship with Prince.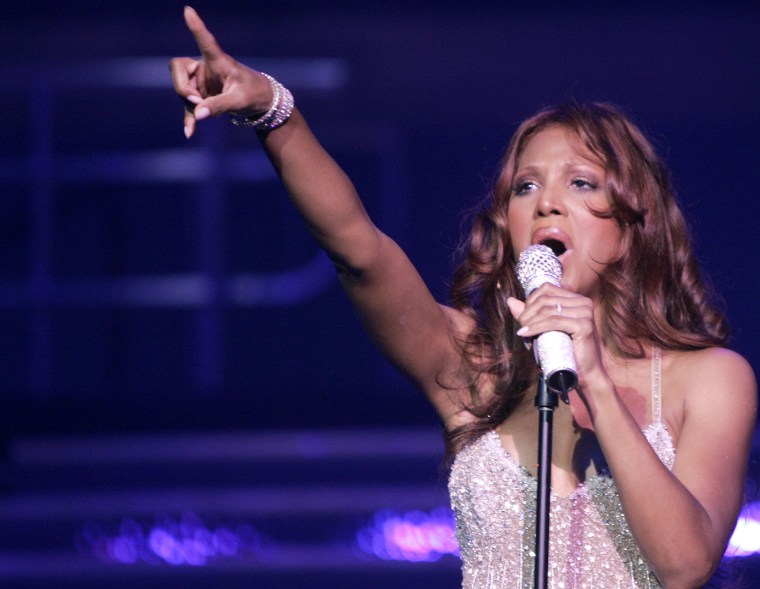 Congratulations on an amazing performance at Grammy Park. New York showed out for you!
New Yorkers always come out to have a good time. There's just a certain level of energy that you can find here that you won't find anywhere else in the world. It's also the hometown of my favorite rapper of all time, the late great Notorious B.I.G. I enjoy covering "Big Poppa" during the show. That's one of his best songs.
My favorite all time Toni Braxton song is "Love Shoulda Brought You Home"? Do you have a favorite song that you enjoy performing the most?
I have a couple of songs that I love to perform like "He Wasn't Man Enough" or "Seven Whole Days." Some shows I'll do a song that hasn't been released. I have to change it up sometimes and do a favorite of my own. Out of all the singles and songs that people know, "Breathe Again" is definitely my favorite because it really makes me joyful. Although this time when I was in rehearsal practicing, it made me tear up a bit because Prince actually told me that this was his favorite songs of mine. So, performing it now means much more to me than it ever did.
Yes, I saw your touching tribute to him on Instagram. A huge loss for everyone. What is your fondest memory with him?
Prince called me up to hang out one day, but first we had to pick up my sister Tamar at the airport. Oddly enough, she had chitterlings in her purse and he was like, "What, is she kidding me?" He thought that was the most hysterical thing ever.
But my fondest memory of him is when we hung out in Vegas. He came to my show at the Flamingo and then I went to his at the Rio. After that we hung out, ate and drank. Well, Prince didn't drink, but I had a few glasses of wine. I miss those times of getting to know him better because we all were intrigued by his mysteriousness. But once you got to know him, you understood why he was so special. His energy couldn't be contained.
RELATED: Prince's Bandmates Reflect on Personal, Intimate Memories
The one thing I loved most about him was his advocacy for artists in the industry. He taught me about preserving my music, my talent and to never compromise my integrity. Prince was one of the artists that called me when I was about to retire and he said, "Toni Braxton, you cannot retire. It's too early and you're gifted to even think this."
When I experienced my second bankruptcy, he called me up to open up for him on tour, but I couldn't because I had just been diagnosed with Lupus. He was like an older brother who always swooped in to save the day during my most difficult times.
How are you feeling today?
I have my days when I get extremely tired, but today is a good day. Of all the lupus' I have the worst, but of the worst, I have the best. I'm very lucky.
You and Babyface received a Grammy for your 2014 album Love, Marriage & Divorce. Are you guys going to be releasing anymore music together and are you working on a solo project right now?
We've been talking about a doing a sequel to the first album, but as of now, we're taking a little break. His album just came out few months ago and I'm in the process beginning to work on my own project. If I could choose anyone to collaborate with right now, it would be Drake. No, it's not a cougar thing (laughs), I just think he's ridiculously talented. I call him a snapper because he sings and raps. I'm a huge fan and my kids Denim and Diezel are probably tired of me singing "Back to Back" all the time.
Back in the '90s it was you Whitney, Mariah, Janet and Mary. What do you remember about those times in music, was it super competitive?
I never thought as Whitney as competition. She's the queen and all of us were trying to be like her. Mariah came out a few years before me with "Vision of Love" and she's one of the best to ever do it. People tried to make competition between Mary and I, but she was more Hip-Hop and I was more R&B.
I never really had a nemesis. Whitney had Mariah, but Mary and I never really had any tension, we all were able to walk our own path and have stellar careers. We each had our own lane and that's what I loved about that era.
When I watch my fellow artists, it makes me go 'Wow I really have to step it up.'
The public would naturally think of us competing, but I never think of it that way. When I watch my fellow artists, it makes me go 'Wow I really have to step it up.' It pushes you to push yourself even harder. It inspires me to become even more creative and come up with ideas.
The texture and dark tone of your voice has always set you apart from the rest. There are few other female artists that can effortlessly kill a lower register. I remember you once said that R. Kelly stated that your voice was too deep like a man. Did you always embrace your voice?
Thank you so much! I love having the flexibility to go deep. I remember when I first started out, Elton John told L.A. Reid that he loved my voice and I was pretty moved by that because there we no other females out who were singing that low. There were moments in the beginning that I probably second guessed my talent, but I always knew that I could move people with the emotion in my voice.
I have a uniquely styled voice and when you hear my sound, immediately you know that it's me and that equals longevity in business, so I'm fortunate. There wasn't a lot of people I could sing like or aspire to be like when around when I was younger. Once Anita Baker came along, she was perfect for me. Michael McDonald too, even though he was older, he was a male vocalist whose notes I could really hit. I had to sneak to listen to him but I remember him being an inspiration.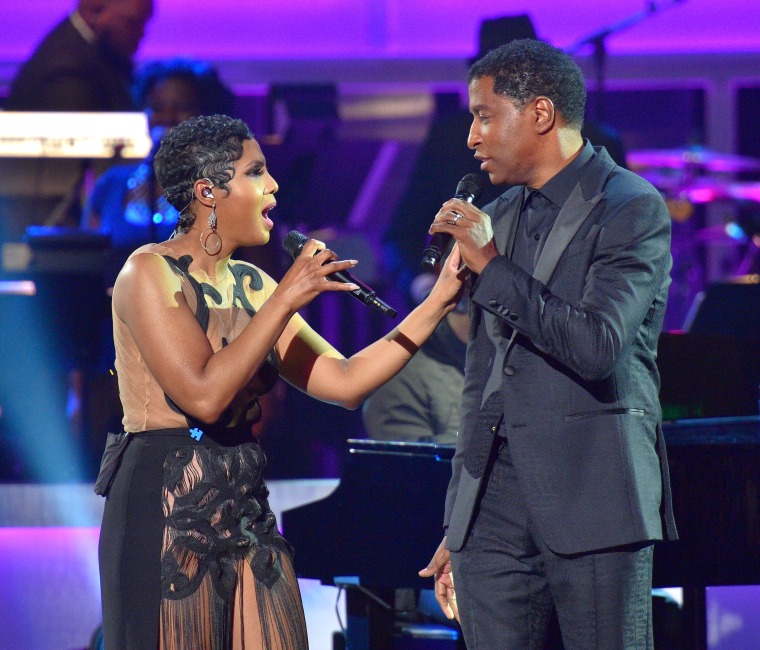 Ms. Evelyn didn't play when it came to that secular music?
Nope, she sure didn't. My siblings and I are preacher's kids, so we were raised with a very religious background. Very old testament style. They were very strict with us. I had no clue what R&B music was when I was younger because all we listened to were gospel hymns. We even had to sneak to watch Don Cornelius on Soultrain on Saturday mornings.
In the commercial for the newest season of Braxton Family Values, it seems as if there is tension brewing with you and Tamar against Traci, Towanda and Trina. What are you guys fighting about?
It's a fight out of love (laughs). Tamar and I are on the West and Traci, Towanda and Trina live on the East Coast. We are definitely at odds, but we're fighting for a good reason. I can't give away any secrets, but once you see it, it's all going to make sense. As family we fuss and we fight, but we always have each other's back.
Congratulations on the excellent ratings on your Lifetime biopic, Unbreak My Heart. Was the movie along with your 2011 autobiography, Unbreak My Heart: The Memoir, great forms of release therapy for you?
Writing the book was, I can't deny it. I always tell people there was a fine line because I wanted to tell my story and not my family's story. That was the hardest part because family is obviously such a huge part of my life.
Writing very therapeutic, but executive producing the movie was different. I had to question myself if I was comfortable with having someone play me because reading is different than visualizing. I wasn't there when they had rehearsal or while they were shooting. I was there for pre-production and post-production because I wanted the storytelling to flow naturally.
Lexi, the girl who played me was fantastic and she fit all the dresses. Those were all of the costumes I wore. I saved everything, I'm damn near a hoarder. When I watch the movie and look back on my life, I can't believe I made it through the things I've experienced. I'm a survivor and I feel very proud that I'm here and still standing.
Season 5 of Braxton Family Values airs Thursdays at 9pmET on WeTV.