Malaysia is "greatly concerned" by the use of a prohibited chemical weapon in the murder of Kim Jong Un's half-brother at a busy international airport.
Kim Jong Nam, the estranged sibling of North Korea's dictator, was killed with VX nerve agent in Kuala Lumpur on Feb. 13, according to Malaysian authorities.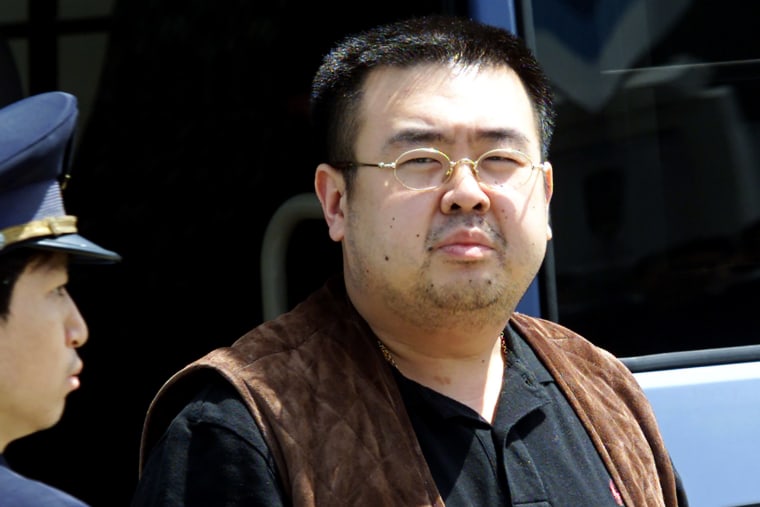 VX is banned under the Chemical Weapons Convention, a treaty to which North Korea is not a signatory.
"The ministry strongly condemns the use of such a chemical weapon by anyone, anywhere and under any circumstances," the country's foreign ministry said in a statement issued Friday. "Its use at a public place could have endangered the general public."
The statement added that Malaysia has been working with the Organization for the Prohibition of Chemical Weapons (OPCW) in its investigation of the killing.
Malaysia also pledged to work with other international organizations to bring the perpetrators of the crime to justice.
That could ultimately include the United Nations Security Council, which could impose sanctions on Pyongyang if compelling evidence emerges that North Korean agents used chemical weapons.
A spokesman for the OPCW did not respond to a request for comment from NBC News on Friday.
North Korea refuses to acknowledge Kim's identity, and refers to him as Kim Choi, the name on the false passport he was travelling on.
North Korean officials have branded the notion that Kim was killed with VX as "absurd."
The country had called for Malaysian authorities not to carry out an autopsy on Kim in the aftermath of the killing. However, that request was ignored and officials announced late last month that he had been killed with VX.
VX requires a highly sophisticated laboratory to produce, so the agent's use in Kim's killing has raised suspicions of the North's involvement, as few organizations outside of national governments would have the resources necessary.
On Thursday, the head of a North Korean delegation currently in Malaysia suggested that Kim had likely died of a heart attack, and claimed that he suffered from heart disease, diabetes and high blood pressure.
On Friday, Malaysian police released the only North Korean detained in connection with the killing, and issued a warrant for the arrest of another North Korean national whose whereabouts it said were unknown.
Malaysia is looking for seven North Korean suspects in all, four of whom are believed to have left the country. Earlier this week, authorities charged two women, an Indonesian and a Vietnamese national, with Kim's murder.