Stephen Sondheim, a Broadway giant who has won the most Tony Awards as a composer, died early Friday at his home in Roxbury, Connecticut, a spokesperson for Sondheim said. He was 91.
The cause of death was unknown.
Sondheim's attorney, F. Richard Pappas, also confirmed the composer's death and said it had been sudden.
"The day before, Mr. Sondheim had celebrated Thanksgiving with a dinner with friends in Roxbury," Pappas said in a written statement. "And he spent all day Wednesday seeing the matinee and evening performances of Dana H and Is This a Room — doing what he most loved to do."
Sondheim, who wrote the lyrics for "West Side Story," was considered American theater's greatest composer and lyricist of the last half century or more.
He has more Tony awards — eight — than any other composer, and was the 1985 Pulitzer Prize winner in drama, along with James Lapine, for "Sunday in the Park With George."
His masterpieces, for which he wrote the words and music, include "Sweeney Todd, the Demon Barber of Fleet Street," "Company," "Follies," "Into the Woods," and "Merrily We Roll Along."
"It is nearly impossible to measure Stephen Sondheim's impact on the world of musical theatre," Charlotte St. Martin, president of the Broadway League, said in a written statement. "During a career that spanned nearly 65 years he created music and lyrics that have become synonymous with Broadway ... It is hard to imagine Broadway without him, but we know his legacy will live on for many years to come."
Sondheim's other notable musical works include "A Little Night Music" (1973), "Pacific Overtures" (1976), and "Assassins" (1990).
His influence was felt in Hollywood, where he co-composed "Reds"(1981), as well as songs for "The Seven Percent Solution" (1976) and "Dick Tracy" (1990). The latter's "Sooner or Later," sung by Madonna, was recognized as Best Song at the Academy Awards.
Marianne Elliott, the director of the 2021 Broadway revival of "Company," called Sondheim "the Shakespeare of musical theater" and praised him on Twitter for being "always open to the new."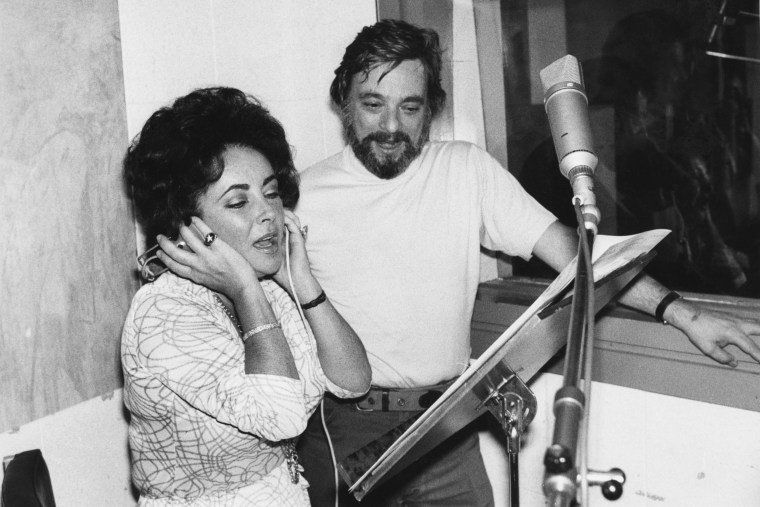 Sondheim was born in New York on March 22, 1930.
He spent considerable time as a boy at the Pennsylvania farm of Broadway's pre-eminent musical collaborator, Oscar Hammerstein II.
"Mr. Hammerstein became a mentor to young Stephen and encouraged him to hone his talents as a songwriter," a history of the farm states.
He studied at George School, near Philadelphia, from 1942 to 1946. He was a music major at Williams College in Massachusetts, and received the Hutchinson Prize for Composition when he graduated in 1950.
Sondheim went on to study music theory and composition under composer Milton Babbitt.
After college, Sondheim worked in Hollywood, writing scripts for the series "Topper." He returned to New York and wrote the lyrics for the music Leonard Bernstein composed for "West Side Story," which opened in late 1957. He also wrote the lyrics for "Gypsy," starring Ethel Merman, which opened in 1959; the music was written by Jule Styne. 
In 1962, Sondheim wrote the music and lyrics for "A Funny Thing Happened on the Way to the Forum," which won a Tony for Best Musical. He also found time to create crosswords for New York Magazine.
Despite Sondheim's cultural reign, his songs are notoriously difficult to grasp for amateur musicians, and he was known as a composer whose work one shouldn't bring to an audition.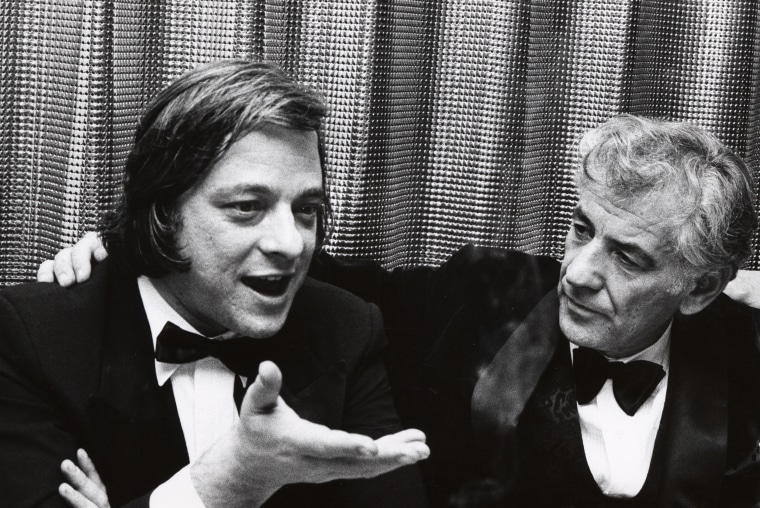 His works have been revived, sent on tour, and produced across the nation and overseas.
They have also been the subject of several revues, including "Side by Side by Sondheim" in 1976, "Putting It Together" in 1992, and "Sondheim on Sondheim" in 2010. 
In 1997 his first professional musical, 1954's "Saturday Night," got a proper world premiere at London's Bridewell Theatre. It hit Broadway two years later.
The composer is credited with helping shift Broadway away from the era of Rodgers and Hammerstein, authors of the American songbook and its unwavering optimism, to a new generation raised on rock 'n' roll and a measured mistrust of postwar conformity.
Working with Hal Prince, Sondheim made Broadway a part of the countercultural conversation in the '60s and '70s with the advent of the concept musical, a production focused on theme or message instead of story or plot.
Sondheim won several Tonys in the 1970s for collaborations with Prince.
According to the 2011 book, "Sex, Drugs, Rock & Roll, and Musicals," 1970's "Company" put the concept musical "in a position to change the art form" and help Broadway plug in to music as a form of dissent.
The Stephen Sondheim Society expressed sadness Friday over the death of its namesake.
Sondheim had been a patron of the society, which was established in 1993 in the United Kington as a nonprofit dedicated to the appreciation of Sondheim's works and to advancing music education.
"There are no words," the society tweeted Friday. "He had them all. And the music. He was incomparable. He was God to many of us. We loved his work. And god he was good. So good. Rest peacefully."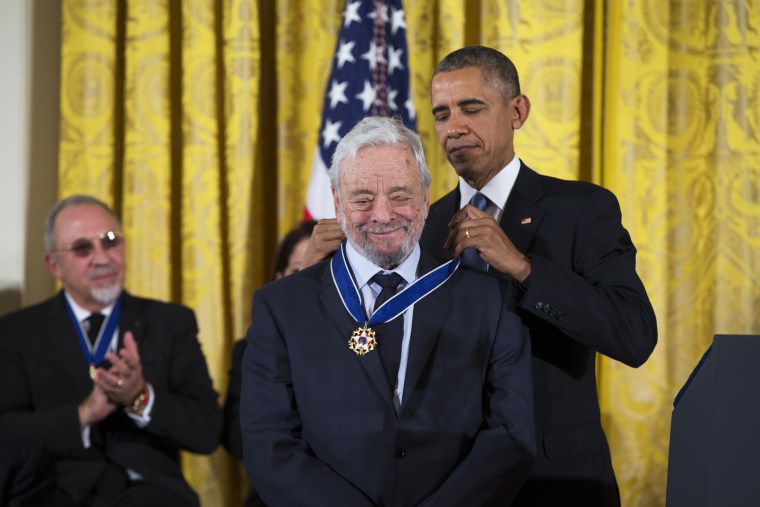 Sondheim's awards and recognitions were numerous.
He declined the National Medal of Arts from President George W. Bush in 1992, and accepted it four years later from President Bill Clinton.
In 2015, Sondheim was honored with the Presidential Medal of Freedom.
He was a recipient in 2007 of the 49th Grammy Awards Trustees Award, which recognizes outstanding contributions to the industry in a non-performing category.
The award meant he only needed an Emmy Award for his work in television to achieve EGOT status — the rare achievement of having been recognized with Emmy, Grammy, Oscar, and Tony awards. It wasn't to be.
In 2017, he became the first composer-lyricist to win the PEN/Allen Foundation Literary Service Award, which is given to a "critically acclaimed writer whose body of work helps us understand and interpret the human condition."
When he turned 80 in 2010, benefits and concerts were performed to celebrate, most notably "Sondheim: The Birthday Concert" at Lincoln Center. It was hosted by David Hyde Pierce and featured performances by many Broadway stars, including Mandy Patinkin and Bernadette Peters.
His birthday was also marked with a concert by the New York City Center featuring Sutton Foster and Angela Lansbury, and "Sondheim 80," a benefit held by the Roundabout Theater Company. 
Sondheim was fairly private about his personal life, a matter virtually unaddressed in his official bio. The 2013 HBO documentary "Six by Sondheim," revealed that he found true love after the age of 60, first with the dramatist Peter Jones and then in his last years with Jeff Romley.
Humorist and playwright Paul Rudnick said in a tweet Friday that Sondheim was "not just a genius but a truly wonderful person."
"He'd go see everything and encourage young artists (like so many, I received a personal note which thrills me to this day.)," he said. "He loved the theater; he was and will always be the theater. There will be trumpets."