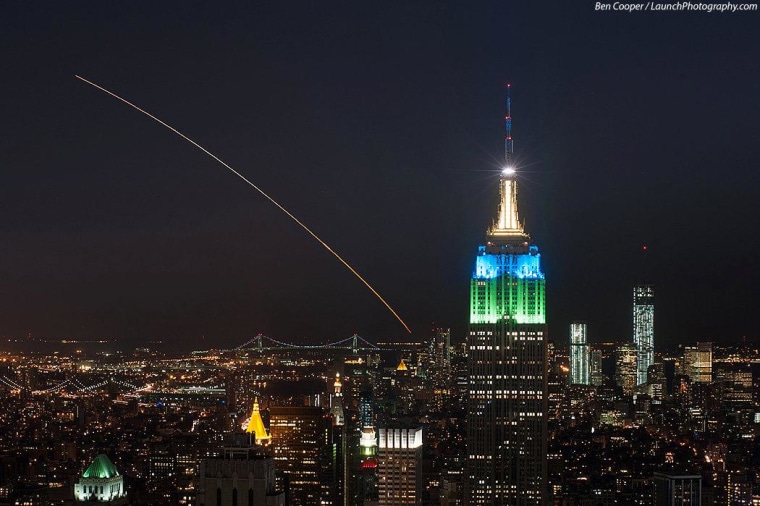 NASA's latest mission to the moon is notable not only for what it will accomplish, but also for how widely its start was seen. The fact that the Lunar Atmosphere and Dust Environment Explorer, or LADEE, was launched from Virginia's Mid-Atlantic Regional Spaceport after dark on Friday meant that the mission's Minotaur 5 rocket blast had a potential audience of millions of people.
Skywatchers from Maine to the Carolinas could see at least some of the fireworks. Hundreds of pictures of the rocket's ascent were shared via Twitter, Instagram, Pinterest and NASA's Flickr gallery, as well as SpaceWeather.com's gallery, Space.com and UniverseToday. Among the most widely shared shots were photos from Ben Cooper and Andrew Ashley that tracked the rocket's red glare above New York City's skyline, more than 200 miles to the north. 
There was a technical sputter after LADEE reached orbit: The reaction wheels that the spacecraft uses to orient itself shut down unexpectedly. Over the weekend, LADEE project manager Butler Hine said the problem was traced to pre-programmed fault protection limits that triggered the shutdown unnecessarily. Those safety limits have been tweaked to get LADEE back in working order. Now engineers are figuring out how to keep the glitch from recurring.
So what's the latest from LADEE? "The LADEE spacecraft is currently in an elliptical orbit around the Earth, about 260,000 kilometers [161,550 miles] in altitude," Hine said in an email Monday. "The spacecraft is going through the systems checkout phase, and everything looks good so far."
Hines said the sofa-sized spacecraft will be at the highest point in its current orbit at 12:30 p.m. ET Tuesday, and will drop back down to make its closest approach to Earth at 12:38 p.m. ET Friday. That's when the LADEE team plans to execute an engine burn to boost the spacecraft's orbit.
"We will continue with two more of these elliptical orbits until we are captured around the moon, and do our initial Lunar Orbit Insertion (LOI-1) burn on Sunday, Oct. 6th," Hines wrote. "After that, we are in lunar orbit."
It'll take another month or so to commission the spacecraft for science operations. Then LADEE begins its 100-day campaign to study the moon's thin atmosphere and dust.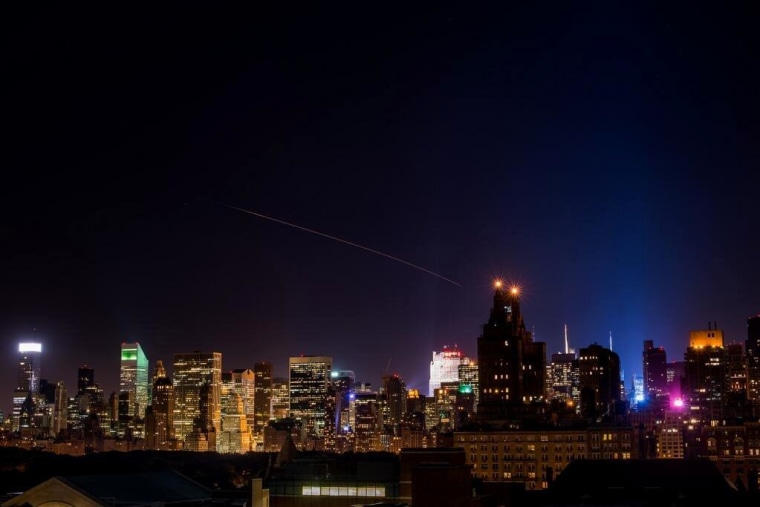 More about LADEE:
Alan Boyle is NBCNews.com's science editor. Connect with the Cosmic Log community by "liking" the NBC News Science Facebook page, following @b0yle on Twitter and adding +Alan Boyle to your Google+ circles. To keep up with NBCNews.com's stories about science and space, sign up for the Tech & Science newsletter, delivered to your email in-box every weekday. You can also check out "The Case for Pluto," my book about the controversial dwarf planet and the search for new worlds.