Play between Coco Gauff and Karolína Muchová at the U.S. Open tennis tournament in New York was stopped Thursday after an environmental protester "glued his feet to the cement floor," an announcer and a tournament official said.
The match between Gauff, of the U.S., and Muchová, of Czechia, was delayed for 49 minutes, the U.S. Tennis Association said. Gauff would go on to win and seal a place in the final on home soil, though fellow American Madison Keys later lost her semifinal.
Thursday's disruption — claimed by the group Extinction Rebellion — follows several protests by environmental activists from other groups, including one that recently blocked the route to the Burning Man festival in Nevada and others that have targeted famed works of art.
A group of environmental protesters was in an upper area, Stacey Allaster, the tournament director, said in an interview during coverage of the tournament.
"When security got there, they found that one of the protesters had physically glued themselves in their bare feet to the cement floor," Allaster said.
The U.S. Tennis Association said there were four protesters in all, three of whom were escorted out of the stadium. The fourth "affixed their bare feet to the floor of the seating bowl," it said in a statement.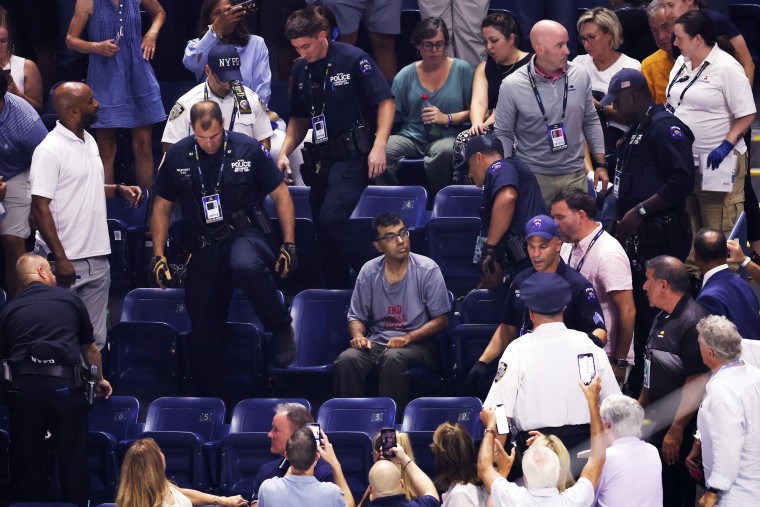 Extinction Rebellion claimed credit for the protest. It used the slogan "no tennis on a dead planet" to call for an end to fossil fuels.
"Tennis-as-usual won't be possible on a planet in which humanity fails to keep global warming below 1.5 degrees Celsius. If activists don't disrupt these games, the climate will," the group said in a statement.
Extinction Rebellion, also known as XR, has carried out a number of civil disobedience-style demonstrations over environmental concerns, starting in 2018, when it shut down bridges in central London.
Thursday's protest is the latest public display from climate activists.
The Seven Circles Alliance recently blocked the sole route in and out of Burning Man in protest of consumerism. In June, activists with a different group threw paint at a painting by Claude Monet at Sweden's National Museum and then glued themselves to the frame. And last year, Last Generation Austria activists threw a black oily substance on a famous Gustav Klimt painting in Berlin.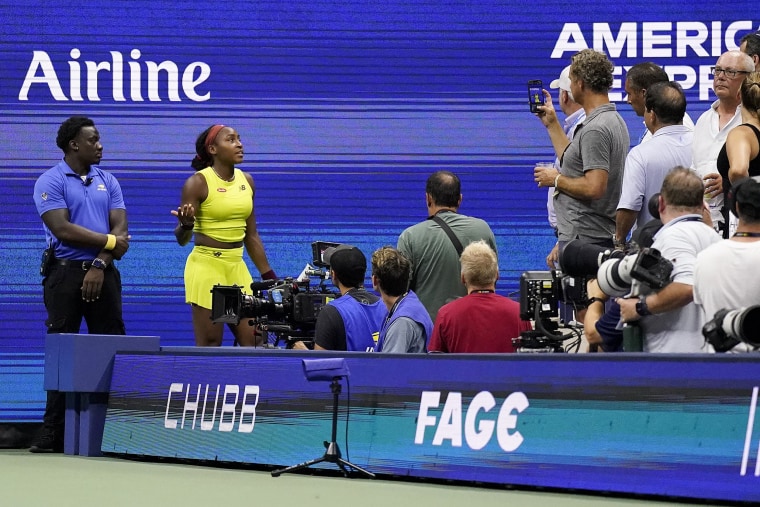 Two males were taken into custody Thursday, a New York police spokesperson said. Charges are pending, and their names were not released.
One of them had glued himself to the floor, and personnel assigned to the police department's Emergency Service Unit were able to free him, the spokesperson said.
An announcer described it as a protest in the "far reaches" of the stadium.
Gauff and Muchová took their seats during the delay. The protester was eventually removed, and play resumed.
"We know in these large events environmental protesters use the platform," said Allaster, the tournament director. "Certainly, security will be resuming, along with NYPD, to see what else we can do to prevent it in the future."
The semifinal match was held at Arthur Ashe Stadium, which has 24,000 seats.
Gauff beat Muchová to advance to the final, which is Saturday.
She will face Aryna Sabalenka of Belarus, who beat Madison Keys of the United States in a match that began shortly after Gauff's victory and ended at nearly 1 a.m.