Cleveland Browns star Myles Garrett won't be playing for the foreseeable future after his indefinite suspension was upheld on appeal, the NFL said Thursday.
Garrett's historic suspension follows an appeal hearing Wednesday in which he claimed his brutal helmet attack on Pittsburgh Steelers quarterback Mason Rudolph was preceded by Rudolph's use of a racial slur.
The allegation, which was first reported by ESPN, led Rudolph's attorney and the Steelers on Thursday to deny he made any such disparaging remark. The details regarding the alleged racial slur were unclear, although ESPN said Garrett made the accusation as part of his initial comments during his appeal hearing in New York.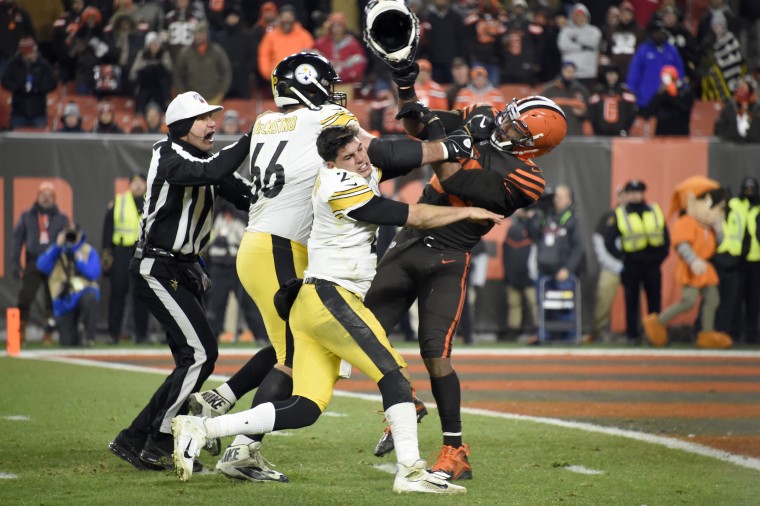 NBC News could not immediately confirm the report, and in a brief response to Garrett's accusation, NFL officials said, "We looked into it and found no such evidence."
Garrett later defended himself on social media Thursday night, writing, "I was assured that the hearing was space that afforded the opportunity to speak openly and honestly about the incident that led to my suspension. This was not meant for public dissemination, nor was it a convenient attempt to justify my actions or restore my image in the eyes of those I disappointed."
"I know what I heard. Whether my opponent's comment was born out of frustration or ignorance, I cannot say. But his actions do not excuse my lack of restraint in the moment," he said of Rudolph.
In a statement, Steelers spokesman Burt Lauten said Rudolph "vehemently denies" he used a racial slur prior to the attack.
"He will not discuss this accusation any further and his focus remains on preparation for Sunday's game against the Cincinnati Bengals," Lauten added.
Garrett, a defensive end who was Cleveland's No. 1 pick in 2017, was suspended without pay indefinitely by the NFL after the Nov. 14 melee in which Garrett ripped off Rudolph's helmet and struck him with it in the head in the closing seconds of the game.
The display of on-field violence led some people to question whether Garrett could be criminally prosecuted, though experts say athletes understand the risk of injury for participating in a contact sport and are paid accordingly.
Garrett's indefinite suspension is reportedly the most severe for any one-time on-the-field action by a player since Tennessee Titans lineman Albert Haynesworth received a five-game suspension in 2006 for stomping on the helmetless head of an opponent.
It's unclear how long Garrett will have to sit out, but it's expected to last at least through the rest of the season and post-season.
NFL Commissioner Roger Goodell told the sports podcast "Pre-Flight Playbook with Gary Myers" prior to Garrett's appeal hearing that the NFL talent will "probably meet with us sometime in the off-season, and I think we'll make a judgment on does he have remorse."
Rudolph's attorney, Timothy Younger, suggested Garrett was lying about whether Rudolph used a racial slur. He said in a statement Thursday that Garrett's claim was "conspicuously absent in the apology published by the Browns and adopted by Garrett."
He also called it a "desperate attempt to mitigate his suspension."
Rudolph has previously denied saying anything to escalate the fight, and he has not been subjected to any penalties as a result of his role in the brawl that broke out involving multiple players from both teams. The attack came with just eight seconds left in the game.
Rudolph has called the violence "pretty cowardly, pretty bush league."
The Browns and Steelers have a long-running rivalry, and following Thursday's game Garrett said he "lost my cool and I regret it."
On Thursday, when asked about Garrett's allegation against Rudolph, Cleveland Browns head coach Freddie Kitchens said he stands by his player.
In the moments following the brawl, Garrett has "been nothing but professional with his responses." He added that whatever the arbiter decides, "we'll respect his decision."
The Browns' general manager, John Dorsey, also defended Garrett following the appeal hearing decision, and said in a statement "he is a man of high character and unquestionable integrity."
Garrett wasn't the only player who filed an appeal following the fight.
Steelers center Maurkice Pouncey was also punished for taking part, and received a three-game suspension after punching and kicking Garrett. Appeals officers decided to reduce his suspension to two games while upholding a $35,096 fine, the NFL said Thursday.
The Browns and Steelers are set to play again on Dec. 1.