2015 was a big year for people who had small moments of fame.
There was Kim Davis, the Kentucky clerk who refused to give marriage licenses to gay couples. There was Rachel Dolezal, the white woman at the head of a local NAACP chapter who identified as black. And then there were other characters — such as New York's infamous Pizza Rat — who took the Internet by storm.
And yet, almost quickly as they rose to prominence, these newsmakers retreated back out of the national spotlight. Here's an update on some of the folks (and Internet phenoms) who had 15 seconds of fame in 2015.
Rachel Dolezal
In June, the then-president of the Spokane, Washington, chapter of the NAACP was outed by a local TV station as the daughter of a white couple, surprising many at her job and in the community who were under the impression that she was black. In an interview with TODAY on June 16, Dolezal insisted that she was not trying to deceive anyone, and that she had identified as black for practically her whole life.
After being vilified and ridiculed, Dolezal stepped down as NAACP chapter president — and then drifted out of the headlines. Earlier this month, she was profiled by VICE Magazine, where she discussed some big news: She's pregnant. The baby is a boy, she revealed, and will be her third son. She has not revealed who the father is.
Life has been tough for Dolezal since the fallout from her race controversy cost her her unpaid position at the NAACP, her volunteer position on the Spokane police ombudsman commission, and her position as an adjunct professor at Eastern Washington University.
"I've struggled with depression to the point where I wonder if it's even in my kids' best interest for me to stay around," she told VICE. "I feel like I'm a liability to my own children."
Kim Davis
The Kentucky county clerk was catapulted to the national stage in September when she spent five days in jail for refusing to issue marriage licenses following the legalization of same-sex marriage across the country. GOP presidential hopeful Mike Huckabee stood by her side when she got out of jail, and a couple weeks later, Davis had a secret meeting with Pope Francis in Washington, D.C.
Gay and straight couples sued her, and Davis is still embroiled in those cases. Since her release from jail, her office has issued altered marriage licenses that omit her name and the name of the county.
In an interview with The Associated Press earlier this month, Davis reflected on her role in one of the biggest social upheavals of the year, and said putting her faith in action was a "very emotional and a very real situation to all people."
"If I could be remembered for one thing, it's that I was not afraid to not compromise myself," she said.
Ahmed Mohamed
The 14-year-old Irving, Texas, boy was arrested in September after bringing a homemade clock to school that authorities mistook for a bomb, in an incident that prompted accusations of racism against the Sudanese-American high schooler. Ahmed received a flood of support from across the country — including from President Obama, who invited him to come to the White House.
Shortly after going to the White House in October, Ahmed's family decided to move to Qatar, announcing that Ahmed had been awarded a full scholarship for secondary and undergraduate education.
Then in November, lawyers for the family said they were demanding a public apology and $15 million in compensation from the city of Irving and the school district. The attorneys gave Irving and Irving Independent School District 60 days to pay up, or else face a civil lawsuit. Lawyers for the city and school district told NBC Dallas-Fort Worth they had received the letter and were reviewing it, but had no further comment.
Walter Palmer
The American dentist caused an uproar in July after he killed a prized Zimbabwe lion named Cecil, a tourist favorite that was a prominent part of an Oxford University study.
"If I had known this lion had a name and was important to the country or a study, obviously I wouldn't have taken it," he later said.
Because the 55-year-old dentist from Minnesota had obtained the proper hunting papers beforehand, he was not charged in Cecil's death.
Palmer returned to work in September after staying out of public view for more than a month amid threats on his life. He has continued to keep a low profile and did not return a phone call from NBC News. As for Cecil, his legacy lives in: His son, a lion named Xanda, was spotted mating with lionesses this month, Newsweek reported, and Cecil's grandcubs are expected to be born in March.
Joyce Mitchell
The New York prison seamstress is serving a sentence of up to seven years for her role in helping convicted killers David Sweat and Richard Matt escape from Clinton Correctional Facility in June. Mitchell was ordered to pay nearly $80,000 in November in restitution for damage to the prison for her part in the brazen jailbreak: Matt and Sweat cut holes in their cells and sawed through a steampipe to escape, thanks to a drill bit and hacksaws that Mitchell smuggled in through meat.
Mitchell may be behind bars, but the troubles for her family haven't ended. At the beginning of December, Mitchell's 22-year-old son, Tobey, was charged with domestic assault in Vermont after he was accused of choking his wife during an argument. According to court documents, his wife said she had strangled her four or five times in the last year.
American Pharaoh
American Pharaoh became the first horse in 37 years to win the Triple Crown after he won the Belmont Stakes win in June.
Since that achievement, the horse scored one more title: the Breeder's Cup Classic in October. The 3-year-old colt then retired to a Kentucky breeding farm.
He's currently up for another win. The Associated Press announced on Dec. 21 that American Pharaoh is a leading candidate for its 2015 Male Athlete of the Year award.
American Pharaoh could end up as the most valuable athlete in horseracing history, according to the AP. He earned $8.3 million in less than eight months, is currently worth about $20 million.
#TheDress
In February, a poorly lit photo of a dress nearly broke the Internet as fights broke out over its color. Was it white and gold, or blue and black? Cecilia Bleasdale, the owner, told TODAY earlier this month that she bought the dress in question for the Feb. 21 wedding of her daughter Grace — and said it's hung in her closet in Lancaster, England, since then.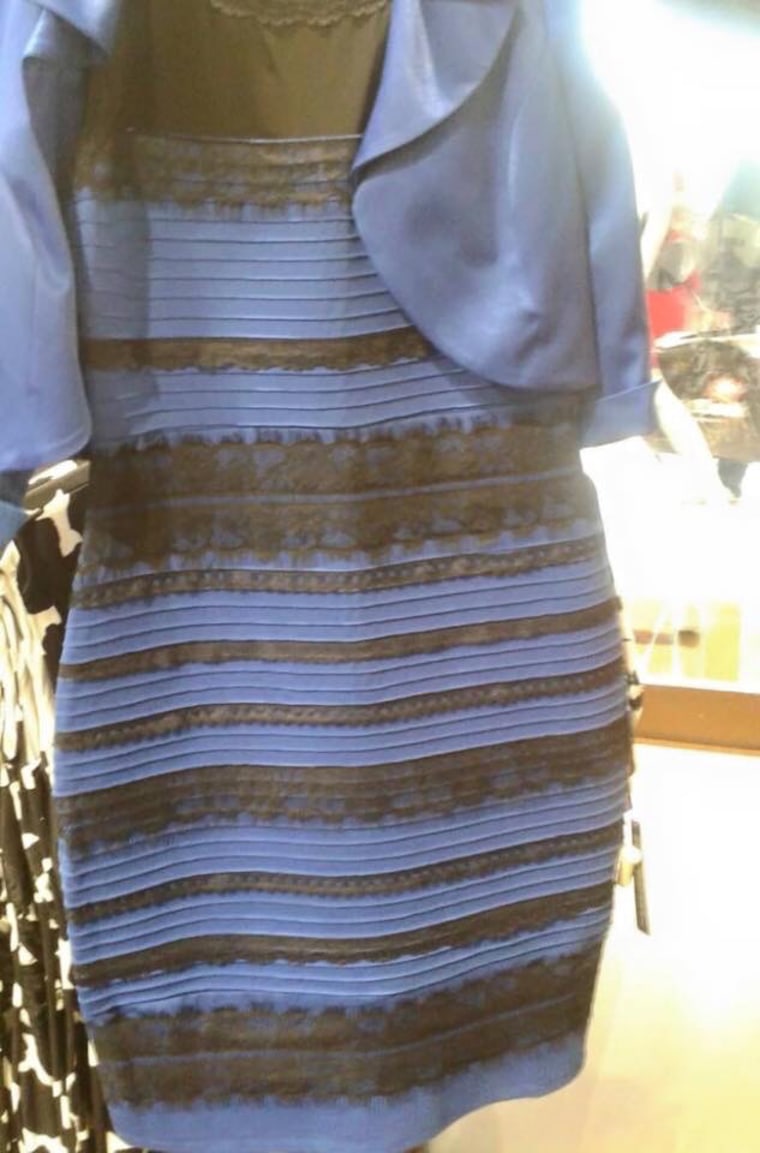 "I never expected it to blow up as much as it did," Bleasdale told TODAY.
The controversy started, Bleasdale said, when she texted three photos of different dresses she was considering wearing to Grace's wedding in the weeks before the big day. Grace texted back that she liked the "white and gold one" — thoroughly confusing Bleasdale. When Bleasdale asked her husband, Paul, for some clarification, Paul responded that he saw a blue and black dress in person and a white and gold one in the photo.
Bleasdale told TODAY she has plans to sell the dress at an auction some time in the future.
Pizza Rat
An ambitious New York City rat took the Internet by storm in February when a transit rider captured the vermin on video dragging an entire slice of pizza down the steps to the subway. Pizza Rat hasn't done many media interviews since then, but he does have a Twitter account, @NYCPizzaRat, and his adoring fans can order a Sexy Pizza Rat Halloween costume. Place your orders now: The price has dropped!
And he may have inspired other rodents to chase their dreams. In October, a doughnut-dragging rat was also captured on video on a Manhattan subway platform.