AMHERST, Mass. — A pre-St. Patrick's Day celebration near the flagship campus of the University of Massachusetts spiraled out of control, pitting police in riot gear against thousands of drunken and unruly revelers at the annual "Blarney Blowout."
There were more than 70 arrests and four officers were injured in the clashes that included some students throwing beer bottles, cans and snowballs, officials said.
Amherst police said early Sunday that 73 people had been arrested after authorities spent most of the day Saturday attempting to disperse several large gathering around the UMass campus for the party traditionally held the Saturday before spring break.
The partying carried through Saturday evening into early Sunday, and Amherst Police Capt. Jennifer Gundersen said in a statement that police were busy with numerous reports of fights, noise and highly intoxicated individuals.
Gundersen called the daylong partying "extremely disturbing and unsafe."
"Perhaps one of the worst scenes we have ever had with drunkenness and unruliness," Gundersen told The Republican in Springfield. "It is extremely upsetting. It is very dangerous."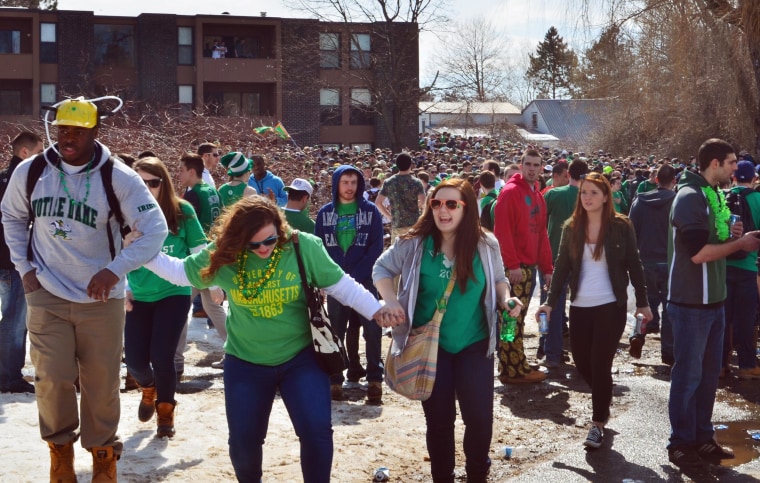 UMass denounced the "unruly behavior" Saturday and spokesman Ed Blaguszewski said students who were arrested will be reviewed under the school's code of conduct and that sanctions could include suspension or expulsion.
The size and scope of the gatherings have led to violence and fights, injuries, severe alcohol intoxication, sexual assaults, excessive noise, property damage, and violence toward the police and community members, police said.
Amherst Capt. Christopher Pronovost described the day as "mayhem" to the Daily Hampshire Gazette.
"This can't be in any way, shape or form be characterized as a party," he said. "This is destruction of property (and) assaultive behavior."
Collecting bottles and cans around the scene of the mayhem Saturday night, Amherst resident Raul Colon told the Gazette that the day's events looked like "a revolution, like in the countries that have revolutions between the students and the government."
— The Associated Press