The Justice Department does not plan to bring charges in the fatal police shooting of an African-American man who was shot during a confrontation outside a Baton Rouge, Louisiana, convenience store last year, two sources familiar with the investigation told NBC News.
Sources said prosecutors have concluded there isn't enough evidence to bring civil rights charges in the July 5, 2016, death of Alton Sterling, 37, whose death was captured on video and sparked days of protests in Louisiana's second-biggest city.
Sterling was shot by police as he was on the ground after being tackled by police officers outside the store, where he was selling CDs.
Authorities said they were looking for a man matching Sterling's description who had threatened someone with a gun, and that Sterling was armed and allegedly tried to reach for the weapon.
The fatal shooting occurred amid elevated tensions nationwide over the use of deadly police force against black people. More than 150 people were arrested in three days of protests over the shooting.
Rumors that the Justice Department would not bring charges have been circulating in Baton Rouge since last week. An attorney for Sterling's family, Justin Bamberg, said Tuesday they were not aware of any Justice Department decision.
Sources told NBC News on Wednesday that Justice Department officials will meet with Sterling's family later today and a formal announcement is expected in the afternoon.
The city's mayor said Tuesday that she was "appalled" the Sterling family had not been told, and that her office has not been notified that a decision had been made.
"I am appalled that this news, whether true or false, has been disseminated without a formal decision being relayed to the Sterling family first. Also, no one in my office or the governor's office has been notified by the U.S. Attorney's office of a decision or timeline," Mayor Sharon Weston Broome said in a statement.
"As I've said before, when I know something, the people of Baton Rouge will know — and we will get through it together," she said.
The Sterling family said they are withholding comment until an announcement is made.
The case will now likely go to the State Attorney General's Office. The state had held off on its investigation pending the conclusion of the federal investigation.
In video of the deadly encounter, police are heard saying "he's got a gun! Gun!" Police say a small handgun was recovered from Sterling's pocket after he was shot.
A police report said Sterling was jolted with a stun gun after he didn't comply with the officers' commands to place his hands on the hood of a car. The report, signed by a Baton Rouge police detective, also says the officers saw the butt of a gun in one of Sterling's pants pockets and saw him try to reach for the gun before he was shot.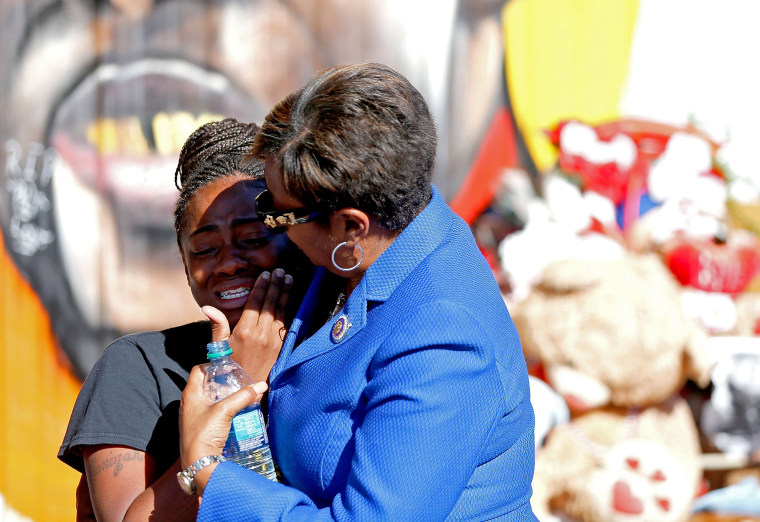 Critics of the police say that the video never shows Sterling reaching for the weapon — and Louisiana is an open carry state.
The coroner has said that Sterling died of multiple gunshot wounds to the chest and back, but in August a judge sealed the autopsy report.
Law enforcement sources told NBC News that the decision not to bring charges in Sterling's death was made by career investigators and prosecutors.
Bringing federal charges in a case like this is notoriously difficult because the law requires proving intentional wrongdoing. For example, the Justice Department concluded it could not bring charges in the Ferguson, Missouri police shooting of Michael Brown.
But Rashad Robinson, executive director of the advocacy group Color of Change, blamed the decision on the office of new Trump administration Attorney General Jeff Sessions.
"There is no way to misinterpret the message that Jeff Sessions sent today: Black lives do not matter," Robinson said in a statement.
Louisiana Attorney General Jeff Landry said Tuesday that no official statement has been released from the Justice Department, and his office would not comment until that time.
Sen. Bill Cassidy, a Republican who represents Louisiana, called for calm once a decision is formally announced.
"When this decision is released, we as a community must decide that we want peace," Cassidy said on Twitter. "As we work & pray for peace, we must remember each family."
The reported Justice Department decision comes as city leaders have worked with police and community groups to enact various police reform measures. Those reforms include barring police from firing into vehicles and using chokeholds in most situations.
On the state level, four bills in the legislature that would bolster police training and help officials weed out problem cops were vote out of committee last week.