As Bradley Cooper and Clint Eastwood hit the red carpet for "American Sniper" on Sunday, the murder trial exploring the dark real-life conclusion to the story was nearing its end.
Jurors in Stephenville are expected to hear closing arguments Tuesday in the trial of Eddie Ray Routh, an ex-Marine who shot and killed Chris Kyle, the inspiration for the movie, and another man after they went to a gun range together two years ago.
Closing arguments had been scheduled for Monday but were postponed because of sleet and snow in the Dallas area.
Routh, 27, has pleaded not guilty by reason of insanity. That he pulled the trigger is not in dispute. Jurors will be asked to decide whether he knew right from wrong when he did it.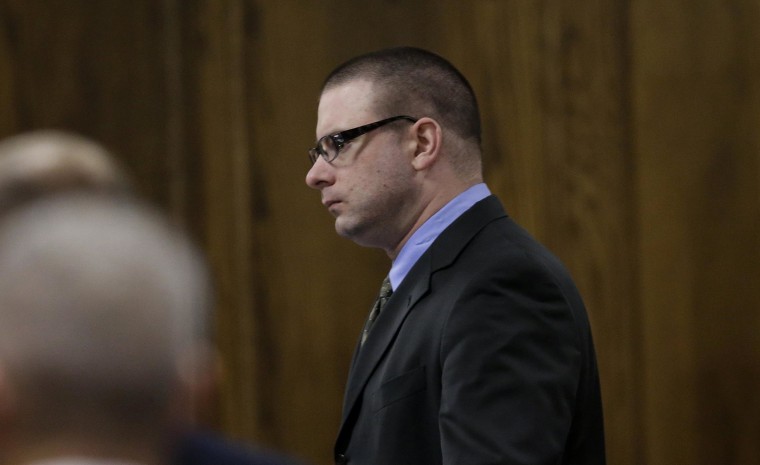 Defense witnesses painted a picture of a man who was deeply disturbed well before the day of the crime.
Dr. Michael Dunn, a forensic psychiatrist who reviewed Routh's medical records and interviewed him after the crime, testified that Routh believed that pigs were taking over the world and that Kyle and the other man, Chad Littlefield, were plotting to kill him as part of it.
"It was clear he was psychotic," Dunn said, speaking of a July 2011 diagnosis at a VA hospital, which concluded that Routh suffered from psychiatric disorder.
Other defense witnesses portrayed a man who was clearly not himself — scattered, depressed, paranoid, hearing and seeing things, drinking heavily and smoking marijuana.
Prosecutors called a police deputy who said he heard Routh say after the crime that he killed Routh and Littlefield "because they wouldn't talk to me."
They also played for the jury a nearly hourlong video of Routh's confession, during which he expressed remorse and, asked whether he knew the difference between right and wrong, answered, "Yes, sir."
Dunn, the defense psychiatrist, said on cross-examination that Routh did not see combat during his time in Iraq, exaggerated the trauma of his military service and probably never had post-traumatic stress disorder.
And the prosecution's own forensic psychologist, Dr. Randall Price, said that Routh might have cribbed the pig story from an episode of "Seinfeld" or gotten the idea from the TV show "Boss Hog."
"In my opinion, he did know what he was doing was wrong, and he did it anyway," Price said.
Prosecutors said that Routh was drinking and smoking marijuana on the morning of the crime. They argue that he was paranoid because he was high, and that he was angry about living with his parents, relationship problems, money and his job — then finally exploded when Kyle and Littlefield snubbed him.
Routh did not testify.
The state is not seeking the death penalty, and a guilty verdict would mean an automatic life sentence. A verdict of not guilty by insanity would probably mean that Routh would be committed to a mental hospital, perhaps for life.
Kendall Coffey, a former federal prosecutor and an NBC News legal analyst, who has followed the trial closely, said that the defense faces a "very tough case."
In Texas, as in most states, the defense must convince the jury, by a preponderance of the evidence, that the defendant was insane. It's not enough to raise a reasonable doubt about the prosecution's argument for sanity. From the defendant's perspective, making an insanity case is a tougher job than arguing that a shooting was in self-defense, Coffey said.
"You've got testimony that he did it because they wouldn't talk to them," he said. "That doesn't sound like a sane motive. But, again, it's not up to the prosecution to prove. It's all on the defense to make that case."
In addition, he noted, jurors will not be instructed that a verdict of not guilty by insanity will probably result in Routh's committal.
"It leaves the jury guessing and assuming that not guilty means not guilty," he said. "If you told the jury he's going to spend the rest of his life in a mental institution, or some large number of double-digit years, that might make a difference."
Kyle, 38 when he was killed, was a former Navy SEAL who was reputed to be the deadliest sniper in U.S. history. His autobiography, "American Sniper," is the inspiration for the movie. Cooper was nominated for best actor for his portrayal, but was beaten by Eddie Redmayne.
Kyle's widow, Taya, was the first prosecution witness against Routh. She recalled speaking with Kyle just before he was killed: "I could tell something was up, and he was just quiet."
The two men had taken Routh to the gun range after Routh's mother asked Kyle if he could help her son. Kyle sent a text message to Littlefield while they were in the car: "This dude is straight-up nuts."
Fighting tears, Taya Kyle described the last time she saw her husband.
"We said we loved each other and gave each other a kiss and a hug," she said.