Elon Musk is getting into the roasted chestnut business with a flamethrower that looks like a futuristic weapon.
The Silicon Valley CEO said that the Bureau of Alcohol, Tobacco, Firearms and Explosives was "A-ok" with its sale so long as the torch is less than 10 feet.
But an ATF spokeswoman told NBC News on Monday that it doesn't regulate flamethrowers.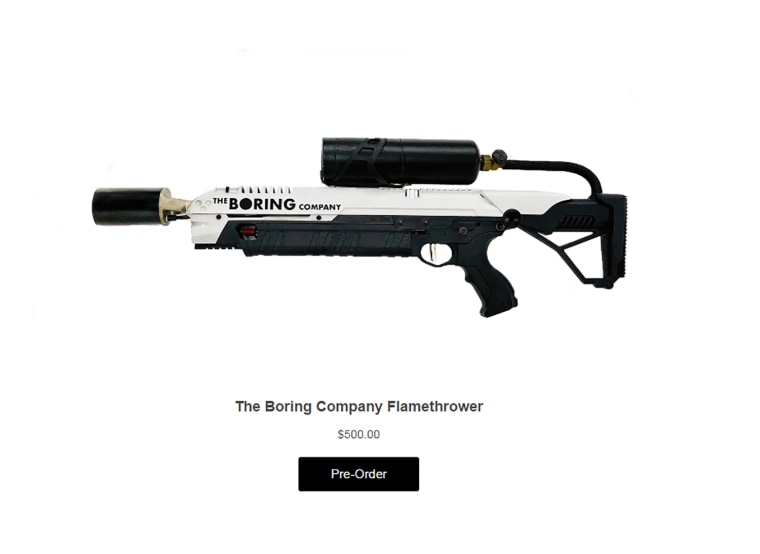 "I'm not sure why he said that," said the spokeswoman, Alexandria A. Corneiro. "The domestic production and possession [of flamethrowers] are not regulated by the Gun Control Act or the National Firearms Act, so we have no regulatory function in that matter."
Corneiro wasn't sure who regulates flamethrowers. The Boring Company, which Musk founded in 2016 and began taking pre-orders for the torches on Saturday, did not immediately respond to requests for clarification.
The company had taken orders for 10,000 of them at $500 a pop as of Monday afternoon, Musk claimed on Twitter.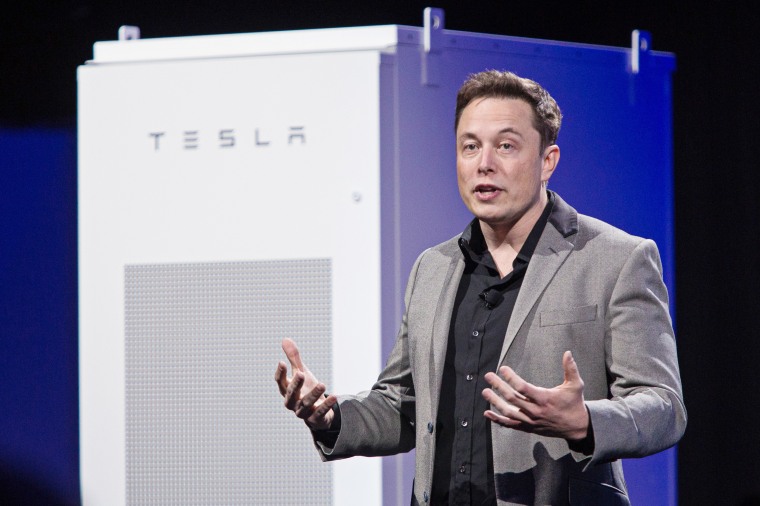 But in California, where Musk's company is headquartered, state assemblyman Miguel Santiago, D-Los Angeles, said that he planned to block their sale.
Referring to the Boring Company, which has proposed building a vast network of tunnels to alleviate traffic congestion in densely populated sections of the United States, including in Los Angeles, Santiago said that the company's "deviation" from a "real public policy problem…feels like a complete slap in the face."
Related: Tesla denies Model 3 production snags, but says certain parts are being hand built
"If this is real, I'm outraged and you should be too," Santiago wrote on Twitter. "If this is a joke, then it's a terribly insensitive one given that we're coming off of the worst wildfire season in history. Either way: NOT FUNNY. NOT GONNA HAPPEN.
In announcing the device, Musk wrote on Instagram that "a flamethrower is a super terrible idea. Definitely don't buy one. Unless you want to have fun."
In a video that accompanied the post, Musk can be seen turning the machine on. As an intense blue flame erupts from the barrel, he grins and runs toward the camera.
"Fire extinguisher sold separately (for exorbitant amounts of money)," the company says on its website. "May not be used on Boring Company decorative lacquered hay bales or Boring Company dockside munitions warehouses."
Musk made the comment about the ATF after a would-be purchaser wrote on Twitter that the flamethrowers might be illegal.
"ATF says any flamethrower with a flame shorter than 10 ft is A-ok," he said. "Our design is max fun for least danger. I'd be way more scared of a steak knife."