A life-or-death drama that played out on the side of a Miami highway — where an anguished aunt resuscitated her 5-month-old nephew — was preceded by a silent warning.
Like many infants, little Sebastian de la Cruz hates being stuck in traffic and howls when the car isn't moving.
But on Thursday afternoon, while aunt Pamela Rauseo was driving him home from a doctor's appointment, she noticed he suddenly stopped crying in a bumper-to-bumper jam.
"Something told me, 'I need to check up on him,'" Rauseo said Friday after a photograph of her frantic effort to save the baby boy went viral.
She pulled over to the left and went into the back seat to find the baby alarmingly pale and limp.
In a panic, she thought about calling 911 from the car's OnStar system but was rattled by all the buttons. "Then I tried with my phone and it's asking me for my password. My brain isn't working so that was a no-go," she recalled.
"I got out of the car with him and started screaming for help," she said. "I was pointing at the baby asking for help, saying he's not breathing and a lady and gentleman came quickly.
"At that point the baby was purple...There was no response whatsoever. I kept calling him, 'Seba! Seba!' Nothing. Absolutely nothing."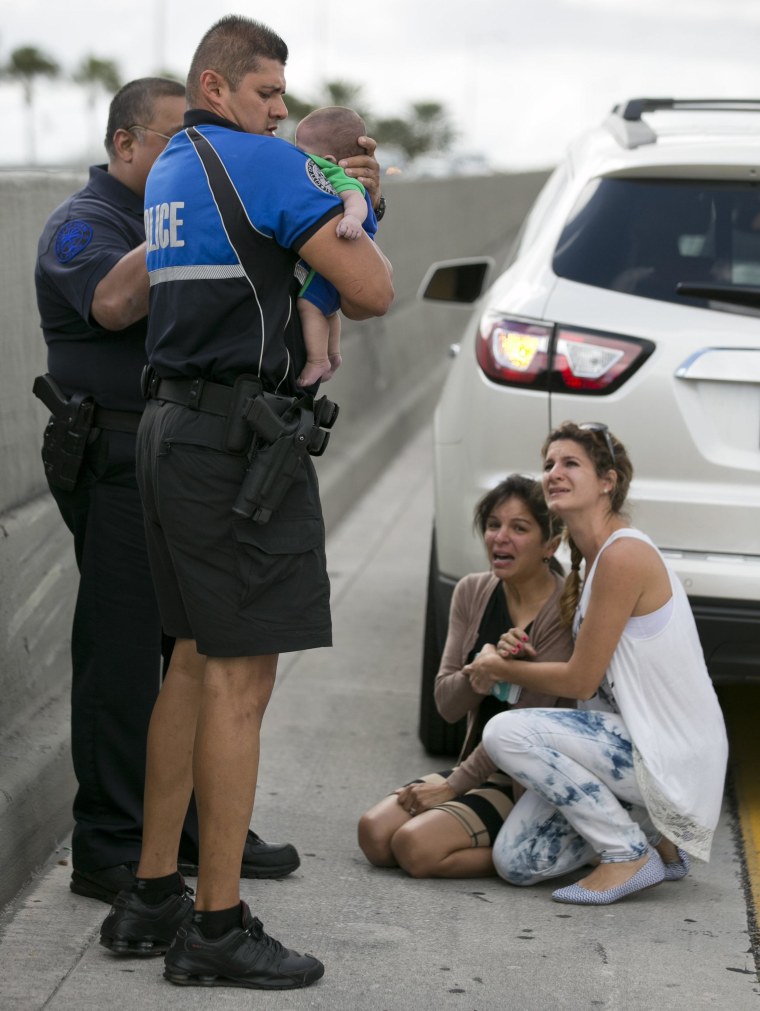 The female good Samaritan who came to her aid was Lucila Godoy, who was driving with her own child when she spotted Rauseo in distress.
"I wasn't thinking. I just got out of the car and saw the baby and heard her calling him Sebastian, which is my baby's name, and I just freaked out," Godoy said.
"I couldn't think. I was like, 'Please don't die on me.'"
Flagged down by the Miami Herald photographer who took the gripping photos, Sweetwater Police Officer Amauris Bastidas also rushed to help.
The three did CPR on Sebastian, who started breathing — and then suddenly stopped again. More rounds of chest compressions and rescue breathing followed until the baby started breathing on his own again.
"That's when I broke down crying out of relief, knowing that he was OK," Rauseo said.
The officer held Sebastian until paramedics arrived and took him to the hospital, where doctors were running tests to see why he had stopped breathing.
His aunt, who has three children of her own, said he had been congested and had just been seen by the doctor before the car ride home. Hospital officials said that may have contributed to the child's respiratory arrest.
She said she can't stop thinking about what might have happened if she had not gotten worried when he went quiet.
"What if I just thought that he fell asleep, that he was fine? What then?" she said.
Rauseo said that she learned how to to CPR seven years ago but had forgotten the basics. Now she plans to take a refresher course to get certified.
"I would suggest that anyone with a baby or a baby in their family do so," she said.