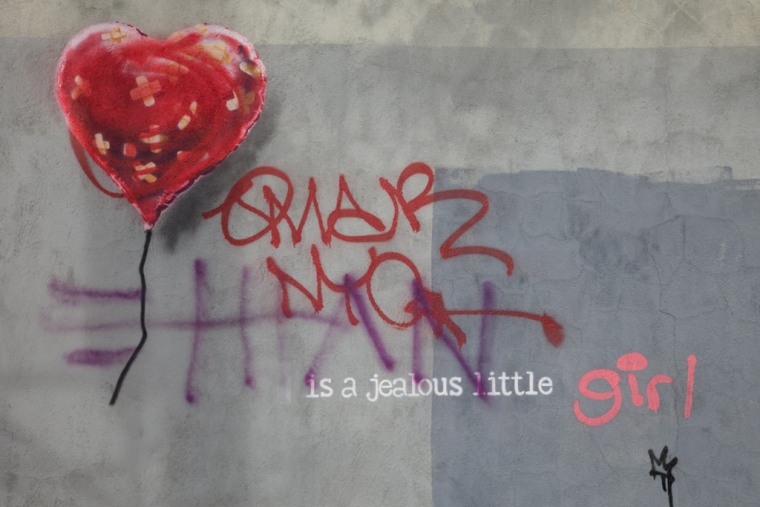 And this is why we can't have nice things.
The celebrated, pseudonymous British street artist Banksy has been leaving crowd-pleasing marks all over New York City this month — only to have his work defaced day by day.
Some fans have been shocked or angered by the meta-vandalism, while others have suggested it might be a point of the month-long outdoor exhibit by the world's most famous spray-paint satirist.
"It's not the most remarkable work of his career. And I think almost all the works I have seen are right there on street level," said Caleb Neelon, co-author of "The History of American Graffiti."
"It's almost like he's daring everyone to go right over it."
Well, challenge accepted.
A crew "revised" the very first piece Team Banksy created this month, a boy reaching for an aerosol can on a sign that reads: "Graffiti is a crime." The sign was swapped out for one that said, "Street Art is a Crime."
In other cases, rivals have simply scrawled over his stuff.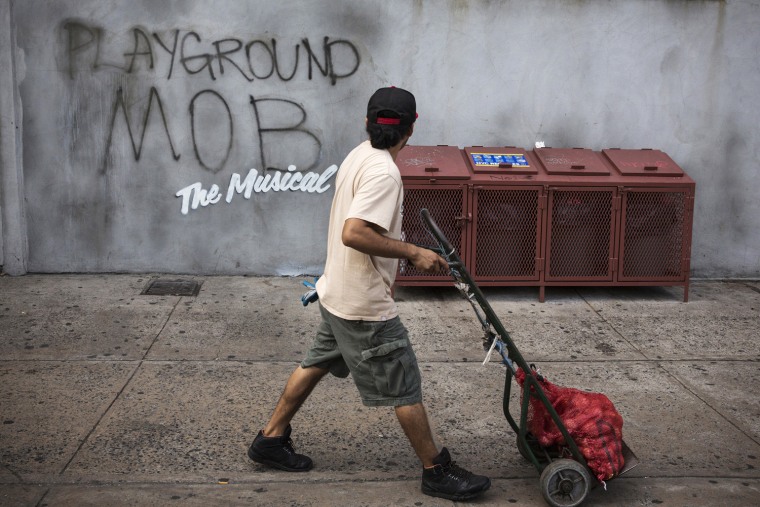 On Monday, while a small crowd was gathered in the Brooklyn neighborhood of Red Hook, a man "ragged" a painting of a red balloon heart covered in Band-Aids and added his own tag, Omar, the blog Animal NY reported.
Later, below Omar's signature, someone added the words, "is a jealous little girl."
When Banksy or someone working for him added the stenciled words "The Musical" to some unremarkable existing Brooklyn graffiti — giving it a "Broadway makeover" — coverup artists either painted over or erased it.
A silhouette of a dog relieving itself on a hydrant now has some additions, including a misspelled jab at the highly collectible artist, whose works have sold for more than a million dollars.
Some dogs have let loose on it, too. And so far, not a word of complaint from Banksy, whose real identity is a secret.
Councilman Peter Vallone Jr., perhaps the city's most ardent anti-graffiti activist, sounded bemused that the famed graffitist was under attack.
"This guy's a vandal, but a talented one," he said.
"This is what the graffiti world is all about. Guys like Banksy are the exception. It's full of bombers an taggers who are no-talents and are just bent on getting notoriety for themselves."
While property owners in the know may be thrilled to learn their building has gotten the Banksy treatment, Vallone noted that he is still breaking the law.
"If he's caught, he should be punished the same way anyone is punished," he said.
In the meantime, New Yorkers are treating the "residency" — which also includes a YouTube takeoff on Syrian rebel videos and a souped-up delivery truck with a trompe l'oeil paradise inside — as a sort of scavenger hunt.
Fans check Banksy's website each day for a photo of his newest work, accompanied by the vaguest of geographical descriptions, and then try to find and Instagram it before it's ruined.
In an email interview with the Village Voice newspaper, Banksy dismissed speculation that he might be the one doing the defacing.
"I used to think other graffiti writers hated me because I used stencils, but they just hate me," he said.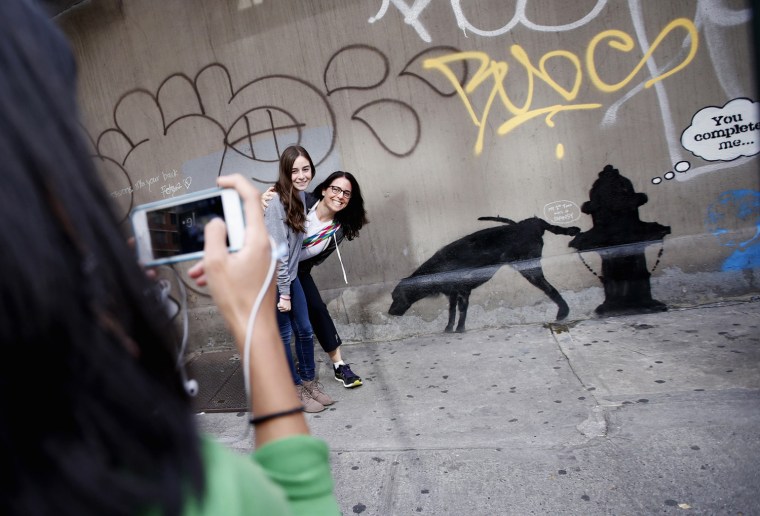 On Tuesday afternoon, the Red Hook site drew students from St. Francis College, on a field trip for a cultural criminology class. They discussed the difference between Banksy and "Omar," and agreed the former had more of a claim to the wall space.
"I would say his is art," student Manpreet Kaur said of the broken-heart balloon.
Neelon said that battles in the graffiti world are not uncommon, and Banksy may be the biggest target — especially for those who think the frenzy surrounding him is a ludicrous.
"There are some people who manage to retain the respect of various other graffiti artists and some people who don't," he said.
He noted that the ragging — as defacing someone else's work is called — has only brought more publicity to Banksy, who theoretically has the resources to the make his art someplace harder to reach.
"And, of course, he's taking it to New York, where he doesn't stand a chance," Neelon said.
CNBC's Amy Langfield contributed to this report.