The childhood home of former President Bill Clinton was partially damaged early Friday in a fire that local Arkansas police are investigating as an arson.
"There was a strong odor of accelerant at the point of origin. It smelled like gasoline," Hope Police Chief J.R. Wilson told NBC News.
A passing driver reported smoke pouring from the side of the Hope home — designated in 2011 as a National Historic Site — at 3:17 a.m. CT, Wilson said.
Police and fire arrived within a couple of minutes, and the blaze was "put ... out very quickly," Wilson said.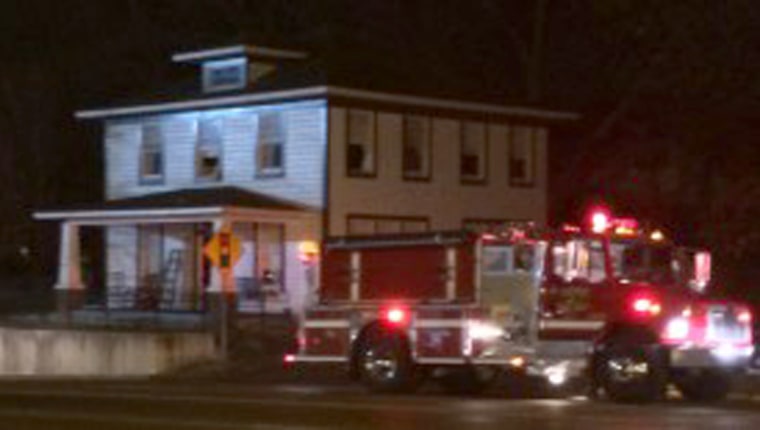 The back side of the two-story home was torched, and the flames reached about 8 feet high before they were extinguished, he added.
"The damage is minimal and repairable, and the structure is sound," Wilson said.
Authorities collected evidence that includes graffiti found on a walkway leading to the north side of the home; the number 55 was spray-painted there in black.
In addition, on a north side door of the structure, there were two X's and a loop coming out of the center of a frown like a tongue sticking out.
Wilson said there was no evidence suggesting a suspect or suspects had gotten inside.
He added that the incident is being viewed more as malicious juvenile vandalism than as part of any greater threat. He couldn't immediately say if anything inside the house was seriously damaged.
The FBI has been notified of the suspected arson, and the National Park Service is helping to investigate.
Clinton's childhood home — sometimes referred to as his "birthplace" home — gained notoriety when he first ran for president in 1992. He touted his roots in Hope in southwestern Arkansas, where his mother, Virginia Clinton Kelley, had lived before Clinton's father, William Blythe Jr., died three months before the future president was born.
Clinton, however, wasn't actually born in his childhood home, but at nearby Julia Chester Hospital.