Ross Perot, a self-made billionaire business magnate who twice ran as a third-party candidate for president, died Tuesday at his home in Dallas surrounded by family.
He was 89.
"In business and in life, Ross was a man of integrity and action," a statement from his family said. "A true American patriot and a man of rare vision, principle and deep compassion, he touched the lives of countless people through his unwavering support of the military and veterans and through his charitable endeavors."
"Ross Perot will be deeply missed by all who loved him. He lived a long and honorable life," it said.
Perot was a problem-solver, an obituary posted on his website said. His philosophy was: "If not me, who? And if not now, when?"
That philosophy led him to two presidential campaigns, in 1992 and 1996, as a third-party candidate. He campaigned both times on cutting the national debt, protecting American workers from outsourcing, and campaign reform.
In the 1992 run against incumbent George H. W. Bush and Bill Clinton, he won 19.7 million votes, almost 20 percent of the popular vote.
It was among the best showings by an independent presidential candidate in the 20th century, and some Republicans blamed Perot for Bush's loss.
He had spent $63.5 million of his own money and bought 30-minute television spots, in which he used charts and graphs to illustrate economic plans. "It's just that simple," he would summarize.
His second run against Clinton and Bob Dole was less successful, with Perot getting just 8 percent of the vote.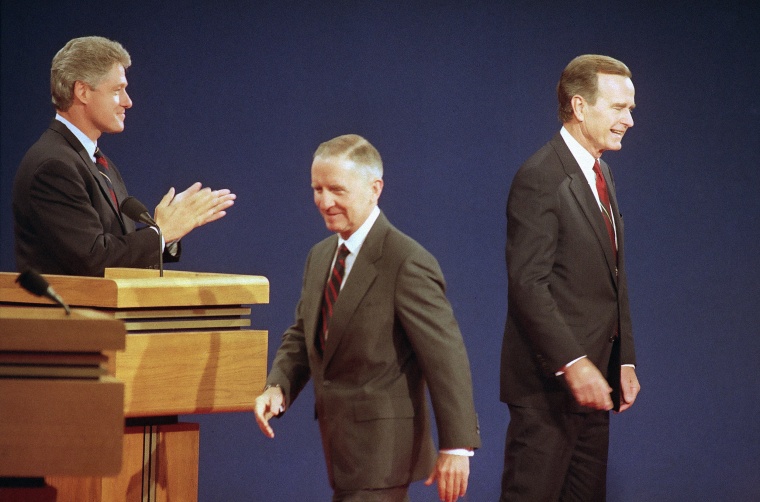 "Texas and America have lost a strong patriot. Ross Perot epitomized the entrepreneurial spirit and the American creed," former President George W. Bush said in a statement.
Perot was born on June 27, 1930, in Texarkana, Texas, during the Great Depression. He entered the U.S. Naval Academy in 1949.
"I had never seen the ocean, and I had never seen a ship — but I knew that I wanted to go to the Naval Academy," Perot had said, according to his obituary.
He met his wife, Margot, while he was in the service, and they were married 62 years. His obituary said he was "dazzled" by his bride until his death. "If there was a dance floor, Ross and Margot could be found on it."
As Perot was preparing to leave the Navy, he was offered a job at IBM, where he proved to be a star salesman. In the early 1960s, as many large businesses were seeing the need for a computer, Perot said his job was "like selling umbrellas when it was raining."
But when he noticed that many of his clients didn't know how to use the computers he was selling them, he realized a business opportunity, which IBM wasn't interested in pursuing.
So Perot set out on his own with $1,000 he had saved from selling computers and his wife's salary as a teacher, founding Electronic Data Systems (EDS) and later Perot Systems.
In 1984, Perot sold EDS to General Motors Corp. and it was later sold to Hewlett-Packard Co. He retired as CEO of Perot Systems in 2000, and was succeeded by his son, Ross Perot Jr.
In 2011, Forbes magazine estimated Perot's wealth at $3.5 billion. He was ranked No. 91 on the magazine's list of richest Americans.
Even as his health declined over the past 10 years, he found fulfillment in going into the office every morning to visit with employees, according to his website's obituary.
In 1979, when two EDS employees were imprisoned in Tehran during the Iranian Revolution, Perot funded and organized a private mission to free them.
"Ross came to the prison one day and said, 'We're going to get you out,'" one of the men, Paul Chiapparone, told The Associated Press. "How many CEOs would do that today?"
The rescue tale was told in the bestselling book "On Wings of Eagles," which was turned into a television miniseries.
In addition to his presidential runs, Perot also served on various committees in Texas, including leading an effort to toughen drug laws in 1979. He also led a statewide education reform initiative in 1984 that in part fought for higher teachers' salaries and more state aid to disadvantaged school districts.
He also advocated for U.S. prisoners of war and veterans. During the Nixon administration, he chartered two jets to fly medical supplies and the wives of POWs to Southeast Asia. Even though the jets weren't allowed into North Vietnam, the mission garnered media attention, and POWs said conditions were improved following the attempt.
In the 1980s, Perot claimed the U.S. government had left behind hundreds of missing or imprisoned soldiers and took it upon himself to discuss the issue with Vietnamese officials, angering the Reagan administration, which was in the midst of negotiating with Vietnam.
And after the first Gulf War, Perot funded research to understand brain damage some returning soldiers had suffered. The symptoms were recognized by the Department of Veterans Affairs as Gulf War Syndrome, leading to federally funded treatment.
He held 19 honorary doctorates and was presented with many awards over the years.
Perot loved to ski — a hobby he picked up in his 40s — and had a passion for boating and the open water, his website obituary said.
He also loved spending time with his 16 grandchildren and 3 step-grandchildren. His family said they will especially miss his sense of humor, and even the pranks he was known to pull on them.
He had been close to his parents and to his sister, Bette, whom he visited daily until his death.
Perot is survived by his wife and his sister; son Ross Jr.; daughter Nancy; daughter Suzanne; daughter Carolyn; daughter Katherine; their spouses; his grandchildren and step-grandchildren.