A young boy tumbled from a wooden roller coaster at a Pennsylvania theme park Thursday and was airlifted to a hospital with unknown injuries, a park spokesman said.
The accident occurred on the Rollo Coaster ride at the Idlewild & Soak Zone in Ligonier, about 50 miles east of Pittsburgh, spokesman Jeff Croushore said at an afternoon news conference.
"He was talking, he was alert with his family," Croushore said of the boy. He could not confirm the extent of the child's injuries or his age.
The victim was not identified, although a local fire station dispatcher earlier told NBC News the child was about 3 years old.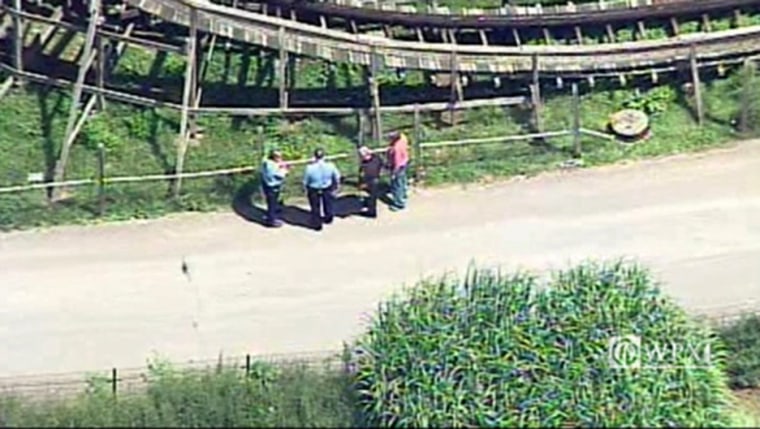 The Rollo Coaster was built in 1938 and includes a height restriction of 48 inches — or 36 inches if accompanied by an adult.
Croushore said the accident occurred at the middle section of the ride, but did not know the height of the drop.
The coaster transports riders "up and down along a wooded hillside" and swooping curves, according to the Idlewild website.
The Pennsylvania Amusement Ride Safety Division has shut down the attraction, and an investigation has been opened, said supervisor Joseph Filoromo.
An inspector had already been at the park Thursday, but Croushore said rides are inspected daily.
"Our thoughts and concerns are with the injured boy and his family," IdleWild & SoakZone said in a statement.
The accident follows other incidents at amusement parks and fairs this summer — including one in Tennessee that injured three girls when their Ferris wheel bucket overturned and another in Kansas in which a 10-year-old boy was killed on a 169-foot water slide.