Saving the planet, treating Ebola and a garbage sucking robot are just a few of the big ideas from the more than 130 incredibly bright students headed to the White House for the Sixth Annual White House Science Fair on Wednesday.
President Obama hailed the group of young innovators and told a packed East Room some of his greatest moments leading the nation have come from the science fair, from shooting a marshmallow cannon, to hanging out with a group of Girl Scouts.
This year's "moment" came when the president was talking to Jacob Legette, 9, from Baltimore, decked out in a bow-tie.
Legette convinced 3-D printing companies to allow him to test their machines, in exchange for feedback. He printed a miniature White House and a bunch of toys, including bubble wands, which the president suggested trying out.
The commander-in-chief pursed his lips and blew a big soapy bubble using the wand. He tried to repeat his performance and couldn't.
"Clearly I am out of practice," the president told reporters.
Legette also told the president he should consider a child science advisor, something the president said he was open to. In fact, Obama suggested creating a child science advisory committee to bring together kids of all ages to make recommendations.
Just eight teams of kids got a chance to show their exhibits to President Obama. Besides Legette, who showed off his 3-D creations, the president met Kimberly and Rebecca Yeung who built a "spacecraft" out of archery arrows and a group of New York City teens who designed a 100 pound robot to suck up all the debris on the subway rails.
"The only problem with the science fair is make me feel old and inadequate," the President joked.
In fact, he joked that Sajana Rane, 18, who discovered how a protein can be used to treat renal fibrosis, might have trouble getting into college and suggested she call him if she needs a recommendation.
The White House also used the event to showcase the ways they are pushing for more access to computer science education for children including new guidance on using existing federal funds for computer science in schools, a two hundred million dollar investment by Oracle to support computer science education for 125,000 students, more elementary schools committing to expand access to computer science and a new online platform to connect STEM professionals who want to volunteer and mentor through US2020.
President Obama began the science fair back in 2010 with the idea that intellectual creativity should be recognized and honored with a White House visit in much the same way as star athletes who receive similar nods.
Here's a few of the rising science stars at this year's fair:
Loki Lego Launcher
The funky name is for their late cat and a Lego figurine, but Kimberly and Rebecca Yeung built this "spacecraft" out of archery arrows and launched it with a helium balloon. It takes location and temperature measurements and sends the data back from the stratosphere to the nine and eleven year olds.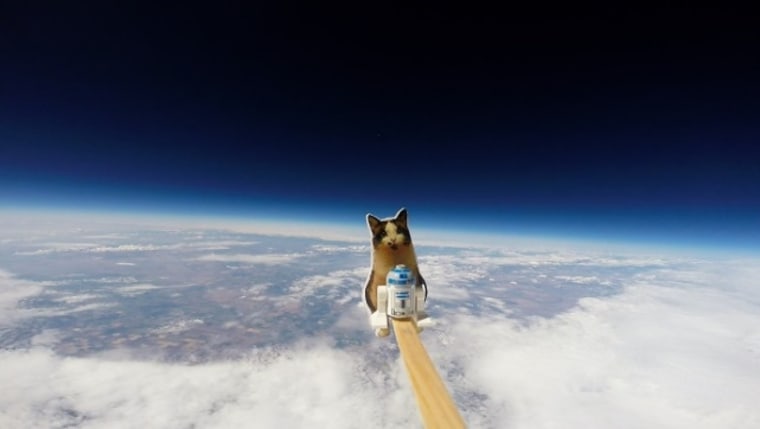 NYC Subway Cleanup
Rubbish fires on the tracks were causing these kids to be late for school, so they decided to do something about it. Amro Halwah, 18, Stephen Mwingria, 17, and Si Ya "Wendy" Ni, 18, designed a 100 pound robot to suck up all the debris on the rails. Two of the three have been in the country less than 10 years and came barely knowing English.
Ebola Diagnostic Test
Olivia Hallisey won the 2015 Google Science Fair prize for developing a portable screening card that detects the Ebola virus.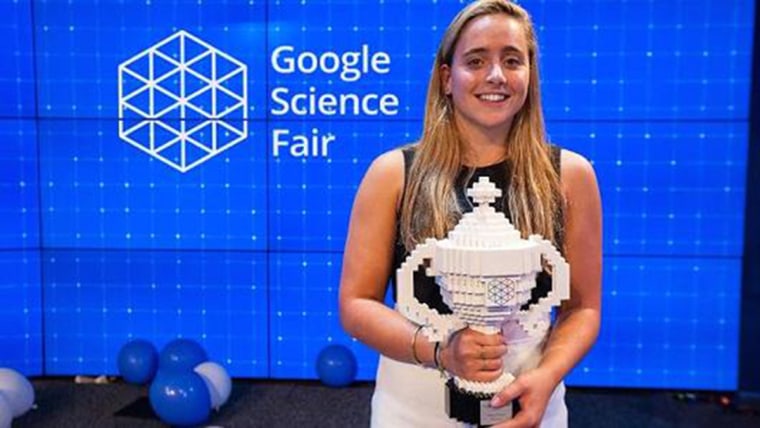 "I knew I wanted a simple and stable solution to a complex problem like infectious diseases," Hallisey told CNBC in September. She wants to go to college and work for an organization like "Doctors without Borders."
Help for an Ethiopian Pen Pal
Fifteen year old Hannah Herbst wanted to help her Ethiopian pen pal get reliable power and electricity. She decided to tap a huge unused resource, the power of the ocean's currents.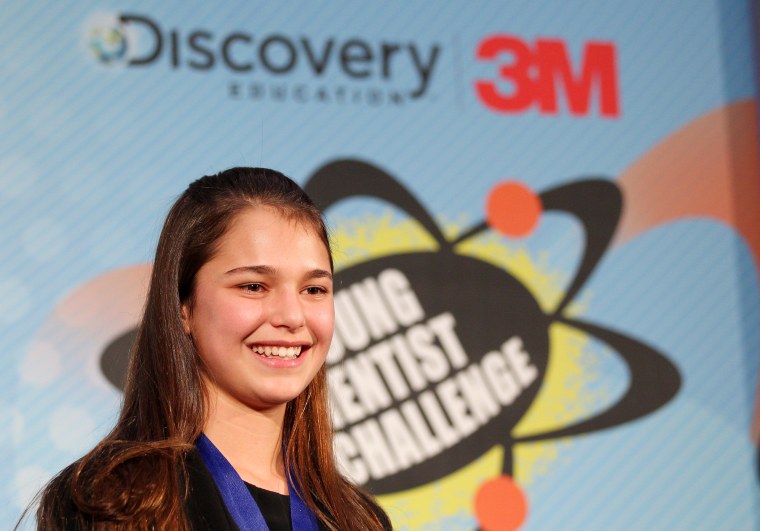 In an online video she says, "I can't wait to save lives with my invention."
Girl Scouts Turn Styrofoam Into Glue
Six girl scouts from Missouri learned it takes 500 years for 20,000 Styrofoam cups to decompose in a landfill. Their "Eco Bin" dissolves Styrofoam when mixed with water and cuts down on waste. That's not all. A byproduct of their invention is a gooey paste, that they realized works like glue. Now, they are branding it and marketing it for art projects.
Tangled Headphone Cords? No More!
Shemar Coombs,19, invented a cellphone case with an edge that lets users store headphone cords around the outside of the phone. His invention is called "Rap it Up".