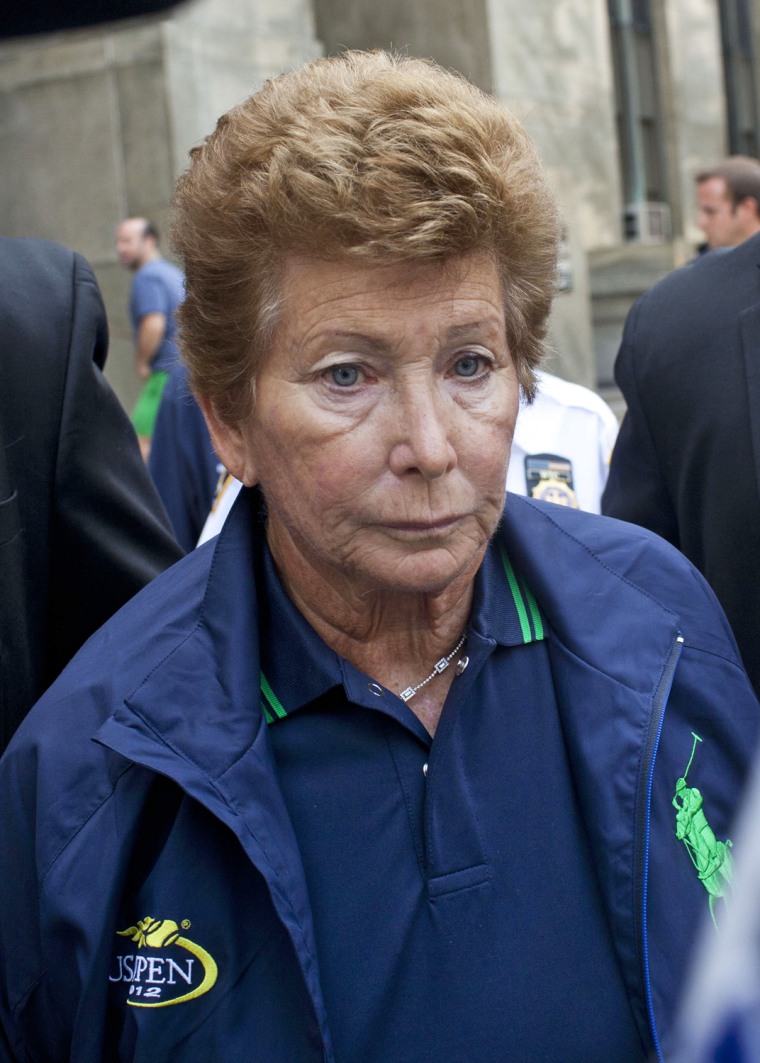 A tennis umpire whose murder case was dismissed on Friday said she was relieved the case is over so she can go on with her life and her career officiating tennis.
"I've been treated fairly now," Lois Goodman told reporters after the court hearing. "It was just a tragic accident.
"I'm glad it's over, so I can go on with my life."
Goodman's attorney, Alison Triessl, said she hopes the news sends a clear signal of her client's innocence.
"This is a wonderful woman whose name was tarnished all over this country," Triessl said. "And hopefully today everybody knows that she didn't do anything."
The news came during a preliminary hearing for Goodman, 70. She had a broad smile when she heard the news of the dismissal in court.
She was accused of stabbing her former husband of nearly 50 years, Alan Goodman, using a coffee mug as an improvised knife, prosecutors said.
"The District Attorney's Office asked the court to calendar this matter today because we received additional information regarding the case," said Los Angeles County District Attorney spokeswoman Sandi Gibbons said. "Based upon this information, we announced that we are unable to proceed with the case at this time.
"The court granted our request to dismiss the case without prejudice."
Stay informed with the latest headlines; sign up for our newsletter
Gibbons declined further comment, saying that "because there is an ongoing police and District Attorney's investigation, we will not make any further statements that might compromise that investigation."
Alan Goodman's bloodied body was found in their Woodland Hills home on April 17. Officers ruled the death suspicious, because they initially couldn't determine if foul play was involved, according to an LAPD press release.
But after launching a full homicide investigation and working closely with the L.A. County Coroner's Office, detectives determined on Aug. 2 that Alan Goodman was killed, and they named his wife as the prime suspect, the LAPD said.
Goodman was arrested on Aug. 21 in New York, where she was set to work as a line judge at the U.S. Open. She pleaded not guilty to murder and had been under house arrest.
Goodman's attorneys claim the police botched the investigation and argued that Goodman was not physically capable of committing the slaying. They also said that her DNA was not found on the coffee mug and that she passed a lie detector test.
A website and a Facebook page were set up to raise bail for Goodman. Family members praised Goodman in court records, arguing for her bail.
In a character reference letter in support of a motion to reduce Goodman's bail on Aug. 28, Goodman's youngest daughter, Allison Goodman Rogers of San Diego, wrote that her mother "is the most honest, loving, kind, generous, funny and trustworthy person you could ever meet."
Watch the Top Videos on NBCNews.com
Goodman Rogers wrote that she was raised in a "normal Jewish family" in the San Fernando Valley and looked up to her parents as role models. She believes the death was an accident.
"She would do anything for anyone," Goodman Rogers wrote in court documents. "Happily married to my father just shy of 50 years, there was never once a foul word between the two of them. There was never once any sort of violence between the two of them.
"For her to even be accused of something like murdering my father is ludicrous! It's simply not possible."
Goodman's eldest daughter, Joan Goodman, 48, of Glendale, wrote about fond memories of family trips to Palm Springs every other weekend. They went cherry picking and visited arts festivals in Laguna Beach.
Joan Goodman wrote that her mother was not physically capable of such an act. She said her mother had many ailments, including a hearing aid, arthritis, two knee replacements, a shoulder replacement and back issues.
"My parents were adorable together," Joan Goodman wrote in court documents. "He was the yin to her yang. They were united in all their decisions."