Four people are dead after a shooting spree in Colorado Springs, including the suspected shooter who died after a gun battle with police, authorities said.
The Colorado Springs Police Department responded to calls about shots fired on North Prospect Street near downtown at around 8:45 a.m. (10:45 a.m. ET), and officers found the gunman about a half mile away, police said.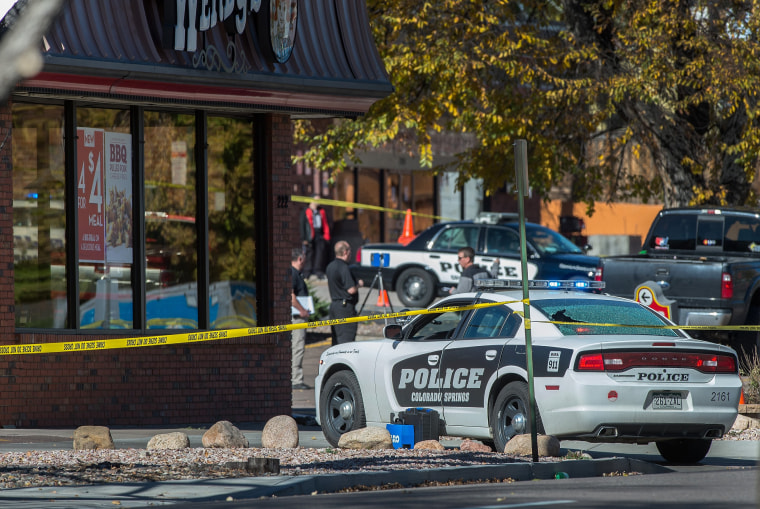 The suspect fired several rounds at officers and police returned fire, police said. The gunman was killed, they said.
A witness told NBC affiliate KOAA the gunman appeared to be armed with a rifle.
"What I had saw was that he [the gunman] kind of like spun around and that's when they said, 'Drop it,' and he kind of like went to aim and that's when they shot him down," Aaron Nicks told the station.
Police did not say where the three bodies were found, how they died or who killed them, but said there were "multiple shooting scenes" and the crime scene covers several city blocks. KOAA reported that one body was found at a home on North Prospect Street.
A woman told KOAA that she saw a man approach a boy on a bicycle in front of that house and shoot him.
"He turned around and shot the boy, and the boy screamed, 'Why did you shoot me?' Then he shot him three more times and as he hit the ground he screamed 'Oh god, no,'" shooting witness Betty Barker told the station. She said the victim then died.
"We do not believe there is any further threat to the community," police said in a statement. The identities of the suspect and victims were not immediately released.
Colorado Springs police said roads running through the crime scene would likely be closed for up to 10 hours.
The El Paso County Sheriff's Office will conduct an investigation into the shots fired by officers, according to a statement from the sheriff's office.
The officers involved in the shooting of the suspect have been placed on administrative leave, the Colorado Springs Police Department said.