A court-ordered re-enactment of the 2018 Parkland, Florida, mass shooting, which left 17 people dead inside Marjory Stoneman Douglas High School, will occur Friday using live ammunition as part of a lawsuit against a former sheriff's deputy accused of failing to act during the massacre, authorities said.
Broward County Public Schools confirmed the re-enactment in a statement.
"As part of a civil case, a judge authorized a re-enactment of the Marjory Stoneman Douglas High School tragedy from February 14, 2018. The re-enactment, which is a court order and is not organized or controlled by Broward County Public Schools, takes place on Friday, August 4, 2023, on the Marjory Stoneman Douglas High campus, in the 1200 building," the district statement said.
The high school and a neighboring middle school is closed Friday, the district said.
No one with the school system could be immediately reached Friday for additional comment. Some relatives of victims in the mass shooting were also unable to be reached immediately.
Ballistic experts will fire up to 139 rounds in the re-enactment. Technicians outside the three-story classroom building will record the sound of bullets, seeking to simulate what the deputy assigned and school resource officer assigned to the campus, Scot Peterson, heard during the six-minute attack.
The live ammunition will be fired from the same spots as the gunman did, with an identical AR-15-style semiautomatic rifle. The bullets will be caught by a safety device, NBC South Florida reported.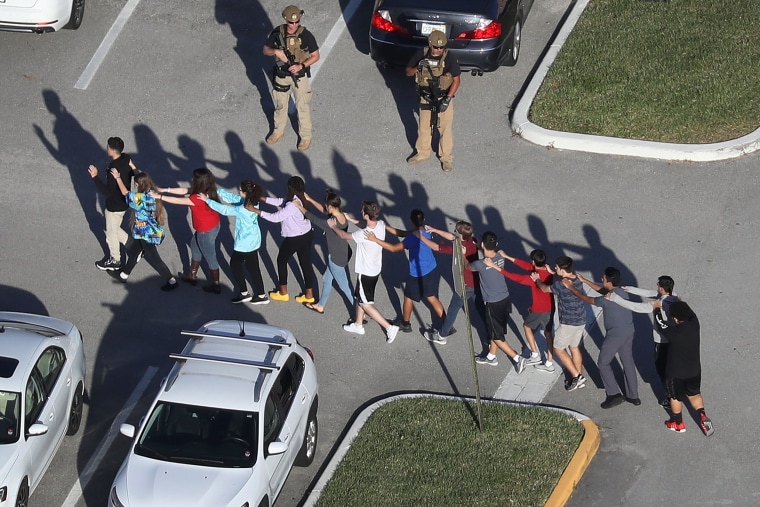 Seventeen students, teachers and staff members were killed and 17 more were injured in the shooting.
Former Stoneman Douglas student Nikolas Cruz, 24, pleaded guilty in 2021 and was sentenced to life in prison.
Peterson was the only other person at the school with a gun when the shooter opened fire. He was forced to retire after the mass shooting.
Peterson, 60, who worked for the Broward Sheriff's Office, also targeted in the lawsuit, has said echoes prevented him from pinpointing where the gunfire was coming from. He got within feet of the building's door and drew his gun, but then backed off and stood next to an adjoining building for 40 minutes, making radio calls. Peterson has said he didn't know where the shooter was, which stopped him from charging into the school.
An emotional Peterson cried in June when a Florida jury cleared him on all counts after he didn't confront the gunman.
Peterson was charged in 2019 with seven counts of neglect of a child, three counts of culpable negligence and one count of perjury. The charges carried a maximum potential sentence of 96 ½ years in state prison, the Broward County State Attorney's Office said.
An attorney representing Peterson was not immediately reached Friday. An attorney representing plaintiffs in the lawsuit was also not reached for comment.