The man who first accused Dennis Hastert of sexual abuse can remain anonymous — for now — as he presses ahead with a $1.8 million lawsuit against the former Speaker of the House, an Illinois judge said Thursday.
The ruling came a day after an extraordinary sentencing in which a federal judge branded Hastert a "serial child molester" and gave him 15 months in prison for illegal cash withdrawals he used to pay the accuser, known as Individual A.
Individual A says he was just 14 years old when Hastert, then a coach at Yorkville High School, fondled him on a wrestling trip decades ago. Hastert is also accused of molesting three other ex-students, though he was not charged with any sexual offenses.
READ: Judge Sentences Hastert to 15 Months, Sex-Offender Treatment
In 2010, Individual A confronted Hastert and asked him to pay $3.5 million for his pain and suffering. The onetime Republican power broker doled out $1.7 million before the FBI started investigating his suspicious cash withdrawals, bringing the secret arrangement to a halt.
Individual A sued Hastert for the balance of the money this week, filing a complaint under the pseudonym James Doe.
"You can proceed under [a] fictitious name," Judge Robert Pilmer told his attorney, Kristi Browne.
He ordered Browne to refile the complaint with A's real name, but said it would remain sealed. Hastert's attorneys can object to the anonymity at the next hearing on July 25.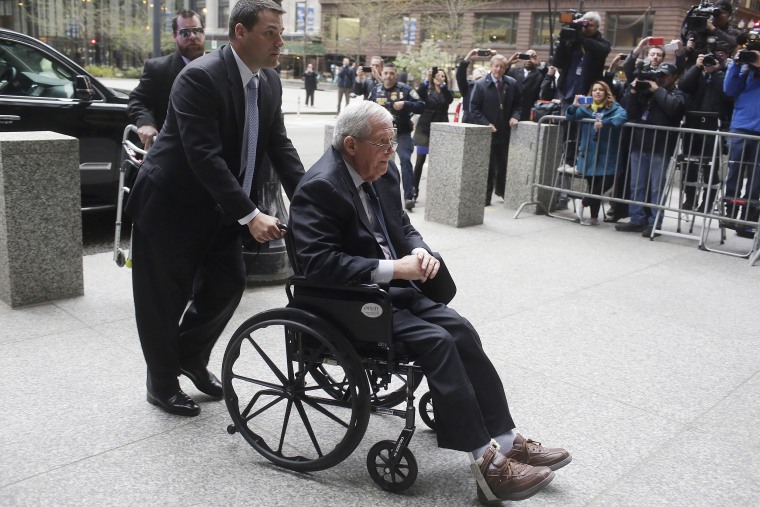 While Individual A is trying to shield his identity, another of Hastert's accusers went public with his story at Wednesday's sentencing.
Scott Cross, 53, told a rapt courtroom that Hastert molested him during a massage in an empty-locker room when he was a senior and captain of the wrestling team in 1979.
He never told anyone until Hastert was indicted for the illegal bank withdrawals. Then, after talking to his family and investigators, he decided to take the stand.
"I could no longer remain silent," he said.