Students at the Corinthian College network of schools just learned a painful lesson from the real world.
Corinthian had billed their schools as places where busy people could advance their careers. Heald, one of the for-profit higher education company's colleges even had the motto: "Get in. Get out. Get ahead."
But the 16,000 students at Corinthian's 28 campuses found out Sunday that they would "get out" sooner than they had planned.
That's because Corinthian shut down Heald College, Everest College and WyoTech College, abruptly leaving students across six states with questions about how they would finish their educations and how they would pay off the loans that they had taken out to "get ahead."
Linda Cervantes, 28, a single mother of two kids aged 3 and 11, was working in retail when a friend recommended Everest College in Industry, California.
The prospect of getting out from behind the cash register was appealing to Cervantes so she spent nine months pursuing Everest's pharmacy technician program. After that, she was required to complete 200 certification hours through the school before she could get her license. Cervantes had two weeks left.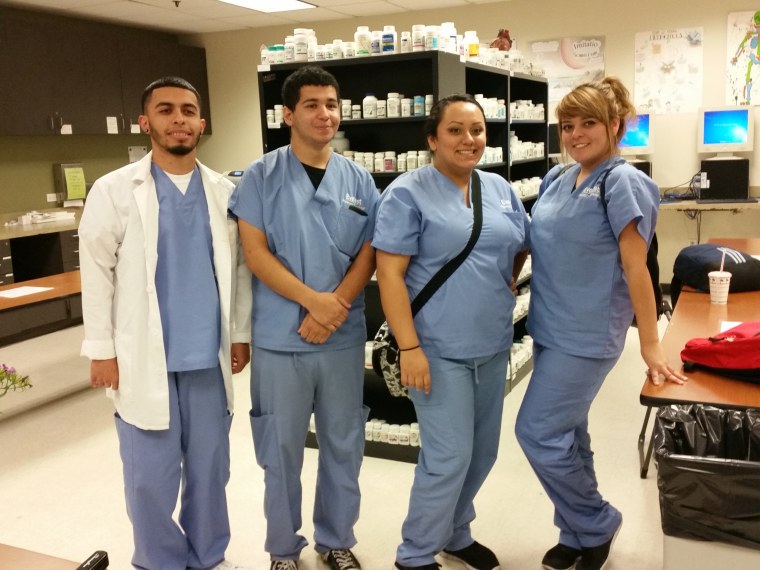 "Right now, everybody's just lost," Cervantes told NBC News. "They really haven't given us many options."
In a statement released Sunday night, Corinthian Colleges said efforts to place students at other schools "depend to a great degree on cooperation with partnering institutions and regulatory authorities." After Cervantes received an out-of-the-blue email Sunday night that the school was closing, she called her program director for advice.
The director couldn't help though because she was just as "surprised" that the school was shut down, Cervantes said.
"I was so looking forward to getting a job after."
Corinthian students couldn't enter their campuses on Monday, but they were told to come back on Wednesday morning for a meeting.
Cervantes said the best case scenario at this point would be loan forgiveness. The 28-year-old has a $7,800 loan out in her name. And while financial relief would be welcome, Cervantes said, "I think what I'm more worried about is all the time I wasted.
"I have two kids I'm trying to support and trying to take care of," she said before apologizing for crying. "They wasted my time."
Joleen Costa, is also worried about the time and money she spent on nearly half of her dental assistant degree at Heald College in Honolulu. The 18-year-old said she chose the school because she didn't want to go to community college, but she fears that's now her only option — if it's an option at all.
"Most of the schools on the island don't accept Heald credits," she told NBC News. Now she's worried that the $10,000 loan she took out was for no reason and that the 10 months she spent in classes while working part-time won't help her career.
"I was really upset," she said. "I was so looking forward to getting a job after."
Amber Vierra, 26, fortunately had just started Heald in Modesto, California, but she's frustrated that she was wooed and not warned when she signed up to take medical billing and coding courses.
Vierra, Costa and Cervantes all said they had heard rumors and read that Corinthian was having trouble. Corinthian sold many of its campuses to a nonprofit education group last year, and a statement on their website in February said that NASDAQ had suspended their stock.
When Vierra asked about these red flags when she was considering the school in January though, "people were saying, 'don't worry about it, we've been around for 150 years,'" she said. Vierra said she doesn't hold the staff at fault though because "what I'm hearing is that the teachers had no idea."
She said she's going to apply to a junior college because after the debacle, she wouldn't trust another trade school.
"It might take longer, but I'd rather do that than go through this again," she said.