Dr. James "Red" Duke, the acclaimed trauma surgeon who initially treated President John F. Kennedy and was credited with saving the life of Texas Gov. John Connally from assassin Lee Harvey Oswald's bullets, died Tuesday at 86, his family said.
The cause of death wasn't reported.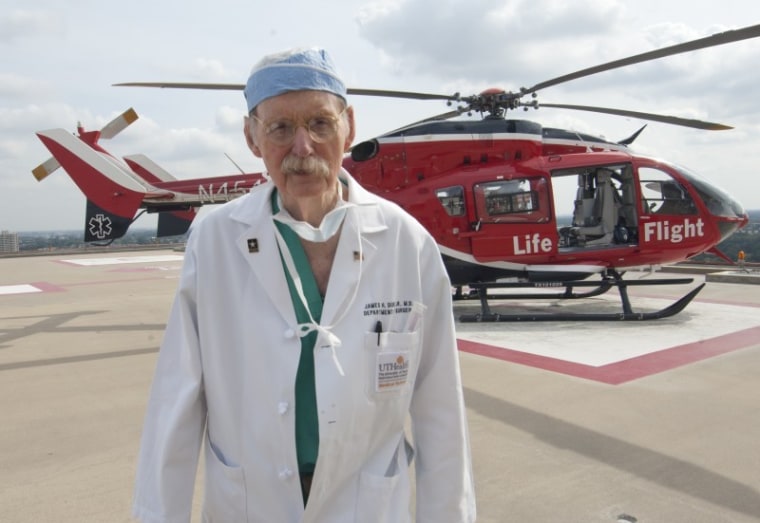 Duke was a surgical resident at Parkland Memorial Hospital on Nov. 22, 1963, when Kennedy and Connally were shot in their motorcade in Dallas. He was the first surgeon to receive the president before taking leadership of the treatment of Connally, who made a point of thanking Duke publicly until he died in 1993.
James Henry Duke Jr. — a colorful figure with red curly hair, a big, bushy mustache and Teddy Roosevelt-style eyeglasses — later took his deep Texas drawl and homespun manner to television, hosting the PBS series "Bodywatch" in the 1980s and the internationally syndicated "Dr. Red Duke Texas Health Reports" for 15 years.
He was also the inspiration for the 1986 TV series "Buck James," starring Dennis Weaver as a folksy but brilliant Texas emergency room surgeon, according to a profile on the website of the University of Texas Health Science Center at Houston, where Duke worked for more than 40 years.
Behind the spotlight, Duke was known and respected around the world as a physician.
"Thank you, Dr. Red Duke," Dr. Giuseppe Colasurdo, president of UTHealth and dean of its medical school, said in a statement Tuesday.
"Dr. Duke was a true pioneer — a talented and tireless surgeon, a dedicated and inspiring educator, and a friend and mentor to everyone he met. He never sought to be a leader, but became one naturally through his brilliance, compassion, patience and selflessness."
Duke founded Life Flight operations in 1976 at Houston's Hermann Hospital, where he was medical director for trauma and emergency services until shortly before his death. He also co-founded the American Trauma Society and was widely reported in 1989 to have been on President-elect George H.W. Bush's short list for surgeon general.
Dan Wolterman, the hospital's president and chief executive, called Duke "one of our country's great doctors," describing him as "a role model and mentor to a generation of doctors who benefited immensely from his guidance."
Besides his medical degrees and honors, Duke also earned a degree in divinity from Southwestern Baptist Theological Seminary in Fort Worth.
"To countless colleagues, friends and patients, he was a skilled physician, innovative healthcare provider, exceptional communicator and dedicated conservationist," Duke's family said in a statement. "We, however, mourn him as a caring father, grandfather and devoted brother who will be deeply missed by his family."