A driver accused of killing four Pepperdine University students in Malibu, California, last week was speeding at 104 mph before the deadly crash, the district attorney said Wednesday.
Fraser Michael Bohm, 22, of Malibu, was re-arrested Tuesday and is charged with four counts of murder and four counts of gross vehicular manslaughter in the crash Oct. 17 on scenic Pacific Coast Highway, officials said.
"We lost four young people with a complete life ahead of them — for really no reason other than complete and reckless disregard for the life of others," Los Angeles County District Attorney George Gascón said at a news conference Wednesday.
Bohm was driving a BMW at about 104 mph in a 45-mph zone when he lost control, crashed into a parked car and killed the four Pepperdine seniors, who were pedestrians, Gascón said.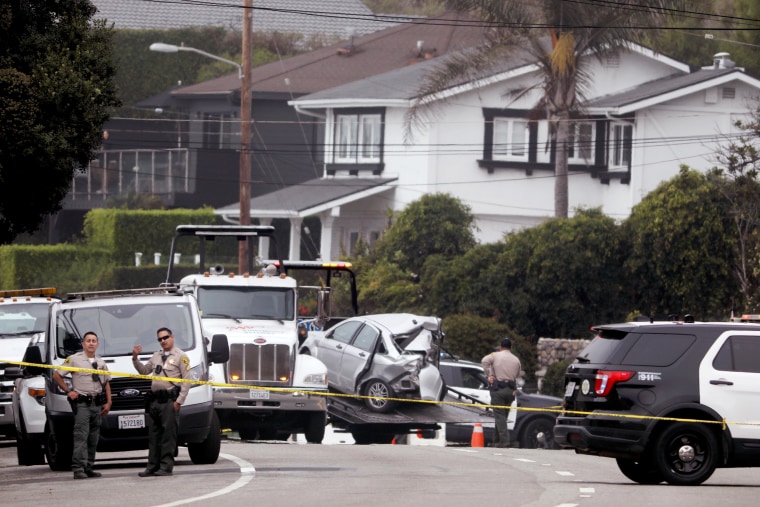 The Pepperdine students — Niamh Rolston, Peyton Stewart, Asha Weir and Deslyn Williams — were pronounced dead at the scene, officials said.
They were between parked cars when Bohm's vehicle slammed into three parked cars, the Los Angeles County Sheriff's Department has said.
Bohm pleaded not guilty in court Wednesday, and a preliminary hearing was scheduled for Dec. 15.
His attorney, Michael Kraut, said there is evidence that Bohm was fleeing a road-rage incident before the crash.
"This person chased him and tried to push him off the side of the road," Kraut told reporters outside court. "And when he accelerated to get away from him, that's when the accident occurred."
Kraut said that the crash was tragic and that the Bohm family "feels horrible that this happened."
Gascón said that the case remains under investigation and that authorities look forward to any additional information, "but as it stands today, we have the information that we have, and it's very conclusive as to what we believe happened."
The sheriff's department said Bohm was initially arrested on a charge of gross vehicular manslaughter, but he was released "to allow detectives time to gather the evidence needed to secure the strongest criminal filing and conviction."
In an update Tuesday, the sheriff's department said the driver was arrested on the four murder counts after investigators collected toxicology results, search warrants, a speed analysis and other evidence.
Bohm's bail had initially been set at $8 million, but a judge lowered it to $4 million, the district attorney's office said. If he is convicted, he could face multiple life sentences, the DA's office said.
Pepperdine's main campus overlooks Pacific Coast Highway, which Sheriff's Capt. Jennifer Seetoo described as "deadly" last week because people tend to drive recklessly on it.
"The leading cause of collisions on PCH by far is speed," she said. "It is a town — it is a college town."
Pepperdine President Jim Gash said in a letter to the campus community last week that the students brought "joy and light to our campus." Connie Horton, the vice president for student affairs, added the students brought a "unique gift and spirit" to the school.
A memorial service was held over the weekend.
"Peyton, Asha, Niamh and Deslyn were our best friends. They were everything," Pepperdine student Aubrey Lewis said, according to NBC Los Angeles. Speaking of Deslyn, she said, "Making others smile made her smile."
"She was joy, everyone's best hype woman."