The family of a 28-year-old woman found dead in a Texas jail say it's "unfathomable" that she would have killed herself, and want more information from investigators who ruled her death a suicide.
The mysterious circumstances surrounding the death of Sandra Bland, a civil rights advocate, has come under scrutiny on social media — leading her family to hold a news conference Thursday pleading for answers.
Bland was arrested during a routine traffic stop July 10 in Waller County, northwest of Houston, and taken into custody on a charge of assaulting a public servant, officials said. The incident was apparently captured on cellphone video.
Then, on Monday morning, Bland was found hanging in her jail cell, according to the Waller County Sheriff's Office. An autopsy has said she died from apparent "self-inflicted asphyxiation."
But Bland had just moved back to the Houston area from suburban Chicago to start a job as a college outreach officer at her alma mater, Prairie View A&M University, her family said.
"Sandy's mental state was that she was a 28-year-old beautiful woman, with family that loved her to death and friends that loved her to death, and she was going to take a new job," attorney Cannon Lambert Sr. said during the news conference.
Bland's sister, Sharon Cooper, rejected the notion that she would have harmed herself, and said that those who "knew the depths of her, the core of her (know that) that's unfathomable right now."
Shante Needham, another sister, said Bland called her from jail Saturday to say her bond was $5,000 and that she was also worried the arresting officer may have fractured her arm.
"She was very aggravated," Needham said.
A YouTube video shared on social media and confirmed by Bland's family appears to show the moments after she was stopped and then handcuffed on the ground. NBC News has not independently verified the video as capturing the moment Bland was arrested. The video does not show the moments that led up to the arrest.
"Hey! You just slammed my head to the ground!" the woman identified as Bland yells in the clip. "You do not even care about that? I can't even hear!"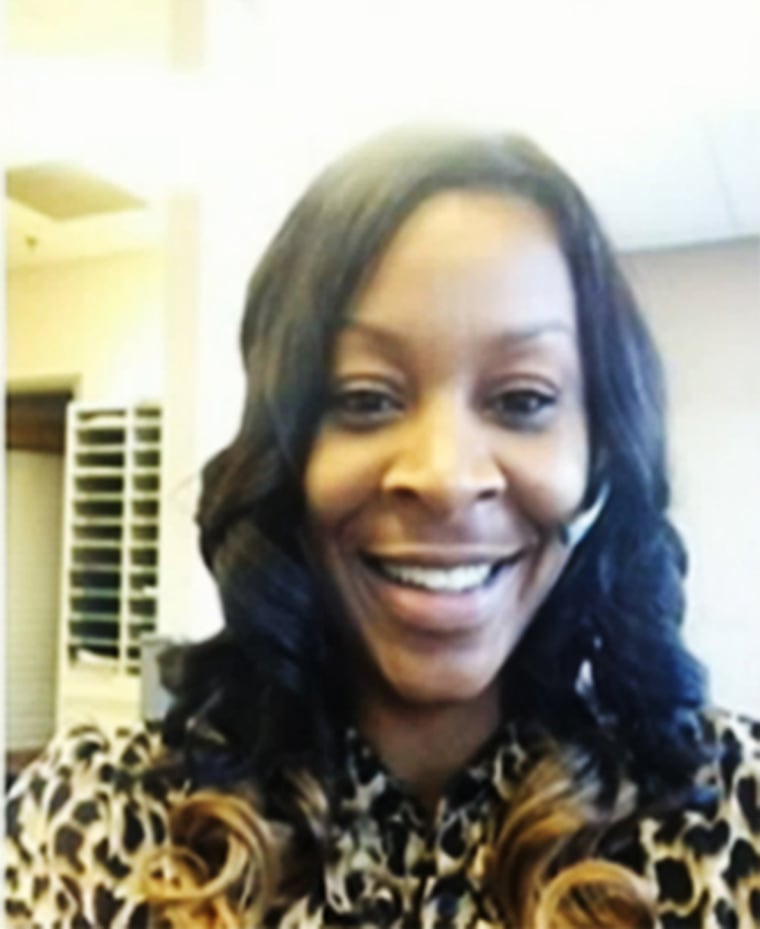 "All of this for a traffic signal!" she continued, telling the passerby filming, "Thank you for recording! Thank you!"
Lambert said the family is planning to travel to Texas to meet with investigators. The case, which has attracted national attention because of the social media campaign #JusticeForSandy, is being handled by outside agencies, including the Texas Rangers.
"There's a lot of people saying that there's foul play. We don't know," Lambert said. "We don't know that there was and we don't know that there wasn't — but we need to know."
Bland was active on social media and filled her Facebook page with videos in which she made observations about race in America under the title "Sandy Speaks."
"Being a black person in America is very, very hard," she said in a recent post. "Show me in American history where all lives matter."
Waller County District Attorney Elton Mathis said in a news conference late Thursday that a video had surfaced on social media in March, purportedly of Bland diagnosing herself with depression and post-traumatic stress disorder.
"That is extremely relevant, that she may have been suffering from some sort of mental illness," Mathis said.
"There's a lot of people saying that there's foul play. We don't know."
In a "Sandy Speaks" video posted to Bland's Facebook page on March 1, Bland details her experience with depression.
"I want you guys to know that I am a human and so if there are any of you are dealing with those same things, depression and post-traumatic stress disorder — it's OK," she says in the video, later adding, "Depression and post-traumatic disorder are things that affect everyone black, white, it does not matter, we all deal with them."
Bland finishes the video by telling her viewers that she will continue to make videos and she will pray for those who may be suffering from depression and she asks them to pray for her.
Meanwhile, a prominent Texas state senator has asked the director of the Texas Department of Public Safety to release any video it has of the arrest.
Sen. Royce West is one of two African-American members of the 31-member Texas Senate.
In a letter, the Democrat from Dallas says the circumstances surrounding Sandra Bland's arrest and detainment "have raised a number of questions for numerous persons, none more than myself."
In his letter to Department of Public Safety Director Steven McCraw, West said he regards the death as "suspicious."
The Texas Rangers are part of the department.
West noted that Bland's death "comes months and weeks into what seems to be an unabated season of unfortunate police-citizen encounters."