It's highly unusual for a police officer to stay on the sidelines of an active shooting scene and not try to neutralize the threat, say police psychologists. But they cautioned that there may be more to the story of the campus security officer in Parkland, Florida, who appears to have done just that.
On Thursday, Broward County Sheriff Scott Israel announced that the armed school resource officer at Marjory Stoneman Douglas High School never went inside the building on Feb. 14 as a gunman fired shot after shot, killing 17 people.
"I think he remained outside for upwards of four minutes," Israel said during a news conference, adding that he was "devastated" by the discovery.
Scot Peterson, the sheriff's deputy assigned to the school, should have gone in and "addressed the killer, killed the killer," Israel added. Israel said he suspended Peterson without pay, and Peterson later resigned.
The revelation, the latest apparent misstep leading up to one of the nation's deadliest school shootings ever, prompted outrage that stretched all the way to the White House.
"When it came time to get in there and do something, he didn't have the courage or something happened," President Donald Trump told reporters on his way to the Conservative Political Action Conference. "That's a case where somebody was outside, they're trained, they didn't act properly or under pressure, or they were a coward."
Ellen Kirschman, a California-based clinical psychologist who has been working with police officers for 30 years, said it's rare for an officer to fail to confront a threat to the public. She said it was impossible to know what Peterson was thinking at the time, but pointed out that even highly trained officers are still human.
"The human body has three responses when we think we are in a fight for our own survival: That is fight, flight and freeze," she said. "We're hard-wired the same way we were back in the caveperson days, and it's not something you get to vote on."
Still, she added, most of the officers she has treated will tell her that even under extreme duress, their training kicks in.
"You'll hear officers say, 'Gee, I could hear my training officer from 10 years ago telling me what to do,' " she said.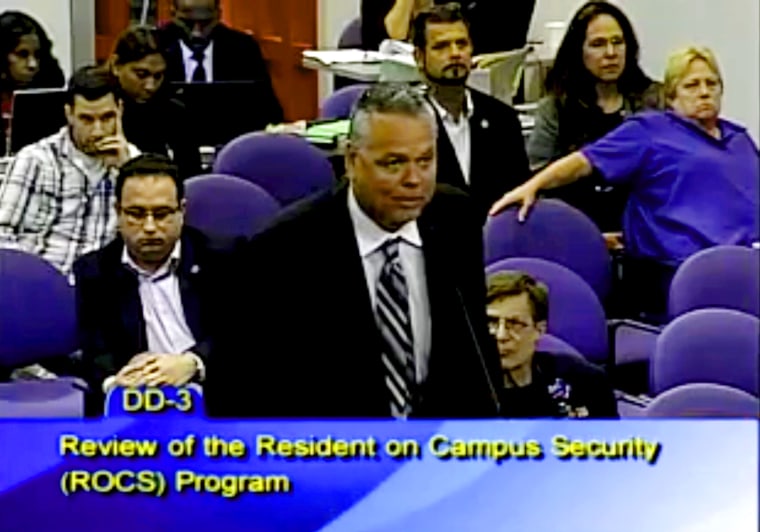 Peterson has not yet spoken out on his actions, and a representative of his union did not return repeated requests for comment from NBC News. Mo Canady, the executive director of the National Association of School Resource Officers, which doesn't train resource officers in Florida, said he didn't have enough details to comment on Peterson's response, but said his organization trains officers to take action against an active shooter.
"We have to go find the shooter. We have to stop it, because if we don't, there's a possibility that more students or more adults are going to be killed," Canady said.
David Thomas, a Florida-based therapist and former police officer whose practice provides counseling services for law enforcement, agreed that while it's "not normal" for an officer to stand aside when he encounters extreme danger, he wondered if Peterson didn't feel equipped to properly stop the gunman.
"We're either going to prepare to go and fight and address it, or we're going to freeze, and freeze usually occurs because we don't feel that we have the necessary tool set to address whatever threat is coming at us," he said. "There's so many variables that go into that, but fear is usually one of the indicators, and/or not having the necessary tools."
Still, Peterson's apparent lack of action is surprising: Decades ago, lone officers used to wait for SWAT teams to arrive to neutralize active shooters. But tactics changed after the 1999 Columbine attack, and patrol officers have since been trained to respond to active shooters as quickly as possible to avoid further loss of life, according to the Police Executive Research Forum.
Regardless of what he was thinking, psychologists say, Peterson is probably struggling in the aftermath of the massacre.
"Officers have very high standards for themselves," Kirschman said. "Officers can really torment themselves as well as being tormented by the public. That happens all the time."