Record rainfall pounded the Pacific Northwest on Sunday and Monday, triggering landslides and flooding throughout northern Oregon and southern Washington.
And the wet weather had only just begun: storms are expected to continue through Thursday, producing several more inches of rain across the region, the Weather Channel reported.
In the Coastal Mountains and Cascades, the Tillamook County, Oregon, Emergency Management said it was anticipating as much as a foot of rain.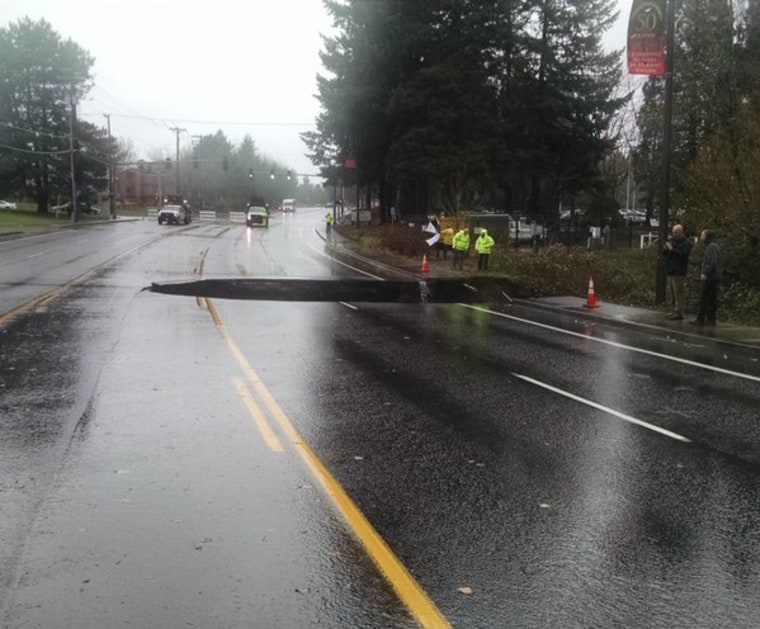 On a suburban road east of Portland, a massive sinkhole cut across two lanes of traffic, and in a downtown section of Portland, dozens of cars were swallowed by several feet of water.
Portland typically sees five-and-a-half inches during the entire month of December, but in just 24 hours beginning Sunday afternoon it clocked 3.2 inches — a record, according to the National Weather Service.
During a news conference Monday, a spokesman for Portland's Bureau of Transportation, Dylan Rivera, called it an "extraordinary rainfall event."
The rain comes after a fierce wildfire season across the West that saw thousands of homes burned, firefighters killed, budgets stretched thin and officials straining for solutions.