A 16-year-old girl has died after she was struck by lightning while hunting with her father in Florida, officials say. 
Baylee Holbrook and her father had been hunting on Tuesday when lightning "struck a tree, hitting them," the Putnam County Sheriff's Office said. 
Her father lost consciousness and when he awoke he found his daughter was not breathing. 
He called 911 and began CPR, and the teen was transported to HCA Florida Putnam Hospital in Palatka, where she was stabilized enough to be taken to a trauma center. She had been listed in critical condition on Wednesday.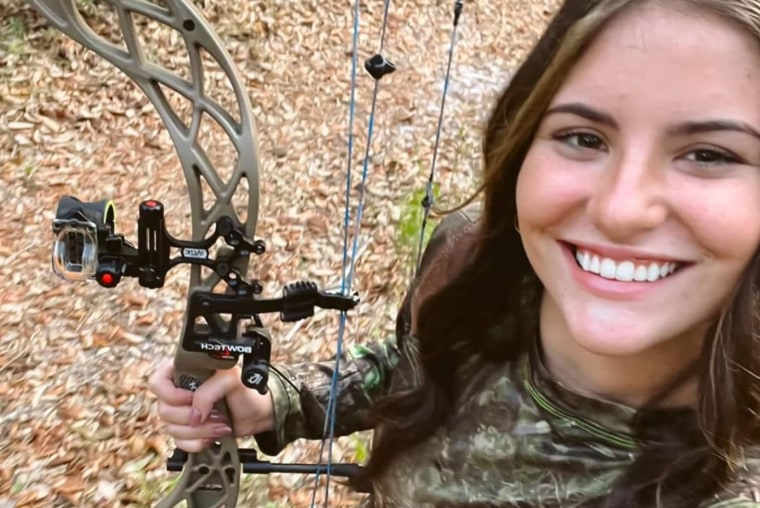 On Thursday, the sheriff's office said it learned that Baylee had "peacefully passed away" that morning surrounded by her family. 
"Please keep the family in your thoughts and prayers as they navigate a difficult road ahead of them and respect their privacy," the sheriff's office said.  
Trinity Baptist Church in Palatka shared a Facebook post saying: "At 9:32 this morning, Baylee Holbrook entered into the arms of Jesus."
Willie McKinnon, a close family friend and pastor, told NBC affiliate WTLV of Jacksonville that Holbrook was a junior at Palatka Jr.-Sr. High School where she was a cheerleader and loved photography. One of her great passions was hunting with her dad. 
He said he was touched by the outpouring of support and prayer for Holbrook.
"When one of our own is hurting, when one of our own is in need, this community, this county, this town rallies around people like I've never seen before," McKinnon said. 
The Putnam County School District had requested students pray for Holbrook on "See You at The Pole" day on Wednesday, an annual prayer event. 
Holbrook's father, Matthew Holbrook, shared a touching tribute to her on Facebook Thursday, saying: "Baylee Faith Holbrook you are my best friend. Our 16 years together you have made me better. You've made me a better man. A better father."
"Handing you to your Heavenly Father today is something I thought I'd never do but something you've been preparing me to do all along. I have peace knowing your with HIM and you are able to change so many peoples lives," he wrote.