Four people were killed when a small plane crashed shortly after taking off from an airport in Anchorage, Alaska, and the wreckage caught fire, authorities said.
The Cessna 172 went down at around 9:05 a.m. local time (1:05 p.m. ET) Wednesday in a wooded area south of Birchwood Airport, National Transportation Safety Board investigator Shaun Williams told reporters. The aircraft broke up upon hitting the trees and the wreckage then caught fire, he said.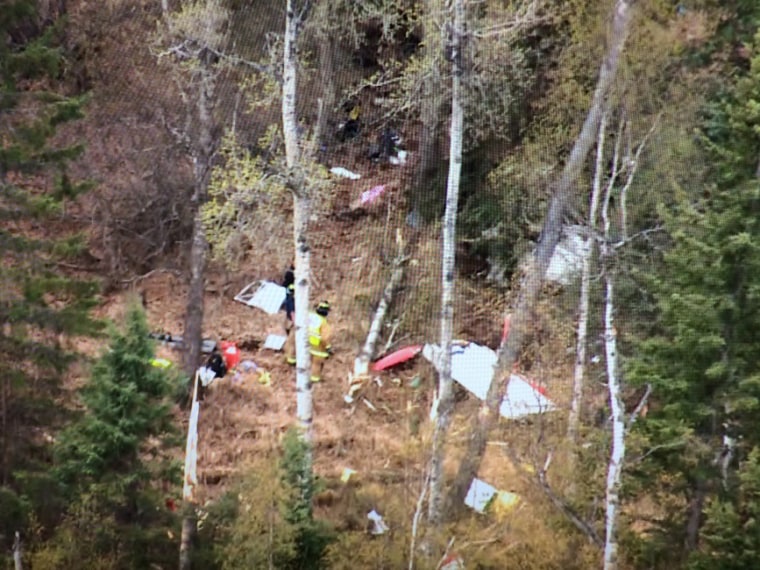 The crash happened near Chugiak, an unincorporated community outside of Anchorage about 20 miles northeast of downtown. The plane left from Birchwood but the destination was unknown Wednesday.
Police got a call from someone who said they thought they heard a plane crashing near a road.
"A few moments later, they observed smoke," Anchorage police spokeswoman Jennifer Castro said told The Associated Press.
The victims were identified by Anchorage police as pilot George Kobelnyk, 54; co-pilot Christian Bohrer, 20; and passengers Sarah Glaves, 36, and Kyle Braun, 27.
"We would like to extend our sincere condolences to the family and friends of the victims," Williams said, thanking the Chugiak Fire Department and other first responders.
The plane broke up upon hitting the trees, and the debris field spanned 100 yards, he said. The wreckage should be removed Thursday, and representatives from Cessna and the engine manufacturer have sent staff to help in the investigation, Williams said.
"There was quite a bit of fire damage," Williams said, which may have destroyed some evidence.