A day before Bill O'Reilly's departure from Fox News, protesters gathered outside its New York City offices to demand the cable network pull the plug on the veteran political commentator. They handed out fliers with his image warning, "Danger," and hung movie-sized posters around the city, asking, "Have you been sexually harassed by Bill?"
Inside, executives with parent company 21st Century Fox were already engineering his removal — unable to ignore damaging sexual harassment allegations, public outrage and advertisers fleeing his popular "O'Reilly Factor" program in droves.
Related: Bill O'Reilly Officially out at Fox News
With public pressure mounting over the last few weeks, the media company finally announced Wednesday it was parting ways with O'Reilly — a stunning sign off for the blustery showman and pugnacious pundit of cable news whose career has been tarnished by scandal.
"After a thorough and careful review of the allegations, the Company and Bill O'Reilly have agreed that Bill O'Reilly will not be returning to the Fox News Channel," 21st Century Fox said in a statement.
The final straw came Wednesday morning, when the law firm Paul Weiss, hired by the Murdoch family — who have an ownership stake in the company — presented its findings of an investigation into the claims against O'Reilly.The allegations were far more damaging than expected, New York magazine journalist Gabe Sherman said Thursday on TODAY.
"Really this was a storm that the Murdoch family wanted to weather, but ultimately, they realized they couldn't," Sherman said.
A 21st Century Fox board meeting was scheduled for later Thursday, and the family wanted to have the issue resolved before then.
"They had to pull the Band-aid off and make the decision to push him out," Sherman said of O'Reilly.
The Fox News star's severance was also being worked out. O'Reilly pulled in $25 million a year and still had two-and-a-half years left on his contract, Sherman said.
O'Reilly had been off the air since April 11, when he left for a vacation to Italy — one that he had assured viewers last week was preplanned.
O'Reilly's attorney, Marc Kasowitz, denied any misconduct earlier this week. "There is obviously an orchestrated campaign by activists and lawyers to destroy Mr. O'Reilly and enrich themselves through publicity-driven donations," Kasowitz said in a statement.
O'Reilly — who met the pope earlier on Wednesday — put out a defiant statement following his announced ouster:
"Over the past 20 years at Fox News, I have been extremely proud to launch and lead one of the most successful news programs in history, which has consistently informed and entertained millions of Americans and significantly contributed to building Fox into the dominant news network in television. It is tremendously disheartening that we part ways due to completely unfounded claims. But that is the unfortunate reality many of us in the public eye must live with today. I will always look back on my time at Fox with great pride in the unprecedented success we achieved and with my deepest gratitude to all my dedicated viewers. I wish only the best for Fox News Channel."
O'Reilly has been the target of allegations stretching back to at least 2002, when he settled with a junior producer at Fox News. In 2004, another producer named Andrea Mackris filed a lawsuit saying she was sexually harassed and threatened by the then-married O'Reilly.
A New York Times report published earlier this month revealed she later settled with O'Reilly for $9 million. In total, he and his bosses gave $13 million to five women in exchange for them not pursuing lawsuits or speaking about the cases. The women either worked on his show or were guests.
They claimed they were victims of lewd comments, verbal abuse or unwanted sexual advances, and some said they were being groomed by O'Reilly and feared reprisal if they rejected him.
Two of the cases were settled after former Fox News CEO Roger Ailes resigned last summer after facing his own spate of sexual harassment complaints made by female staffers, according to the Times.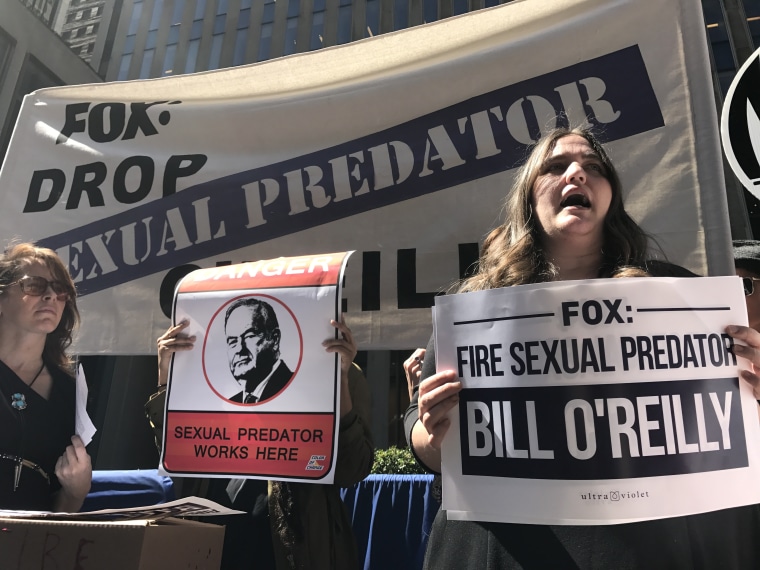 In yet another low point, a black clerical worker is claiming that she's the victim of "sexual and racial harassment" after O'Reilly allegedly called her "hot chocolate" in 2008 and leered at her, her attorney, Lisa Bloom, told The Hollywood Reporter.
In a follow-up statement, Kasowitz said O'Reilly is being "subjected to a brutal campaign of character assassination that is unprecedented in post-McCarthyist America."
During it all, O'Reilly's show remained a linchpin of Fox News' prime-time lineup and a ratings powerhouse, averaging 3.9 million viewers a night in recent months — and giving 21st Century Fox chairman Rupert Murdoch a financial reason not to clean house.
But Sherman said Murdoch's children believed it was time to sever ties because of the controversy, and other executives within 21st Century Fox were grumbling. While viewers had a connection with O'Reilly, other employees weren't necessarily sad to see him go.
"He was a very domineering, difficult person to work with," Sherman told TODAY.
O'Reilly started his career at Fox News in October 1996 with "The O'Reilly Report," eventually renamed as "The O'Reilly Factor," which took newsmakers to task as a "no spin zone." He was known for his combative style that turned up the heat, playing to his conservative fan base while incensing progressives — and rankling media watchers for what they saw as him bending the truth.
O'Reilly grew up on Long Island, New York, reared in a Catholic school upbringing. He graduated from Marist College in Poughkeepsie, New York, and taught English and history at a Miami high school in the 1970s.
But he then turned to broadcast journalism, and after stints at stations across the country, as well as a correspondent for CBS News and ABC News, O'Reilly became host of the syndicated TV news magazine "Inside Edition."
His tantrums and controversial comments became well-documented. In a leaked video from "Inside Edition" that has become an enduring internet meme, O'Reilly lost his cool off-air and exploded, "We'll do it live!"
While as a guest on "The View" in 2010, he upset co-hosts Whoopi Goldberg and Joy Behar by saying "Muslims killed us on 9/11" as a reason for why a mosque shouldn't be built in Lower Manhattan. The hosts walked off the set.
Last year, he came under fire after riffing on remarks made by first lady Michelle Obama at the Democratic National Convention that the White House was built by slaves. O'Reilly said those slaves were well-fed and had "decent lodgings."
After backlash on social media and from celebrities, he blamed "far left loons" and "smear merchants" for misunderstanding him.
On Wednesday night, O'Reilly's name was scrubbed from his show. But fill-in host Dana Perino, a former press secretary under President George W. Bush, would not let his absence go unnoticed by calling it an "end of an era."
"As we mentioned earlier, Bill O'Reilly is leaving this chair and this network after more than 20 years," she said. "Bill has been the undisputed king of cable news — and for good reason."