Jesse Watters is the latest Fox News host caught in an ongoing controversy over sexual harassment at the network.
On Wednesday, Watters announced that was going on vacation — just a few days after his show "The Five" moved to the prime time slot. The vacation news came a day after Watters was criticized for on-air comments about Ivanka Trump that were perceived as sexualized and inappropriate.
"I'm going to be taking a vacation with my family, so I'm not going to be here tomorrow and Friday," said Watters on the Wednesday evening show. "But I'll be back on Monday, so try not to miss me too much."
Watters will also miss his Saturday show "Watters' World." Instead, this weekend's edition of the show will be hosted by Kimberly Guilfoyle — who joked on air that she's temporarily dubbing the program "K.G.'s World."
Tuesday's Ivanka Trump comment went viral as many interpreted it as a sex joke about President Donald Trump's daughter.
"It's funny, the left says they really respect women," Watters said on his show "The Five," "And then when given an opportunity to respect a woman like that, they boo and hiss," he said, referring to some in a crowd in Germany as she mentioned her father's name at a conference.
"So I don't really get what's going on here, but I really liked how she was speaking into that microphone," Watters said.
Watters was soon being criticized on social media. The host denied any sexual innuendo, saying in a tweet that his comment was a joke about Trump's low-toned speaking voice as the first daughter chatted onstage with German Chancellor Angela Merkel.
NBC News reached out to Fox News for comment on the controversy and Watters' vacation, but was told, "We don't put out press releases on talent vacations."
The White House did not immediately respond to a request for Ivanka Trump's comment.
Lisa Bloom, a lawyer who represents some of the women accusing Bill O'Reilly of workplace sexual harassment, told NBC News that Watters' comment was inappropriate.
"Jesse Watters' on air sexual harassment of Ivanka Trump is a vivid reminder of Fox News' smirking culture of hypersexualizing and demeaning women," said Bloom. "Perhaps Mr. Watters' 'vacation' should end the way Bill O'Reilly's did."
The network has been embroiled in a sexual harassment scandal for months: starting with Gretchen Carlson's July 2016 lawsuit against CEO Roger Ailes, the network recently let longtime star O'Reilly go after it was revealed that $13 million had been paid out to multiple women who made sexual harassment allegations against him.
After O'Reilly's past allegations came to light in a New York Times investigation, other women at Fox News came forward to accuse O'Reilly of sexual and racial harassment and discrimination.
Notably, O'Reilly also announced abrupt vacation just days before he parted ways with the network. Both he and Ailes have denied the allegations.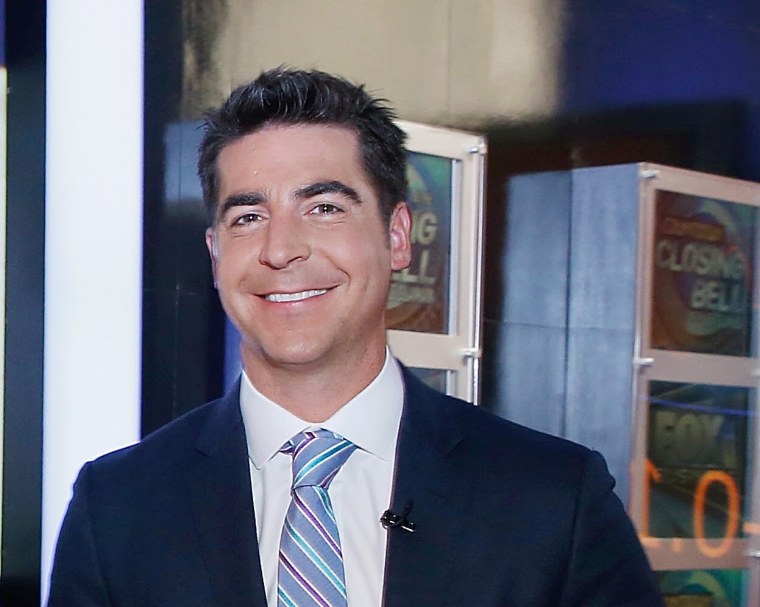 On Tuesday, the same day that Watters made the Ivanka Trump comments, Fox News was hit with its latest discrimination lawsuit — this time on behalf of 11 employees, many of them former workers, alleging instances of racial discrimination.
"When it comes to racial discrimination, 21st Century Fox has been operating as if it should be called 18th Century Fox," plaintiff attorney Douglas Wigdor told the Associated Press on Tuesday. In response, a Fox News spokesperson told NBC News the company plans to fight the lawsuit.
"FOX News and Dianne Brandi vehemently deny the race discrimination claims in both lawsuits. They are copycat complaints of the original one filed last month. We will vigorously defend these cases," said the Fox News spokesperson on Tuesday.
Watters has been criticized in the past for his segments on "Watters' World" dealing with race and gender.
In October of last year, Asian-American advocates and elected officials protested outside Fox News headquarters after an episode appeared to mock Asian people and culture in New York's Chinatown. The segment featured the song "Kung Fu Fighting," and showed Watters asking two women whether he was "supposed to bow to say hello."
On October 5, Watters responded to the outcry on Twitter, saying "The Chinatown segment was intended to be a light piece" and "I regret if anyone found offense."
And in 2014, Watters was called homophobic by LGBT blogs for a segment that sent him to San Francisco's pride parade, where he teased gay men by asking, "Are you guys sure you don't like girls? Are you sure?" and telling others they look "a little promiscuous." NBC News did not find a record of Watters acknowledging, or apologizing to, LGBT critics.
Watters is scheduled to return to his on-air duties hosting "The Five" next Monday.