Republican U.S. Sen. David Vitter survived challenges Saturday from two GOP rivals who called his years-old prostitution scandal a stain on Louisiana, reaching a runoff against Democratic state Rep. John Bel Edwards in the governor's race.
The Nov. 21 runoff will decide who follows Republican presidential hopeful Gov. Bobby Jindal into office, the winner inheriting leadership of a state mired in financial problems that both candidates blame on the term-limited governor. Jindal is now waging a long-shot campaign for the presidential nomination.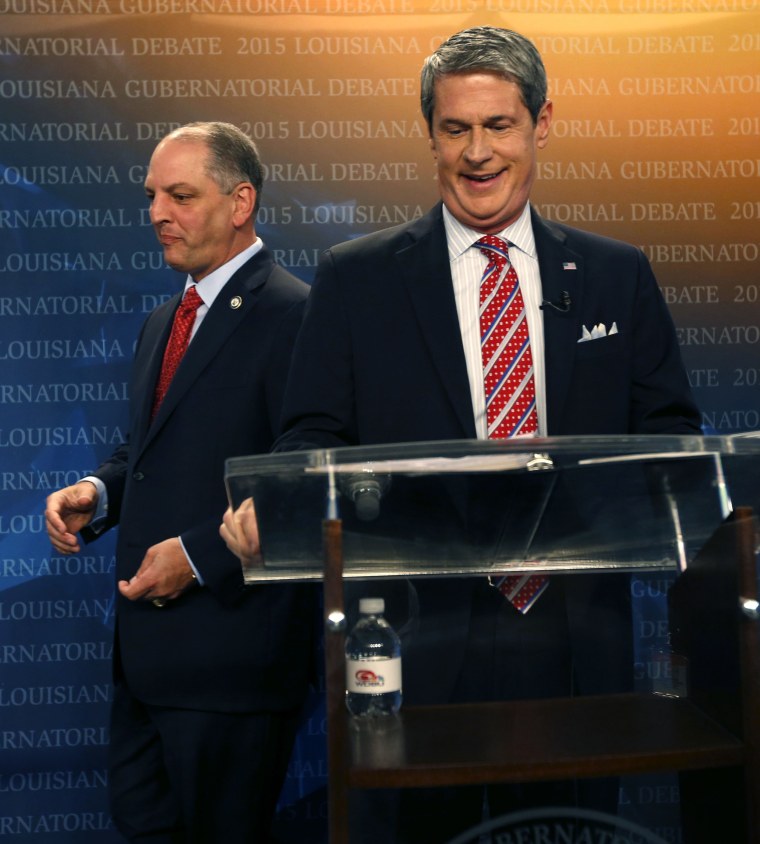 While Edwards always seemed assured of a runoff spot, Vitter bested two other major Republicans to secure his position on the November ballot, Public Service Commissioner Scott Angelle and Lt. Gov. Jay Dardenne.
And the race was tighter than Vitter had hoped.
Months ago, Vitter was atop the polls, flush with millions in campaign cash and running like an incumbent. But amid continued talk of his 2007 prostitution scandal and a drumbeat of criticism about his attack-heavy campaign tactics, Vitter's negatives spiked among voters. One PAC has been running an "Anybody But Vitter" campaign.
Vitter, however, maintained a strong conservative base that carried him into the runoff.
A race advances to a runoff if no candidate tops 50 percent of the vote.
An Ivy League-educated Rhodes Scholar from the New Orleans suburbs, Vitter returned to a campaign style that has worked for him in previous races. He ran on conservative values and described himself as a political outsider.
With few policy differences, the race largely came down to personalities — and a referendum of sorts on whether Vitter's eight-year-old prostitution scandal still resonated with voters. The senator apologized in 2007 for a "very serious sin" after he was linked through phone records to Washington's "D.C. Madam."
Vitter has dodged talk of the scandal, suggesting he and the voters have moved on.
While his three GOP opponents struck at each other, Edwards saved most of his criticism for Jindal, who Edwards blamed for causing state finances to crater. Edwards, a state House Democratic leader from Tangipahoa Parish, said his rivals each represent a Jindal third term.
Edwards campaigned as a conservative Democrat. He's pro-gun and anti-abortion, and comes from a family of sheriffs. He also has a West Point degree and military background.