MINNEAPOLIS — Neil King got his first glimpse of Augsburg University seven years ago from the window of Fairview Behavioral Services, a psychiatric hospital in Minneapolis.
King, then 17, landed in the hospital's adolescent inpatient ward after overdosing on cough medicine. From a window, he could see a lush college campus across the street. A fellow teen told him the school's name, and said it had a sober program.
College was the last thing on King's mind. He had been drinking and smoking marijuana since he was 13 and taking opiates since he was 14. "I was just trying to make it to the next day," he said. "I lived to use, and used to live."
After a series of overdoses and hospitalizations over the next several years, King was prescribed Suboxone, a medication used to treat opioid addiction, and was able to stay off drugs for four months. One day in 2013, he rode his bike over to Augsburg's sober program, called StepUp, and asked to enroll.
On a sunny Saturday last month, King walked across Augsburg's graduation stage to accept his college diploma, grinning, with a purple cord draped around his neck to represent his recovery.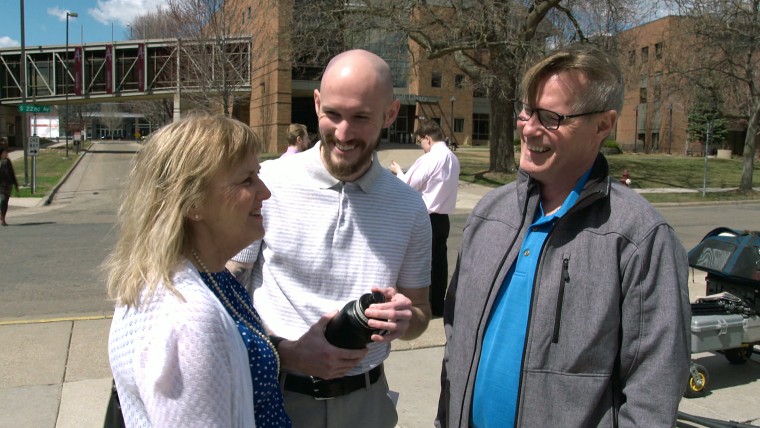 "I got a second chance at life," said King, 24. "I wouldn't be here without all the people that have helped me up over the last four years. I'm just really grateful for it."
Last year, 5.3 million young adults needed treatment for substance abuse, nearly one in six people between the ages of 18 and 25, according to the Substance Abuse and Mental Health Services Administration. This has put renewed attention on the lack of specialized services on college campuses for those who are in recovery. Universities have never been particularly friendly to sobriety, and though some offer substance-free housing, it's rare to find the array of supports provided by comprehensive recovery communities.
That is starting to change. In 2013, there were 29 substance abuse recovery programs on campuses nationwide — today, there are 186, according to the Association of Recovery in Higher Education, which represents college recovery programs. These programs offer counseling and substance-free housing, as well as sober social events ranging from tailgates to trips. They're designed to create a community of peer support and accountability apart from the standard drug-and-alcohol-fueled party culture.
"Bringing recovery supports onto the college campus can be a key part of an individual's academic success and the success of their overall recovery," said Christopher M. Jones, director of the National Mental Health and Substance Use Policy Laboratory at the Substance Abuse and Mental Health Services Administration. The agency began providing funding and support for these programs under the Obama administration and has continued to do so under President Donald Trump.
The largest residential college recovery program in the country is Augsburg's StepUp, which serves 85 students living together in a substance-free dorm. Since 1997, the program has offered services including recovery coaching; recently, more mental health services were added. Along with regular program-wide gatherings, the students meet each week with alcohol and substance counselors. During the meetings, students discuss how they are juggling recovery with academics, as well as community living issues.
"When we have that much eye-and-face-time with the students, it's really helpful for us to be able to see what's happening and be preventative rather than reactive," said Tamarah Gehlen, the program's director. "Peer-to-peer support is huge."
Students who participate do not pay additional costs for these services, which are covered by the university and private donations.
Many young adults overcoming addiction have gaps in their schooling, low high school GPAs or missing standardized test scores. StepUp's staff works with Augsburg's admissions office to ensure that those issues don't prevent students from getting a chance at college.
"No one should have to choose between recovery and a college education," Gehlen said. The program supports students as they seek out experiences typical to college life, from studying abroad to participating in student government.
King, who was 20 when he was admitted to Augsburg, was able to get the requirement for SAT/ACT scores waived. In the chaos of trying to get treatment during his senior year of high school, he never took the tests.
King brought an additional challenge. When he enrolled, he was taking Suboxone, which helps stave off cravings. While the use of medication to treat opioid addiction is widely embraced in the medical community, many treatment and recovery programs for adults continue to reject it as swapping one drug for another. Out of the 186 campus-based recovery programs in the U.S., only a few fully allow medication-assisted treatment. Along with Ohio State University, Augsburg is one of them.
Augsburg's program has a 93 percent graduation rate, and on average fewer than 10 students relapse each year, according to StepUp.
King is now one of those graduates. In the fall, he'll head to the University of Minnesota for a master's program in integrated behavioral health. He hopes to one day work with other alcoholics and addicts.
While college took some adjusting to, King said he's grateful for the supportive environment that helped keep him on track.
"When you work really hard on a paper, and you get a good grade on it and you get it back, that feels so good," he said. "It's a high that I would never trade for drugs and alcohol."