The Department of Homeland Security on Wednesday told airlines about a potential new shoe-bomb threat and urged them to pay extra attention to flights from overseas into the United States.
Several officials familiar with the advisory told NBC News that "very recent intelligence" considered credible warns of possible attempts to attack passenger jets using explosives concealed in shoes.
As a result, officials say, airlines will be playing extra attention to passenger shoes on flights to the US from overseas. Those passengers may also experience increased scrutiny in pat downs and full-body screening.
The bulletin to airlines urges screeners to use the explosive trace detection swabs to check shoes that are worn and in carry-on bags.
The officials say the threat information was not specific to any particular airline, country, or time.
There is no indication of a specific plot, they say.
But after assessing the information, the Department of Homeland Security advised airlines earlier Wednesday of the possible threat and urged greater security scrutiny on U.S.-bound flights.
One official described the level of concern over this new information as moderate.
"It's a reminder that we are under constant threat and an advisory to airlines be on their A game," said another official familiar with the threat intelligence.
The threat information is unrelated to the Winter Olympics in Sochi, Russia, several officials said.
"Out of an abundance of caution, DHS regularly shares relevant information with domestic and international partners about relevant threat information as we work to meet our mission of keeping the traveling public safe," the Department said in response to a question from NBC News. "These types of regular communications are part of that important priority.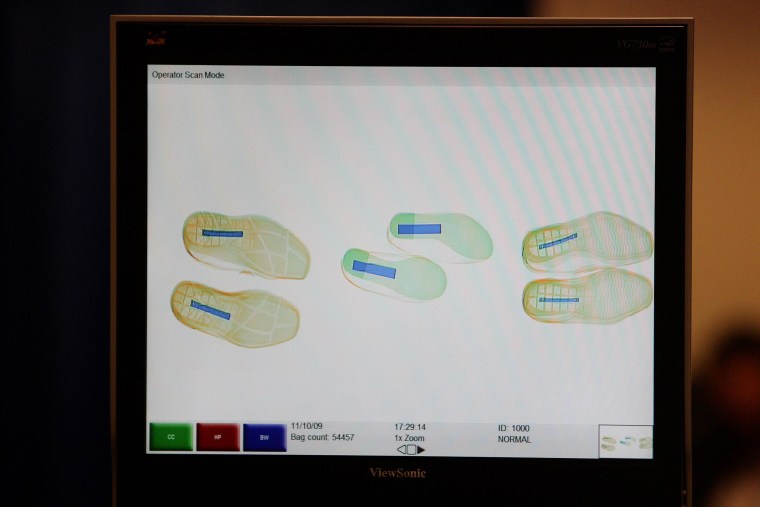 "Our security apparatus includes a number of measures, both seen and unseen, informed by the latest intelligence and as always DHS continue to adjust security measures to fit an ever evolving threat environment."
British national Richard Reid — the "Shoe Bomber" — first raised the specter of such threats just three months after the Sept. 11, 2001 terror attacks when he attempted to ignite bombs hidden in his sneakers on a Paris-to-Miami flight.
Reid was subdued by passengers and crew. He pleaded guilty to terrorism charges in 2002 and is now serving a life sentence at a maximum security federal prison in Florence, Colo.
Since the botched attack, federal security officials have screened the shoes of most airline passengers at security checkpoints.
— NBC News' Jon Dienst and Jay Blackman contributed to this report