BALTIMORE — A judge will announce the fate of a Baltimore police officer charged with second-degree murder in the death of Freddie Gray Thursday morning. The fate of this fractured city, though, may hang in the balance.
Officer Caesar Goodson is one of six police charged in connection with Gray's death, but Goodson faces the most serious of those counts, depraved-heart murder, and faces up to 30 years in prison if convicted. Goodson was the driver of the van in which Gray was fatally injured in April 2015, after he was handcuffed and placed inside the van without being belted in.
Two of the six charged officers have gone to trial ahead of Goodson and both times prosecutors failed to secure a conviction. The first ended in a hung jury, the second in an acquittal.
Following Gray's death, thousands took to the streets in what activists have called the "uprising." There were riots, violent clashes with police and widespread arson. Gray's death, which many believe was the result of a so-called "rough ride" by police — in which the 25-year-old's neck was severed — was yet another spark to light up the kindling of outrage that had spread across the country in the wake of a number of high-profile cases of unarmed African-Americans being killed while in police custody.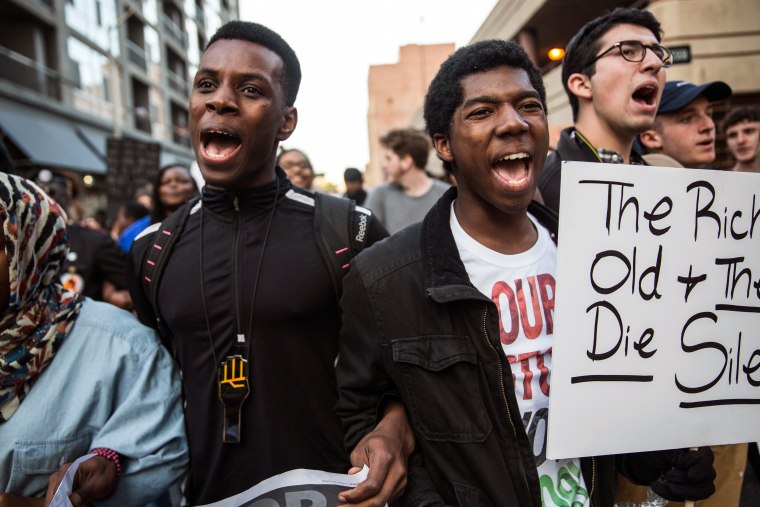 When Baltimore State's Attorney Marilyn Mosby announced charges against the officers, it was a clarion call for activists and Gray's family. Prosecutions of police officers who kill citizens, even under the most questionable circumstances, are extremely rare. So on that day back in May 2015 when Mosby took to the steps of Baltimore's War Memorial and said, "To the people of Baltimore and the demonstrators across America… I heard your call for 'no justice, no peace,'" it aroused a sense of hope for many in this beleaguered city, and in cities across the country weary of what many saw as state-sanctioned violence.
Yet, soon after the announcement ended, the political chatter began. Was this a political move? Was Mosby, who was 35 at the time, experienced enough to handle what would ultimately be a very complex case? Was the evidence against the officers solid and sufficient enough to merit the charges, especially murder?
Related: Why the Freddie Gray Case Could Make or Break Marilyn Mosby
Two trials, two failed convictions, and many are re-examining all of the above.
On the verge of perhaps the most important trial of the case, many in Baltimore are bracing themselves.
"Justice is not only a conviction," said Ralikh Hayes, an activist and organizer with Baltimore Bloc, a grassroots community group. "Justice is many things. Justice is getting rid of the root issues that allowed Freddie Gray to die. Justice is getting rid of the root issue of state violence against black people."
"But, I don't expect a conviction," he said, adding that there seemed to be a lack of diligence on the part of prosecutors, and that the system, despite the hopes of many, is essentially operating the way it was designed.
"I think that a non-conviction, for a lot of people, would mean losing a lot of faith in the justice system, again," said Randi Gloss, an entrepreneur and activist. "And I think that it just kind of, you know, would be very discouraging and disparaging for a city of people who saw one of their own's life being taken away in extraordinary fashion. It would be heartbreaking."
Related: Freddie Gray Autopsy Shows 'High-Energy Injury'
Gloss said she traveled the 45 minutes regularly from DC where she lives to Baltimore to attend protests, marches and even Gray's funeral. She recalled the mourners, journalists and Gray's family that day "splitting like the Red Sea" as pallbearers pushed his coffin through the church to an awaiting hearse. She was later arrested outside the city courthouse as pretrial hearings continued in the officers' cases.
One afternoon, not terribly long ago at the Emmitt Gilmore housing complex where Gray was initially arrested in April 2015, Gloss recalled a man who came up to her and declared "these trials are going to set the tone and give cues to officers around the country to what they can and cannot get away with."
"There have been all these waves of energy that have ebbed and flowed over the past several months," Gloss said. "I'm not holding my breath but I think a guilty verdict would be that little ray of sunshine after a downpour."
Tawanda Jones, whose brother Tyrone West died in police custody in 2013, has urged supporters of her family to show up at the courthouse on Thursday to support Gray's family and all the victims of police violence.
"This story doesn't end with my brother or Freddie Gray," Jones said following a small rally on the steps of the Baltimore PD's northeast district headquarters. "They won't be the last. But we have to hold them accountable. This is not a time to stand in the middle. You have to pick a side. You're either on the side of righteousness and justice or on the side of the people who are killing us."
Related: Freddie Gray Activists Arrested During Vote at City Hall
West was unarmed at the time and died while police dragged him from his car and wrestled him to the ground. None of the officers involved in her brother's death were charged. The medical examiner said West died of an undiagnosed heart condition and dehydration but did not determine a manner of death. The family believes West died of positional asphyxiation, meaning he suffocated while police were arresting him.
The rally was part of West Wednesdays, a weekly rally held to demand that Mosby reopen her brother's case. This Wednesday marked the 152nd straight rally, according to organizers.
Jones said she has a bad feeling about the verdict.
"I have a horrible feeling it's going to go how it always goes," she said. "And that's terribly."