BUCKINGHAM, Va. — The battle at Union Hill began four years ago, when Dominion Energy fired the opening shot: Not only was Virginia's largest utility proposing that its multistate natural gas pipeline traverse this wooded countryside, but it also suggested that a sprawling gas-fired compressor station must be built nearby.
As Dominion sought the proper permits for the pipeline and the station, the historically black community of Union Hill in Buckingham County joined a growing number of environmental groups concerned about the health and climate risks — and critics who say projects like it disproportionately burden minorities and lower-income people.
But the energy company, in a push to win the hearts and minds of the county's 17,000 residents, has taken a different turn, unveiling a series of long-sought benefits to residents who live closest to the compressor station site — a move that has further divided a populace already strained by an undercurrent of suspicion.
"Dominion is an expert at the divide-and-conquer tactic," said the Rev. Paul Wilson, a leader of two historically black churches in Union Hill who was arrested in 2016 during an anti-pipeline protest outside of the Virginia Governor's Mansion in Richmond, the state capital. "There's a group of people who are even moving to get me out as pastor. Once you inject money into the conversation, it becomes a wedge."
Dominion last month proposed $5.1 million worth of improvements that would be overseen by the community, potentially to build a community center, beef up local emergency services and supply grants for entrepreneurs. The package will be given on the condition that the $7 billion Atlantic Coast Pipeline project — owned by Dominion and its utility partners, and zigzagging 600 miles through West Virginia, Virginia and North Carolina — is finished.
"It was like I woke up one morning and Dominion was in my living room. So I wanted to know, 'What can you bring to the table?'" said Joyce Gooden, 68, the third generation of her family in the Union Hill area. After moving back earlier this year, she initially questioned the necessity of the project. But the utility, she said, has shown itself to be a courteous neighbor.
Gooden, whose brother was hired by Dominion as a community liaison, added, "I'm a nurse by profession — we need an upgraded 911 system."
But not everyone sees an infusion of funds as a sign of good faith. Some residents are referring to the pledged money as Dominion's "plan B — for bribe," and claim it was worked out in "secret meetings."
Elsewhere in Union Hill, Gooden's cousin, John Laury, was surveying his 98 acres with his wife, Ruby, when they recently discussed how neighbors, family members and fellow churchgoers are now pitted against one another.
"Dominion thought they can just come in and we'd all roll over," said Ruby Laury, 72.
"We have to stand up," John Laury, 74, told her. "We have no fear of Dominion."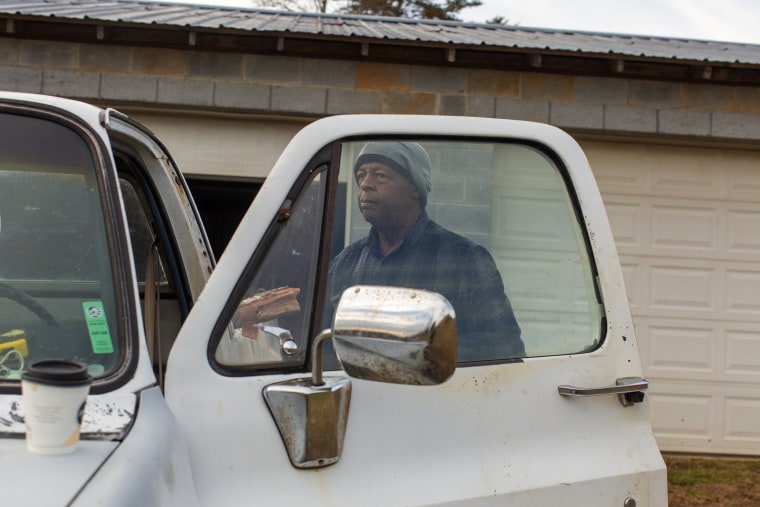 The compressor station's fate will depend, in part, on a vote Monday on a crucial permit from the state's Air Pollution Control Board.
Dominion has denied that it began meeting with residents and stakeholders this past spring about investing in the community explicitly because of permitting concerns. Those closely following the issue aren't sure how the control board will vote.
But beyond Buckingham County, environmental justice activists and researchers say, there is a larger concern that has not been adequately addressed by policymakers: How communities of color with limited political sway or other economic prospects can be exploited by companies that hold clout with legislators and agencies.
"I know $5.1 million seems like a lot of money, but the more controversial a project, the more these benefits get dangled at the end," said Mary Finley-Brook, a professor of geography and the environment at the University of Richmond who has researched communities along the Atlantic Coast Pipeline and is a member of the Virginia governor's Advisory Council on Environmental Justice.
When a company underestimates the opposition, she added, "they try to buy their way out."
WHY UNION HILL?
By Dominion's account, Buckingham — about 70 miles west of Richmond — is an ideal spot for a pipeline and compressor station that would pressurize the natural gas and keep it flowing through the line.
For starters, it's in a rural pocket of the state, and an existing pipeline known as Transco already tunnels through the area. Dominion says Transco can connect with the Atlantic Coast Pipeline and ultimately provide other utilities access to its natural gas. A station also requires a large tract of land, and Dominion lucked out after a former slave plantation that was later demolished went up for sale. In 2015, descendants of the Variety Shade tobacco plantation sold 68 acres to Dominion for $2.5 million.
"You have to find a willing landowner," said Carlos Brown, vice president and general counsel at Dominion, who has made inroads in Union Hill. "You don't want to force or condemn property."
But Buckingham's history is exactly what should make Union Hill and the region around it off limits, residents say. Unmarked graves identified as slave burial grounds have been discovered, and some households can trace their lineage to slave ancestors and freedmen who settled in the community after the Civil War.
But many records of enslavement and freedom were lost when the county's courthouse, designed by Thomas Jefferson, was destroyed by arson in 1869.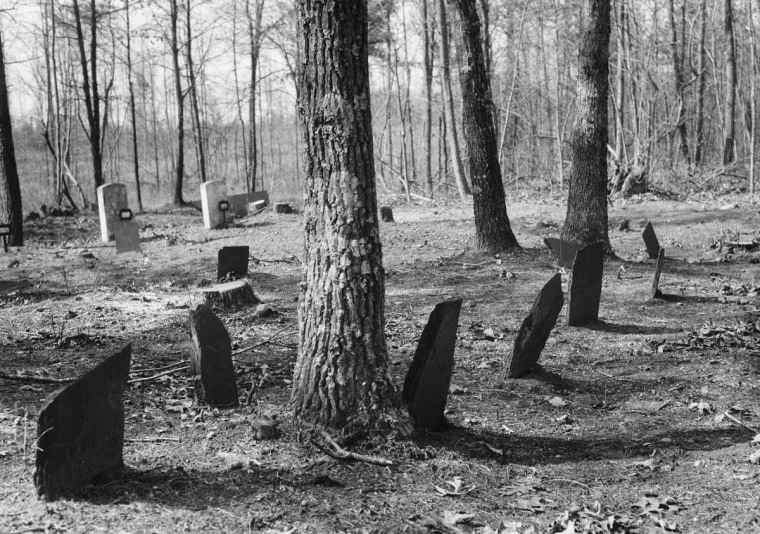 Richard Walker, of Richmond, has property and several relatives in Union Hill. One afternoon last month, he checked on his family's white clapboard home, surrounded by a curtain of tall pines ringed by golden valleys, then drove past a rolling stretch of land where Dominion wants to burrow its pipeline.
"Here is the legacy of African-Americans," said Walker, a fifth-generation descendant of a freed slave in Union Hill. "They were first brought against their will, ultimately became slaves and owned as pieces of property, but later granted the right to buy their own land. And now, here we got big business saying, 'We're going to do what we want to do to you as we see fit.'"
Opponents of the pipeline criticized Dominion for initially failing to do a proper demographic and cultural study of the neighborhood, leading the final proposal to disproportionately target black residents. In response, Lakshmi Fjord, a visiting scholar in the anthropology department at the University of Virginia, led a door-to-door household study of a 1-mile radius around the proposed station, concluding in September.
Of 99 households identified, Fjord and a team of student volunteers collected information from 75 of them, and found 199 people lived in the homes during the week. More than 80 percent identified as minorities and were predominantly black, Fjord said.
Dominion, however, disputes the findings. Citing census data and its own research, the company says that while 85 people live within a 1-mile radius of the site, more than 70 percent identify as white.
Setting race aside, Dominion officials argue that Buckingham, a lower-income county in the state, would benefit because the compressor station would generate as much as $1 million in tax revenue a year. Dominion also estimates the project would create 8,000 construction jobs along the course of the pipeline in Virginia and another 1,000 longer-term ones. It's unclear how many permanent jobs would actually benefit Buckingham.
And there are landowners like Craig White, 54, who see an opportunity coming down the pike. If a compressor station is going to be built anyway, he said, he wants to put his dormant property to good use by converting it into a campground for out-of-town construction workers.
White, an African-American whose father is credited with documenting the black history of Buckingham, said people are using "scare tactics" and inaccurate statistics to unfairly ward off Dominion. "No one's getting bought off," he said.
'JUST FOR SOME GAS'
Dominion, a Fortune 500 company with nearly 6 million customers in 19 states and operating revenue of $12.6 billion last year, hasn't always gotten its way.
After two years of planning, the company announced in October that it would not build a compressor station in Charles County, Maryland, across the Potomac River from George Washington's Mount Vernon estate, after stiff opposition from environmental groups and local officials who denied a special zoning exemption.
Charles County, which is majority white but has a more than 43 percent black population, found an ally in Mount Vernon, which amid the fight was named one of America's 11 most endangered historic places by the National Trust for Historic Preservation.
Kelly Canavan, who formed an environmental group in southern Maryland that opposes Dominion, said the community was so unified against the project, which would have gone up in an area prone to fires, that no amount of financial investment would have won people over.
"There was nothing offered to us, but we weren't going to be steamrolled for any price," Canavan said.
Critics say that Dominion, based in Richmond, doesn't concede easily either — and that with deep pockets, it exerts an enormous influence in Virginia. The Richmond Times-Dispatch reported last year that the utility is not only the largest corporate contributor in state politics, but its top executives and employees routinely donate significant sums to candidates from both parties.
That has included Gov. Ralph Northam, a Democrat endorsed by several environmental groups. He has not come out in opposition to the pipeline, and was criticized by activists after removing two members of the Air Pollution Control Board who had questioned the compressor project.
A spokeswoman for the governor's office said Northam was "exercising his statutory authority to appoint members of his choosing to these boards."
"No one's getting bought off."
In the utility's quest to construct the pipeline, less powerful and historically disenfranchised groups have been affected, according to a study by Finley-Brook: Small farmers have been subject to eminent domain; Native Americans, about 30,000, live within a mile of the proposed route in North Carolina; and another compressor station already in the works in Northampton County, North Carolina, is in a census block where 79 percent of the population is black.
"We should be looking at when projects like these are proposed for places where people have less power to advocate for themselves," Finley-Brook said, "because when you want to build in a mostly white and higher-income community, these projects would be questioned."
A 2017 report prepared by the NAACP, "Fumes Across the Fence-Line," found that black residents who live near oil and gas wells, compressors and processing plants are already beset by a lack of proper health care, leading to chronic health problems such as asthma, and other racial disparities.
Studies have warned of potential pollutants, noise and emissions generated by these compressor stations. But proponents of natural gas champion it as a better alternative to coal or oil because it produces lower carbon-dioxide emissions, although it still contributes to climate change.
Even if the station in Buckingham or the pipelines don't suffer from an accidental explosion or send gas leaking into the well water, Chad Oba, a co-founder of a grassroots group that opposed the project, Friends of Buckingham, isn't convinced they're needed.
"Who wants to live with what-ifs?" said Oba, who resides about a mile from the compressor site. "Our ZIP code should not determine the value of our lives."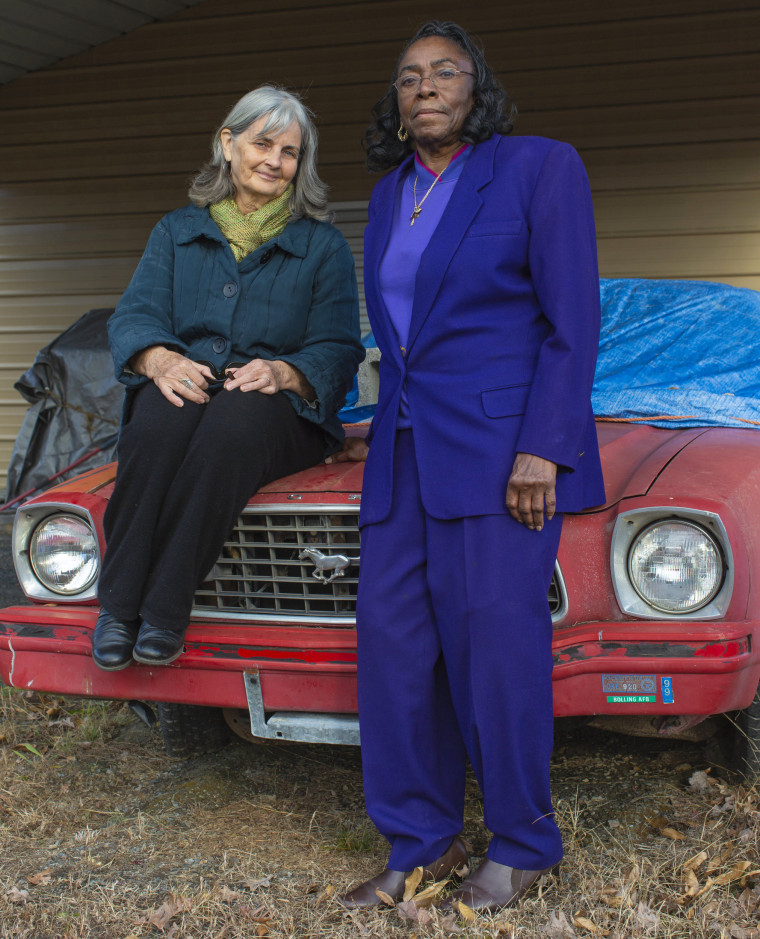 Oba recently visited her friend, Ella Rose, 74, whose property sits close to the proposed site. Oba, who is white, said public meetings have grown tense; at one, a resident verbally attacked her while she tried to make a point about respirators.
Others say Friends of Buckingham are to blame for the disruptions at meetings, although Oba believes the disharmony only serves to "divide and discredit us as sensationalists." Besides the division, the pipeline debate has left residents awash in anxiety and stress.
"As Dolly Parton would say, 'It's enough to drive you crazy if you let it,'" Rose said at one meeting to cut the tension. Folks laughed.
Dominion spokesman Aaron Ruby said that because the Atlantic Coast Pipeline is spanning three states, the company has made a conscious decision to ensure "we're all in it together."
"That's the principle of environmental justice: No one community bears a disproportionate impact," Ruby said.
But in Buckingham, John Laury isn't so sure.
Amid the public hearings and protests, the Air Force veteran finds solace when he tends to his cattle. After living in Southern California with his wife, he convinced her in 2003 to retire in Buckingham, where as a young boy he milked cows and harvested tomatoes.
He doesn't know what will become of his beloved Union Hill if the compressor station is built — or if, after all the mistrust, a community now cleaved apart can find forgiveness.
"What has happened to us?" he asked. "All this, just for some gas."