Hurricane Nicole made landfall on Florida's Atlantic coast early Thursday, leading to at least two deaths, widespread power outages, the collapse of several homes and the unearthing of what may be a Native American burial ground.
The hurricane made landfall just south of Vero Beach around 3 a.m. ET on the east coast of the Florida Peninsula on North Hutchinson Island, with sustained winds estimated at 75 mph, the National Hurricane Center said.
Nicole, which struck Florida as a Category 1 hurricane about six weeks after Category 4 Hurricane Ian, weakened into a tropical storm shortly after landfall.
While not as forceful as Ian, Nicole left broad devastation in its wake, including deaths.
Two people were electrocuted by a downed power line in Orange County, the sheriff's office said Thursday afternoon. 
Coastal homes collapsed in Wilbur-by-the-Sea, an unincorporated beachfront community, the Volusia County Sheriff's Office said. Twenty-five homes have been declared structurally unsafe, and in Daytona Beach Shores, north of the community, 24 hotels and condominiums were declared unsafe and ordered evacuated, it said.
Meanwhile, in St. Johns County, part of the Coastal Highway appeared to be broken and covered in water.
In Martin County, Nicole churned up sand and unearthed what appeared to be bones on Chastain Beach on South Hutchinson Island, the sheriff's office said. The site is believed to be a Native American burial ground, it said.
In Port Orange, the Rose Bay Dam breached Thursday, and emergency repairs are underway. Port Orange City Hall wrote on Facebook that the seawall and the bank on the north end of a drainage system were "compromised" and that tide from the bay was "pushing rising water in the area." Residents were urged to evacuate with hundreds of homes at risk.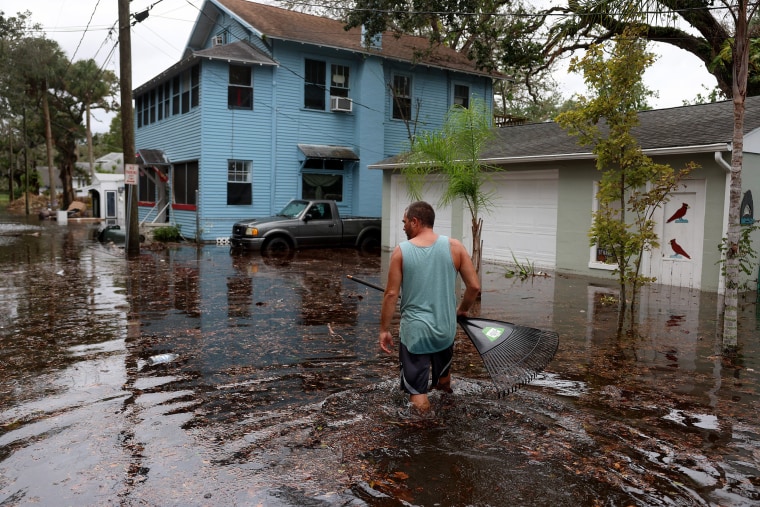 Nicole's timing is a rarity for the region, as only two hurricanes have made landfall in the state in November since the start of record-keeping: Hurricane Yankee in 1935 and Hurricane Kate in 1985, according to The Associated Press.
The storm continued to weaken Thursday, and by 10 p.m. it was a tropical depression, according to the National Hurricane Center. But it was still bringing heavy rains to parts of the southeastern U.S., the agency said.
Thursday night the now-tropical depression was centered about 20 miles north of Tallahassee on Florida's panhandle, and was moving northwest at 15 mph.
The legacy of Nicole will be devastating beach erosion, especially along the northeast coastline, which Ian hammered only weeks ago, meteorologists said.
Nicole was affecting neighboring states, too.
There could be a few tornadoes in eastern South Carolina and southern North Carolina overnight, the hurricane center said, and also in the rest of North Carolina and Virginia on Friday.
The Southeast, Kentucky and Ohio could see 2 to 4 inches of rain, and northern Mid-Atlantic states and New England could get 1 to 3 inches, according to the agency.
Communities still reeling from Ian are hit
Hurricane warnings had covered Florida's coast from Boca Raton to the county line between Flagler and Volusia counties, northeast of Orlando, before the storm's landfall.
Florida Gov. Ron DeSantis said in a storm briefing Thursday morning that Nicole's strong winds are affecting regions beyond its central track. 
He said the storm was bringing heavy rains to the state, which had resulted in "3 to 5 feet in storm surge" in some areas and potential flash flooding. 
"You do have downed trees, you have power lines, you have some road washouts, combined winds and storm surge, we've seen beach erosion — especially in areas that had already seen erosion from Hurricane Ian, and these are places like Brevard, Volusia, Flagler and St. Johns counties," DeSantis said. 
He said that while the storm isn't as strong as Ian was, he had expanded the initial emergency declaration for 45 counties to cover all of them. The state has 17,000 lineworkers staged to begin power restoration, as well as seven search and rescue teams, high water vehicles and Transportation Department crews ready to deploy as soon as it is safe, he said.
DeSantis had said earlier in the week that 600 National Guard members were activated, as well.
"This is obviously not as significant a storm as Hurricane Ian was, but coming on the heels of that, you're seeing communities, particularly in the Volusia County area, where you have a lot of that erosion on the coastline, this has put some of those structures in jeopardy," he said.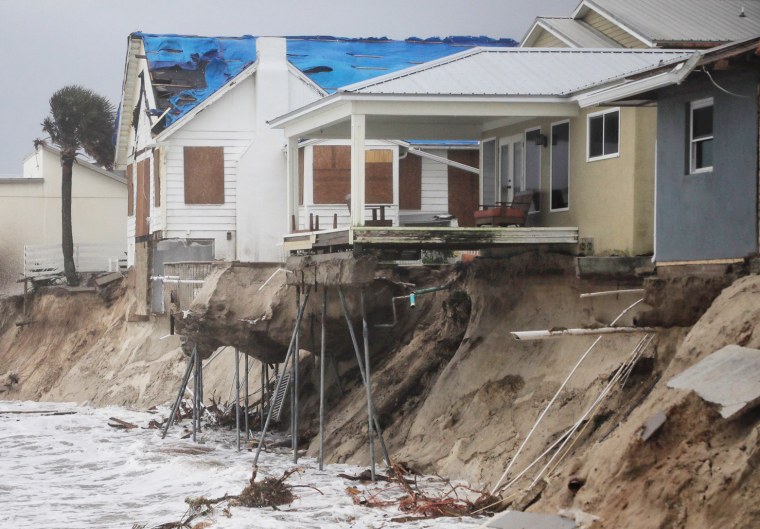 Sixty-one school districts were closed Thursday because of the storm.
Krista Dowling Goodrich, who manages 130 rental homes in Daytona Beach Shores as the director of sales and marketing at Salty Dog Vacations, said she saw the beachfront disappear ahead of the storm. 
"While we were there, the whole backyard just started collapsing into the ocean. It went all the way up to the house," she told the AP. She said the water also compromised the remaining land between a row of tall condominium buildings nearby.
Officials in Volusia, Palm Beach and Flagler counties issued mandatory evacuation orders for some areas ahead of the storm.
Nicole made landfall Wednesday on Grand Bahama Island, less than 100 miles east of Florida. Extensive flooding, downed trees and power and water outages were reported in the archipelago's northwest region.
Hurricane Ian made landfall on the opposite side of Florida, near Fort Myers on the Gulf Coast, on Sept. 28 and traveled across the state to the Atlantic. Ian was one of the most powerful hurricanes to strike the state in recorded history.