Alex Jones, the bombastic news personality behind Infowars, held a press conference on Friday to slam reports that he'd lost custody of his three children last night in a Texas court.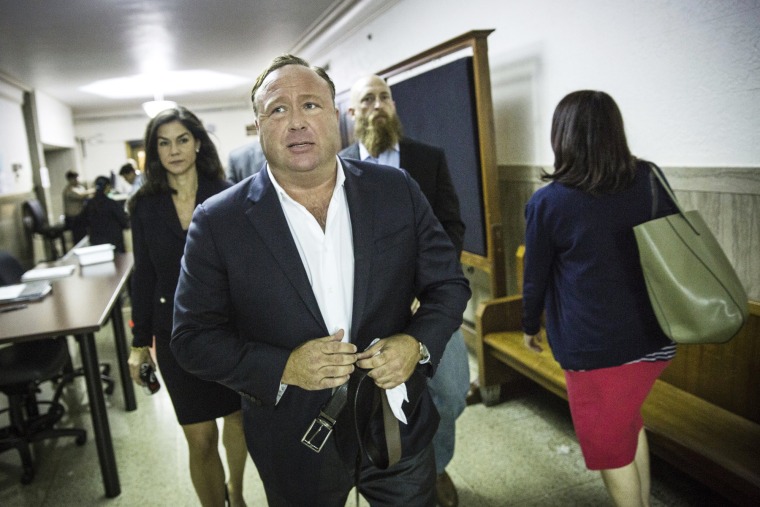 Jones — who has become known for popularizing the phrase "9/11 was an inside job" and for stating the Sandy Hook shooting was a hoax — has been engaged in a custody battle with ex-wife Kelly Jones since their 2005 divorce. At nearly midnight on Thursday, a jury awarded joint custody of the three children ages 9, 12, and 14.
But media reports Friday largely stated that Jones had "lost" the case — and primary custody of his kids — which he said is false.
"I want to respond to grossly inaccurate media reports that I lost custody of my children," said Jones in a statement shared with NBC News Friday afternoon ahead of a press conference in Austin.
"My ex-wife went to trial asking for her to become the sole managing conservator of our kids and limit me to supervised access," said Jones. "The jury resoundingly rejected her request for sole custody and left us at the same place where we began this horrible journey."
Jones spoke to reporters in Austin Friday evening from the steps of the Travis County courthouse.
Her attorney, Robert Hoffman, told NBC News he was unable to comment on the case due to a gag order — but confirmed the court's verdict awarding joint custody and providing Kelly Jones with deciding power over where the children will live.
The case itself is sealed, said Travis County District Clerk Velva Price. But records obtained by NBC News revealed two years of weekly filings: multiple restraining and protective orders, dozens of subpoenas, videotaped depositions, and more.
Related: InfoWars' Alex Jones Is a 'Performance Artist,' His Lawyer Says in Divorce Hearing
Alex Jones said the Travis County Court jury "agreed we should remain as joint-managing conservators" and the only change that resulted from Thursday's verdict was "who can designate the primary residence." Jones said he lives about 10 miles from his ex-wife.
On Thursday night, the Austin American-Statesman reported that the three children have been living primarily at their father's home, with only occasional visitation allowed to their mother. The newspaper reported from inside the courtroom, quoting the final arguments of both attorneys as each tried to make a case against the mental and emotional health of the other parent.
Kelly Jones' attorney Robert Hoffman accused the Infowars founder of using "parental alienation syndrome" to turn the children against their mom, according to the Statesmen.
"Mr. Jones is like a cult leader," Hoffman said, quoted by the Statesman. "The children appear to be cult followers, doing what daddy wants them to do."
Related: Alex Jones Sued By Chobani After Yogurt Maker Says Radio Host Posted Fake Stories
In contrast, Alex Jones' attorney Randall Whilhite reportedly told the jury that Kelly Jones is unstable and guided by "inverted logic, inverted reality."
"They are doing well, they are thriving at their father's house," Wilhite said, as reported by the Statesman. "Should we rip them out of that and see how they would do at their mother's home?"
As the verdict was read, reported the Statesman, Kelly Jones dabbed at her eyes with a tissue.
"I am so grateful to God that he has kept me and my family strong through this," she said in the courtroom Thursday. "I just pray that from what's happened with my family people can really understand what parental alienation syndrome is and get an awareness of it and we can stop this from happening in the future."
Related: Daughter of Sandy Hook Victim Demands Donald Trump Disown Alex Jones
The bitter custody fight comes two years after the couple's 2015 divorce, and gained national attention when lawyers for Alex Jones defended him by telling jurors his public persona is just the act of a "performance artist."
Jones' Infowars broadcasts featuring him yelling at the camera and calling people names are frequently compiled into YouTube videos with titles like "Alex Jones Goes Crazy" and "Alex Jones rage moments."
But at an early April pre-trial hearing, Whilhite said Jones is "playing a character" and is nothing like the raving Infowars conspiracy theorist in real life.
Related: Infowars' Alex Jones Says Trump Made Thank You Call
When the Austin American-Statesman interviewed a juror on Thursday night after the custody verdict was served, he told the newspaper that most of the jurors thought both Alex and Kelly Jones were good parents.
"That's why we deliberated so long," the unidentified juror told the Statesman.
Jones told NBC News in the statement he's "confident" that District Judge Orlinda Naranjo will carefully consider the family's schedules "and will give each of us the time that is appropriate."
"I have throughout this ordeal deferred to the experts and this court to determine the kids' schedule with due regard to their own wishes," he said. "I have and will continue to place my trust in the court to continue to do what is in their best interest."