Two Iowa high school students were charged in the Wednesday death of a Spanish teacher, authorities said.
The 16-year-old suspects were charged as adults with first-degree homicide and first-degree conspiracy to commit homicide, according to a statement from officials in Fairfield, a city about 100 miles southeast of Des Moines.
NBC News does not usually name minors charged with a crime, even those charged as adults.
The remains of Nohema Graber, 66, were discovered Wednesday in Chautauqua Park in Fairfield, the statement said. The teacher had been reported missing earlier in the day.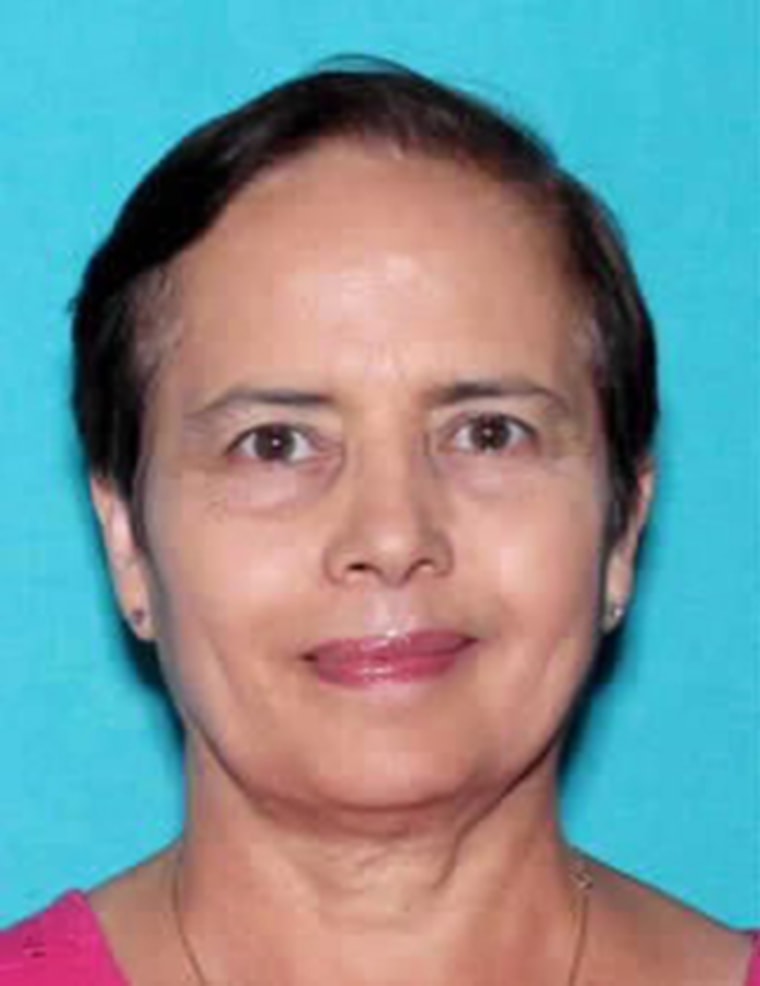 Graber taught Spanish at Fairfield High School, where the suspects were students.
Investigators had searched Chautauqua Park because Graber was known to walk there, according to criminal complaints obtained Friday by NBC News. They found her body "concealed under a tarp, wheelbarrow, and railroad ties," the complaints said. She had suffered trauma to the head.
Investigators met with an "associate" of the students, who shared social media exchanges that showed one of the teens had "specific details of the disappearance and subsequent death of Graber," the complaints said. The exchanges also indicated the other teen was involved and present during the teacher's death, according to the complaints.
"The details included, but were not limited to, the motives for killing Graber, the planning and execution of the means to kill Graber, as well as deliberate attempts to conceal the crime," the complaints said. The motives were not disclosed in the complaints.
Police found bloodied clothes belonging to one of the teens, while the other teen admitted to investigators that he had provided materials used in the murder and helped to cover it up.
Both teens are being held in lieu of $1 million bail, according to court documents. They are both due in court on Nov. 12.
Attorneys for the teens did not immediately respond to requests for comment on Friday. One teen is being represented by a public defender.
Graber was born in Veracruz, Mexico, and then lived in Mexico City with her then-husband until about the time they had children, the Des Moines Register reported. The couple then moved to Fairfield, where her husband's family lived.
"This murder is beyond comprehension. We can only assume that the hateful rhetoric that has been promoted over the past five years continues. It has led to this point in time where Latinos are objectified and attacked," Joe Enriquez Henry with the League of United Latin American Citizens Iowa said in a statement.
A spokesperson for the Jefferson County attorney's office told NBC News that "at this point there is no evidence that this was racially motivated," but "the investigation is ongoing."
A statement from Fairfield Community School District said Graber had taught at the high school for nine years and "touched the lives of many students, parents, and staff."
"We extend our deepest condolences to the family, friends, and loved ones of Mrs. Graber. At this time our students' and staffs' well-being is our top priority," Superintendent Laurie Noll said.
Fairfield Community School District is not in session Friday, but the high school building was open for students and staff who wanted counseling.
Gov. Kim Reynolds said Graber "touched countless children's lives through her work as an educator across our state by sharing her passion of foreign language."
"My heart goes out to the family, friends, colleagues, and students that are dealing with this tragic murder of Nohema Graber," Reynolds said.