A 29-year-old man has been identified as the Good Samaritan who fearlessly yanked a driver to safety before his car could plunge off a cliff, Idaho police said Thursday.
An image of the mystery man, Jason Warnock, saving 23-year-old driver Mathew Sitko on Wednesday went viral after it was published in the Lewiston Morning Tribune. The Lewiston Police Department said they were able to interview Warnock on Thursday.
The Lewiston man told police he saw debris in the roadway while driving along Bryden Canyon Road and noticed Sitko's 2000 GMC Yukon hanging above a 30-foot vertical drop. A chain-link fence kept the car from rolling off the side.
Warnock rushed to a nearby pedestrian footbridge, climbed to the cliff face and walked along an embankment toward the vehicle, police said. Sitko was inside, but when Warnock tried to break the window with his Leatherman multi-tool, he was unsuccessful.
"The guy is still hanging," Warnock said in a 911 call to police. "I'm hoping he stays there."
Sitko managed to roll the window down, and Warnock told police he was able to pull the driver out.
In a news release, Lewiston police said they wanted to "thank Jason Warnock for his quick and decisive actions in helping Mr. Sitko and preventing the situation from worsening."
Earlier, Lewiston interim police chief Roger Lanier told NBC News that the accident was triggered by "some sort of mental or emotional episode" that Sitko was having.
"He was treated for his injuries, which were minor, but he's also being treated for some mental health issues," Lanier said.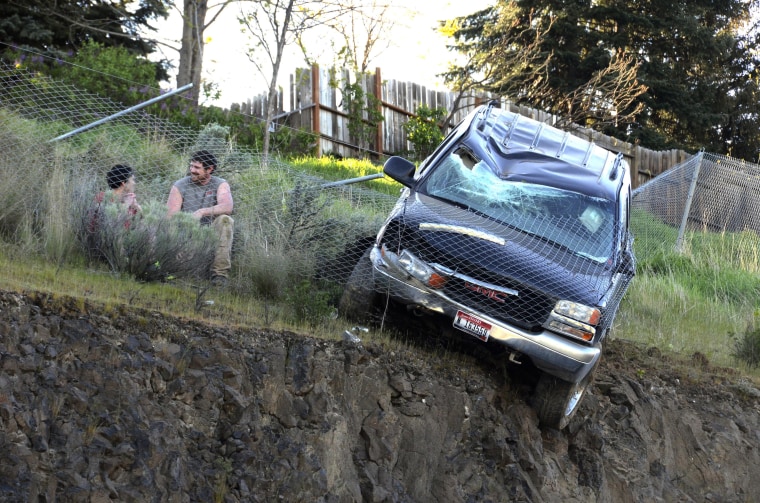 IN-DEPTH
— Erik Ortiz and Elizabeth Chuck