A New Jersey judge is allowing an official misconduct complaint against Gov. Chris Christie to move forward in the legal drama over his alleged role in the lane-closure scandal known as Bridgegate.
Bergen County Judge Roy F. McGeady signed a criminal summons against Christie on Thursday morning, ruling there is probable cause to investigate a complaint of official misconduct against him.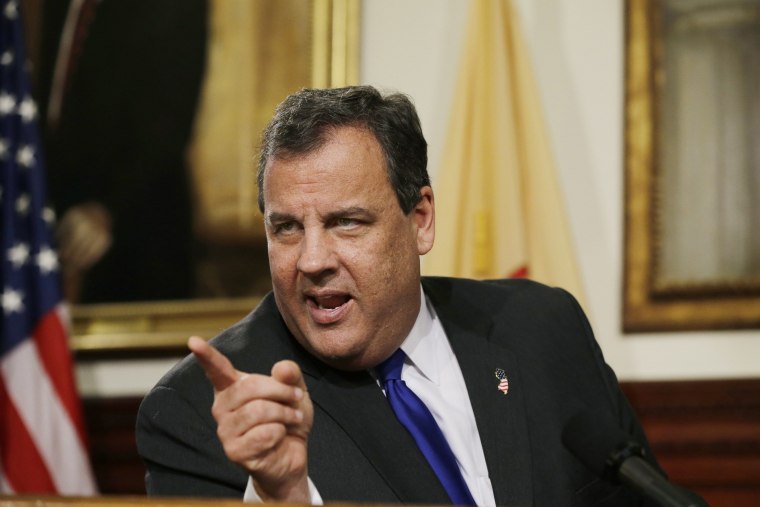 The complaint was initially lodged late last month by activist and former Teaneck firefighter Bill Brennan. It stemmed from the ongoing, separate Bridgegate trial in which ex-Port Authority official David Wildstein recently testified that the Republican governor knew about the September 2013 lane closures — allegedly ordered by Christie staffers as political retribution against the Democratic mayor of Fort Lee.
The alleged scheme caused a crippling traffic jam on the George Washington Bridge for days. Brennan has argued the scandal has cost New Jersey taxpayers millions of dollars.
Next, the case will go to the Bergen County prosecutor's office, which will ultimately decide whether the case will be sent to a grand jury.
Christie has from the beginning of the scandal maintained that he had no knowledge or involvement in the lane closures.
Brian Murray, a spokesman for the governor, told NBC News that the ruling will be appealed immediately.
"This is a dishonorable complaint filed by a known serial complainant and political activist with a history of abusing the judicial system. The simple fact is the Governor had no knowledge of the lane realignments either before they happened or while they were happening. This matter has already been thoroughly investigated by three separate independent investigations," Murray said in a statement.
Wildstein has already pleaded guilty in connection with the scheme. He has testified against two of Christie's former allies — his ex-deputy chief of staff, Bridget Anne Kelly, and his former top Port Authority official, Bill Baroni, over their alleged roles in the scandal.