It began as a routine interview between an incoming principal and a high school newspaper — but just days after a group of student journalists at a Kansas high school published their findings and raised questions surrounding their newly-hired headmaster's credentials, she resigned.
Amy Robertson, who was hired to be the head principal of Pittsburg High School in Kansas on March 6, resigned on Tuesday, according to the Pittsburg Community Schools Board of Education. Her resignation followed a front-page story from student newspaper Booster Redux published on Friday.
The group of students did some digging and could not find proof that the private university where Robertson said she had received both a masters and doctorate degree, Corllins University, was a legitimate institution, according to their report.
"She was going to be the head of our school, and we wanted be assured that she was qualified and had the proper credentials," Trina Paul, a senior and an editor of the newspaper, told the Kansas City Star. "We stumbled on some things that most might not consider legitimate credentials."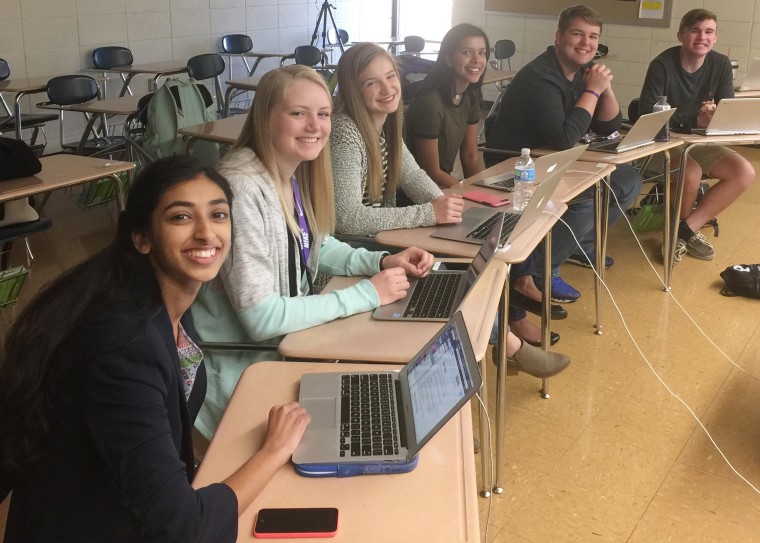 Robertson had said she received her degrees there before the university lost its accreditation.
The board of education said in a post on its website on Tuesday that it accepted Robertson's resignation.
"In light of the issues that arose, Dr. Robertson felt it was in the best interest of the district to resign her position. The Board has agreed to accept her resignation," the board said in the statement.
Just one day before the student newspaper published its article, the board said in a post that Robertson brought "decades of experience" to the district.
The board said Robertson was currently working as a CEO of an education consulting firm. Booster Redux identified that firm as Atticus I S Consultants in Dubai, where she had lived for 20 years. Robertson was supposed to officially begin working on July 1.
Their research led them to report that Corllins was not currently accredited by the U.S. Department of Education and that the alleged university was the subject of a number of articles accusing it of being a diploma mill, where people can purchase diplomas, degrees of certificates.
The Better Business Bureau says Corllins is not BBB accredited, and as of 2010 "The true physical address of Corllins University is unknown."
And while there is a website for Corllins, various attempts by NBC News to search the site or to apply to the alleged university, led to dead ends. Corllins did not immediately respond to a request for comment from NBC News on Wednesday.
Robertson told the students that she had taken most of her courses online, but occasionally traveled to its campus in Stockton, California. Again, the high school students could find no evidence such a campus had existed.
Requests to the high school and district from NBC News to interview the students were not immediately returned Wednesday.
Robertson told the Kansas City Star that she received degrees from the school in 1994 and 2010, and Corllins' current accreditation status was "not relevant."
"The current status of Corllins University is not relevant because when I received my MA in 1994 and my PhD in 2010, there was no issue," she said. "All three of my degrees have been authenticated by the U.S. government," she added. Robertson also said the students' concerns were "not based on facts."
The school's journalism adviser, Emily Smith, told the Kansas City Star she was "very proud" of her students. "They were not out to get anyone to resign or to get anyone fired," she said. "They worked very hard to uncover the truth."
School District Superintendent Destry Brown told the Kansas City Star he felt like he had let his teachers and students down.
After Robertson's resignation was announced, the students' work was picked up by several journalists and publications congratulating them for their efforts.