Photos of White House adviser Kellyanne Conway kneeling on an Oval Office couch with her shoes on have sparked an online debate about decorum in the executive mansion.
Conway is seen perched on her knees on the couch with her feet behind her in photos taken Monday while President Donald Trump met with leaders of historically black colleges and universities.
Some Twitter users were quick to highlight the photos as evidence of a lack of respect for the office from Conway and the Trump administration, but much of the criticism was just tongue-in-cheek humor at the bizarre sitting position.
"I have so many questions about this photo, but chief among them is why nobody is telling Kellyanne Conway to get her damn feet off the couch," Chicago Tribune columnist Rex Huppke tweeted.
Users also noted that they felt the move was a sign of disrespect, not so much because Conway was in the Oval Office, but because she was in front of HBCU leaders.
"I'm less bothered by Kellyanne's feet on the sofa than I am by her choice to be so incredibly unprofessional in a room full of HBCU leaders," said one tweeter.
But many users have countered with numerous photos of former President Barack Obama resting his feet on the office's famed Resolute desk at various times during his eight years in office. Others felt it was not an egregious sign of disrespect, but an easy target of liberal anger directed toward a Trump administration member.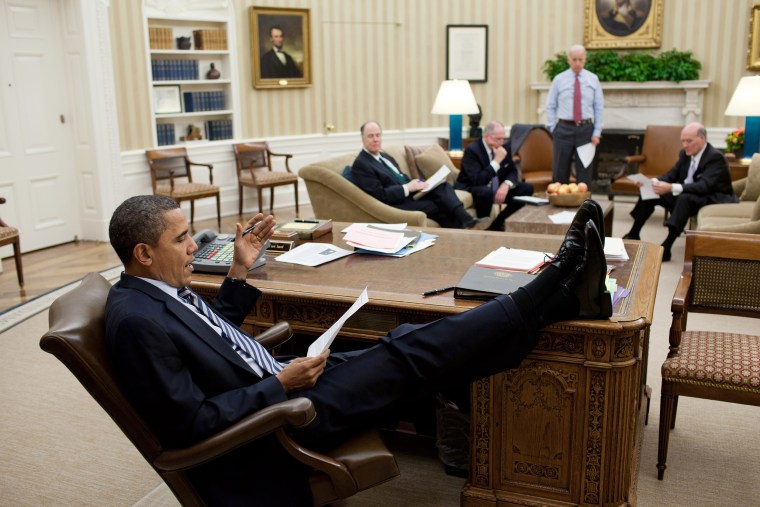 "If Kellyanne Conway's feet on a couch is the worst thing that happens to you, might I suggest helping at a food bank to see real life [problems]," read one tweet.
Conway has yet to weigh in on the criticism.