LAS VEGAS — A federal jury convicted a Las Vegas police officer Friday on all counts of stealing nearly $165,000 during a trio of casino heists, including one where he was armed with a department-issued weapon that was loaded.
Caleb Rogers, 35, faces life in prison upon sentencing because he brandished a revolver during the third casino heist he carried out in February 2022. U.S. District Judge Andrew Gordon set his sentencing for October.
The jury reached a verdict after just over three hours of deliberation.
Jurors used common sense to decide the case, Lloyd Dickerson, one of the 12, told The Associated Press.
"Everything kind of added up," Dickerson said outside the courthouse. "It took all of the evidence and all of the testimony from everybody to come to this conclusion."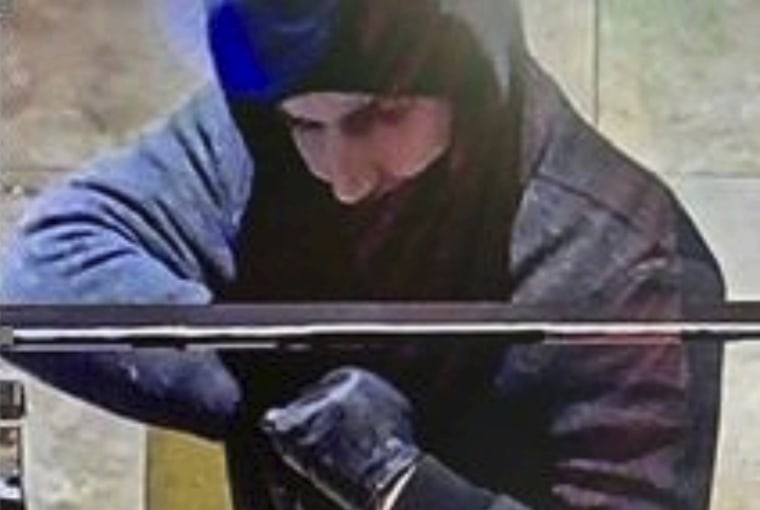 Seated next to his attorney, Rogers showed no emotion as the verdict was read in the courtroom. Richard Pocker told AP they planned to appeal the conviction.
Rogers, who was employed as an active-duty patrol officer at the time of the heists, has been on unpaid leave without police powers since his arrest.
A spokesperson for the Las Vegas Metropolitan Police Department said after the verdict that Rogers' future at the department "will be determined at the conclusion" of an internal investigation. The department said it had no comment on Rogers' conviction.
The case went to the jury Thursday shortly after Rogers' younger brother testified against him for more than three hours, painting a clear picture for the jurors of how the two successfully pulled off the first heist in the series. Josiah Rogers said he participated only in that robbery. Caleb Rogers carried out the other two heists alone, prosecutors said.
Throughout the weeklong trial, prosecutors had portrayed Rogers as a gambling addict who had grown increasingly desperate under a crush of debt when the robberies targeting casinos off the Las Vegas Strip began. They said he had a unique set of skills and knowledge about robberies as a law enforcement officer and used that to his advantage.
Jurors also heard from casino employees who said they are still haunted by their encounters with the robber. A security guard wrestled with the suspect for his loaded weapon during one of the heists. He said he couldn't stop thinking about how he might not have made it home to his family that day. And a 63-year-old cashier said she still looks over her shoulder when she handles cash at work.
Assistant U.S. attorney David Kiebler said in his closing argument Thursday that the evidence in all three robberies pointed to the same man: Caleb Rogers.
But Pocker, the officer's lawyer, called the bulk of the government's evidence circumstantial and convenient for a police department that already had been trying for months — to no avail — to solve the other robberies when Rogers was arrested.
"They tried too hard here," Pocker said in his closing argument. "It's just too coincidental."
Rogers' trial came to a head Thursday when his brother took the stand.
Josiah Rogers was granted immunity from prosecution in exchange for his testimony. Jurors scribbled notes and darted glances between the brothers as Josiah Rogers recounted the details.
He said they rehearsed for their casino heist in November 2021. They used code words in an encrypted messaging app to communicate, he said. They returned home to their shared apartment after successfully robbing the Red Rock Casino's cashier cage and spread the money across their dining table, counting out $73,810.
Josiah Rogers said he took his $30,000 cut and moved back to their hometown of Columbus, Ohio, a week after the robbery.
Before he took the stand, the government's evidence had been mostly focused on the third robbery in February 2022, when Caleb Rogers was arrested outside the Rio All-Suite Hotel & Casino.
Prosecutors said Caleb Rogers stormed that casino's sportsbook, shoved a cashier in her 60s out of his way, and threatened to use a gun while he shoveled $79,000 into a drawstring bag hidden inside his jacket.
Within minutes, prosecutors said, the robber was tackled by a group of security guards outside the casino, sending a wig he'd been wearing flying off his head.
Police lapel video played during the trial showed Caleb Rogers identifying himself as a police officer as he was folded into the back of a patrol car outside the casino.
Casino heists are hard to pull off, said Mehmet Erdem, a professor at the University of Nevada, Las Vegas, whose expertise includes hotel and casino operations.
"The chances you get caught and are identified is very high," he said, because of a combination of robust casino security teams with uniformed guards and plainclothes officers and advancements in security technology, including facial recognition software and high-definition cameras.